The House of Commons Order Paper doesn't usually create too much commotion. Nor would the second reading of the Housing and Planning Bill ordinarily incite much anticipation. Admittedly, the bill under discussion was important – it will extend the right to buy and make changes to the planning system and local council's abilities to deal with unscrupulous landlords.
But what really attracted attention was – unfortunately – not the policy area, but the procedure through which it would be examined by MPs. For this was the first bill to go through the new English Votes for English Laws (EVEL) system of scrutiny which was approved by MPs just 12 days ago.
Under the new procedures the Commons speaker must certify bills, specifying whether they only affect certain regions. A bill may therefore be "England only" or "England and Wales only". This affects how the bill will be debated and voted on by MPs. Although all MPs can take part in general debates on these bills, an England-only bill can only be scrutinised at committee stage by English MPs and special voting procedures will ensure an extra layer of voting in which English MPs must be in agreement.
This simplified version of the process already sounds complicated, as MPs found out at first-hand on the green benches when the Housing and Planning Bill came before them. Because it's not just entire bills that can be certified as "England-only" or "England and Wales-only" – individual clauses of a bill can be certified in this way too.
Cross-border complications
MPs were unsure precisely which clauses affected England only and the SNP pushed for an explanation as to why certain clauses that seemed to affect Scotland had been certified as England-only. They cited cross-border complications in housing associations, implying that parts of the bill could definitely affect Scotland. To make matters worse, the speaker refused to discuss the decision, feeling that – as is tradition in the House – he should be able to "make decisions on certification without explanation".
After this brief kerfuffle on the floor, the debate on the bill got underway. The six-hour debate was just the Bill's Second Reading – a general debate on the broader policy issues. Speeches here tend to be quite broad – and whatever the procedure being used, MPs from all parties and all regions can take part in the debate itself.
This included the Scottish National Party spokesman, Alan Brown, along with several of his colleagues. The real nitty gritty of the bill will be discussed in the bill's committee stage over the next few weeks. And it is here that we will begin to see more of the practicalities of EVEL. Scottish MPs will be banned from sitting on the bill committee.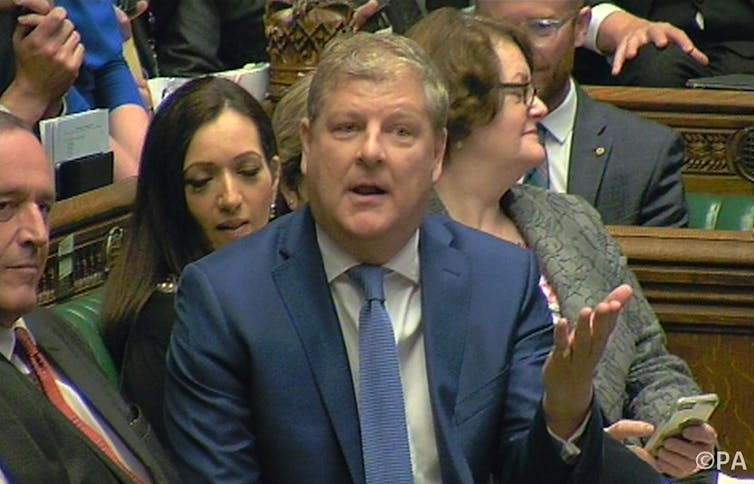 Curlicues and arabesques
Chris Bryant described the new EVEL process as having "more curlicues, arabesques and flourishes than the whole of the Vatican City put together". If the debate on this bill so far is anything to go by, we will see many more flourishes of excitement and protest over EVEL certification and voting in the next few months.
The Scotland Bill will be back on the agenda next week – a bill which, as the SNP keeps reminding us, only applies to Scotland. MPs have spent the past few months arguing about how to stop Scottish MPs voting on English issues, but this is a bill which will see English and Welsh MPs voting on measures to do with Scotland. So we can certainly expect to see more procedural fun and games there.
English votes for English laws offered the solution to a decades-old conundrum in British politics, but – as Hugh McLachlan argued recently – restricting voting and scrutiny rights in this way can throw up other paradoxes. The practicalities of it at the moment are anything but straightforward.