For many years Tesco defied one of the marketing textbook nostrums, the problem of being "stuck in the middle". Like all such generalisations, this challenge is one with an element of truth, but many counter-examples that suggest occupying the mid-market is not necessarily a bad thing – take Toyota, or Premier Inn hotels.
More recently, however, it appears that Tesco, Morrisons and to a lesser extent Sainsbury's have been suffering from this status. Sainsbury's latest results, announced on October 1, confirm a negative trend in sales this year. With the announcement on the same day that the Financial Conduct Authority intends to investigate Tesco's recent £250m overstatement in profit, it may seem that the UK's leading supermarkets are in trouble.
Really, the point is that the market is changing. For years it was about a land-grab, signing up all available sites for massive edge-of-town stores. This was helpfully supplemented, in the case of Sainsbury and Tesco in particular, by the development of smaller in-town outlets, convenient for workers topping up their weekly shop with additional items. Familiar and hygienic-looking, these in-town versions of the majors drove out a good deal of the inefficient and idiosyncratic smaller independent stores.
The trouble with online shopping
Meanwhile the market was changing yet again, with the development of online shopping. Online shopping presented the supermarkets with a problem. Essentially, it is a higher-cost business. Picking the items for the customer, packaging them up, then delivering them within a tight time slot, all for £5, is appealing to many consumers. But it is unlikely to be covering the additional costs compared with the shoppers visiting the store, doing their own picking, often their own price scanning, then taking them home. Thus Morrisons for many years prevaricated about joining the business, eventually joining too late.
Of course, increased online shopping means that the large stores lose some of their purpose, so the stored banks of land no longer look so attractive. Nevertheless, through the turbulent years of the late noughties, the big chains were remarkably successful in maintaining their market position and margins. By focusing so much attention on price competition between themselves, much of it a sham predominated by penny price cuts and unannounced larger rises, they successfully avoided comparison with a broader field. Asda's celebrated "arrows" campaign, announcing how many prices they had that were cheaper than Tesco, all to the "Dad's Army" theme tune, itself drew attention away from the discounters.
So British consumers resisted the charms of the German discounters Aldi and Lidl for rather longer than consumers in many other countries. But now these two chains are experiencing considerable growth, of course from a relatively low base. These stores do not have the massive outlets, with their associated large costs, as a drain on costs. Neither do they offer delivery, with its attendant costs. The market is segmenting somewhat, with the discounters coming in at the bottom, joined by Asda holding its own in this segment; and Waitrose (and Booths) at the upper end.
Market share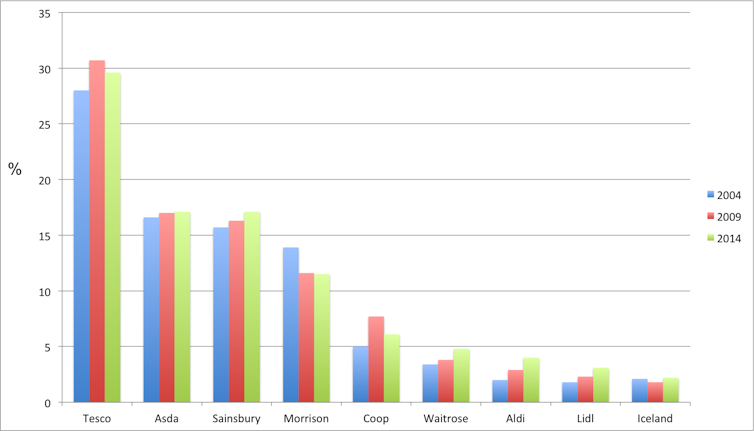 Gravity catches up
There is a more fundamental truth in the grocery business. Food is essentially a slow-growing sector, as was first notably promulgated in the 19th century by the German economist Ernst Engel. As incomes rise, Engel's law asserts, expenditure on food grows less than proportionately. For many years, it was as if supermarkets defied this law. In fact, through a growth in the major chains' market shares by taking away share from weaker operators, coupled with a massive expansion in the range of goods they offered beyond groceries, they were able to achieve considerable real growth.
Together these supermarkets take a very high percentage of consumers' weekly outgoings – around 45%. In happier times, Tesco famously confirmed that it took £1 for every £7 spent by UK consumers. At some stage this inevitably runs into decreasing returns as the chains run out of soft competitors and new ranges to sell. In search of further growth, some have tried expansion abroad. Many British retailers find that this is a route fraught with problems; Tesco's disastrous excursion into the US is a prime example and M&S has also been badly bitten in some countries, albeit it is doing well elsewhere.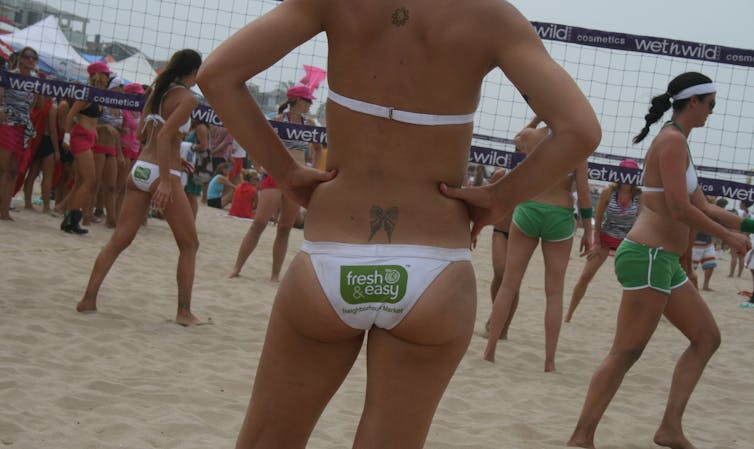 So increasingly it becomes a fight for market share in the core British food sector. This is a fight in which, as a group, the supermarkets will not be winners – although it is possible that consumers may be, at least in the short run. Currently this seems to be the case, with restrained food prices contributing to a very low rate of inflation as measured by the consumer price index. Supermarkets will survive, because of their remarkably efficient distribution systems, but whether all will choose to remain major players is a moot point. The market leaders will certainly need to get used to slower rates of growth.