Schoolchildren who receive a nutritious lunchtime meal are less likely to be overweight or suffer from childhood obesity. And those who receive both breakfast and lunch are three times less likely to suffer this fate.
Tackling childhood obesity is important because it may result in adult obesity and these children developing non-communicable diseases such as diabetes, hypertension and heart disease later in life.
Obesity is not necessarily driven by overeating, as is commonly thought. Children can also develop obesity when they are eating poor quality and inexpensive food that may be high in fats and refined carbohydrates.
Globally, about 44 million children are overweight or obese. In South Africa, about 28% of children between the ages of two and 14 are overweight or obese.
Our study has shown that childhood obesity is relatively easy and cost effective to prevent. Two in-school nutrition programmes – one of which included both breakfast and lunch – had a marked effect on reducing overweight and obesity levels among schoolchildren.
Effects of in-school nutrition programmes
Our findings are from a comparative study at schools in the Lady Frere and Qumbu districts of the Eastern Cape province.
We wanted to independently assess the relative effects of an in-school breakfast programme and the Department of Basic Education's National School Nutrition Programme. The impact of these programmes has never been assessed before.
Children receiving the National School Nutrition Programme get a mid-morning lunch meal consisting of a protein, carbohydrate and vegetables. The breakfast is made up of a fortified cereal before the school day starts.
We compared the height and weight measurements of children at three types of schools:
those who started receiving the lunchtime meal shortly after the study started;

those who had been receiving the lunchtime meal for some time; and

those who received both the lunchtime meal and an in-school breakfast.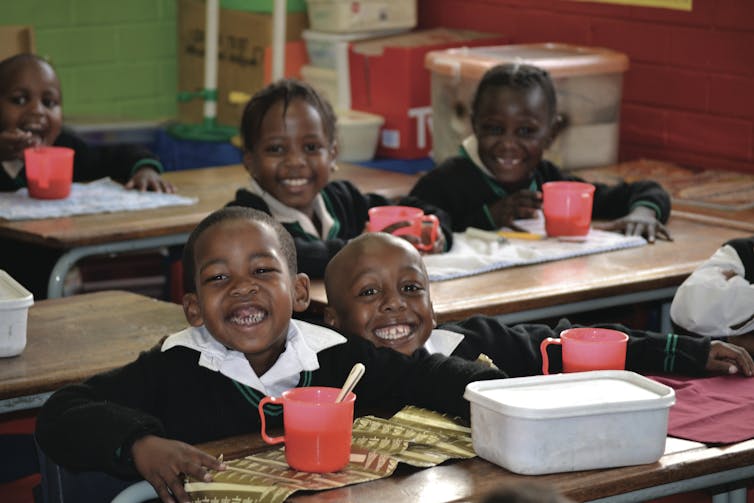 Almost 35% of learners at schools that had not been receiving the lunchtime meal were either overweight or obese when they were measured against the Body Mass Index-for-age recommendations made by the World Health Organisation.
In comparison, only 17% of learners at schools that had been receiving the lunchtime meal were classified as overweight or obese.
And of the children at the schools that received both the breakfast and the lunch, only 11.5% of learners were overweight or obese.
The effects of the school nutrition programmes can be seen more dramatically at the schools that started receiving the lunchtime meal in the course of the study.
When the children were first measured, the overweight and obesity levels were alarmingly high. By the end of the year – after the children had been receiving the lunchtime meal for at least three terms – the overweight and obesity levels had dropped by 8%.
A good return on investment
According to Statistics South Africa 30% of children live in households that have inadequate or severely inadequate access to food. These children therefore experience moderate or persistent hunger.
With the current drought and increased food prices, it is becoming more and more expensive and difficult for families, especially those in poor communities, to afford and opt for healthier food baskets.
As a result, poorer people are more likely to consume the foods that drive obesity. This in turn contributes to increased risk for non-communicable diseases. Children who grow up in these communities have no option but to consume food that lacks the right balance of nutritious meals. They are at high risk for obesity and "hidden hunger". Hidden hunger is a micronutrient deficiency related to consuming low quality, nutritionally deficient meals.
Obesity – including childhood obesity – places a heavy cost burden on the health-care system of a country, given its association with heart disease and other non-communicable diseases.
But the lunchtime meal costs R2.73 per primary school learner per day. The breakfast has a similar cost. Although these are relatively low cost, the significant drop in obesity rates shows that they are high-impact interventions that could protect children from later obesity.
Taking into account the likely cost savings for the health-care system, interventions such as these represent an excellent return on investment.
With high levels of poverty that result in food insecurity and increasing food costs, in-school nutrition programmes are not only an important poverty alleviation mechanism that taps into the moral duty we have to ensure that children are fed; they have also been shown to deliver longer-term health benefits for the children, and for the country as a whole.