It's well understood that the digital divide disproportionately affects people living in regional Australian communities. Remote Aboriginal communities in particular are among the most digitally excluded, yet there is little research looking at how these families experience digital inclusion.
Our research project, Connecting in the Gulf, shares stories directly from Aboriginal families living on Mornington Island, off the coast of Queensland in the Gulf of Carpentaria. Our full report is published online.
Working with the community, we developed a research method called "show and yarn" in which families showed us their devices and yarned about their experiences of digital inclusion.
Yarning is an Indigenous way of sharing knowledge. It was an important aspect of our work, since better outcomes are achieved when Indigenous people have a say in the design and delivery of policies, programs and services that affect them.
How do families living remotely connect?
Mornington Island residents have poor quality mobile and broadband services, and few options. The island's only mobile network, Telstra 4G, is concentrated on the township of Gununa and is prone to congestion and outages.
The other main digital services are:
a free community wifi spot in Gununa with a 100-metre radius
a few solar-powered and satellite-enabled outstation phones placed across the island
the option to purchase NBN satellite plans from certain providers.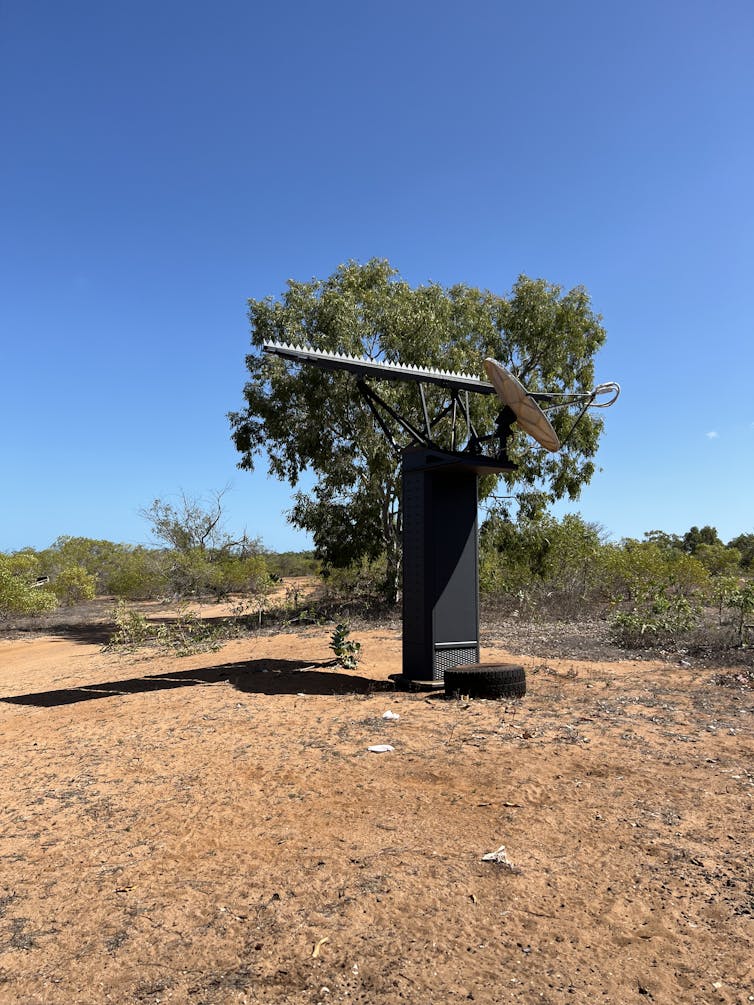 The island, which has about 1,200 residents, is slated to receive a major upgrade under the Regional Connectivity Program sometime soon, but families were unaware of when this would happen.
---
Read more: Digitising social services could further exclude people already on the margins
---
Extending a culture of sharing
The families we spoke to told us they use their mobile phones almost exclusively to make calls and access the internet.
In many cases, devices are shared between several family members, and data is shared via hotspotting when someone runs out. This is reflective of a broader culture of sharing, but can also be a source of conflict.
As one community member told us:
I hear a lot of people […] On Facebook, my mother is talking about hotspotting, they are sick of hotspotting […] I've got no data because we've got to hotspot for them […] If someone wants to use the internet to do a bank transfer, they'll come up and ask.
Although families can purchase contract-based satellite internet connections, they spoke of poor past experiences, and a fear of being locked into contracts. They expressed that they would rather rely on prepaid credit than risk going into debt.
Interviewees also preferred to use data in their own homes despite the free community wifi spot, reflecting a family-oriented way of being.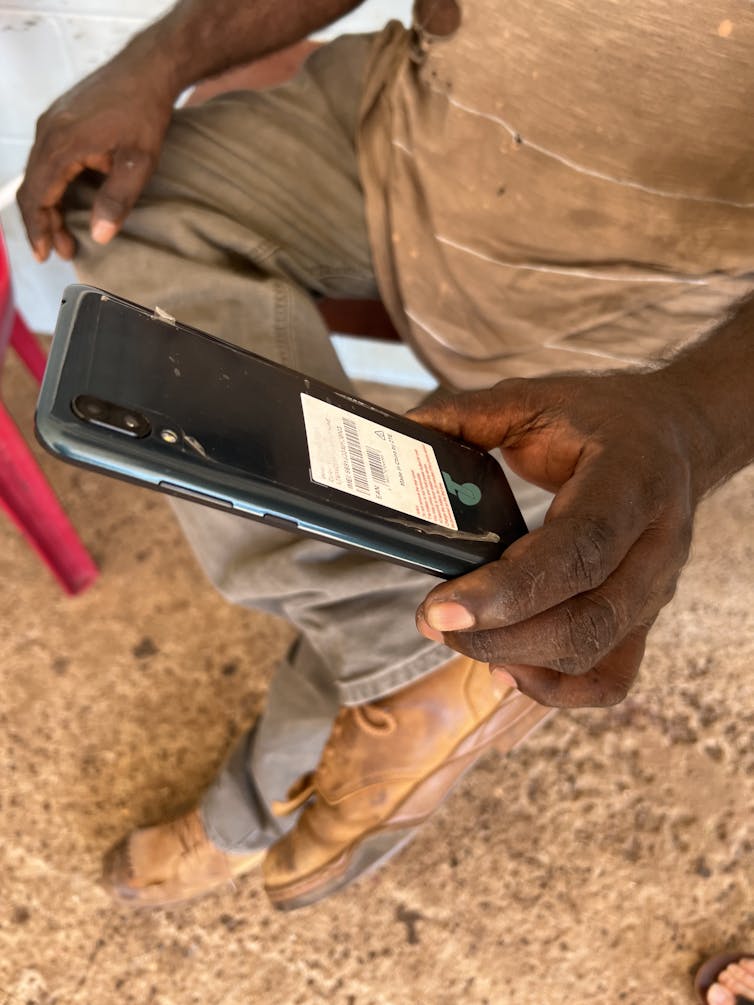 Digital literacy is a challenge and opportunity
The families spoke of a gap between young people who quickly learn how to use technology, and Elders who aren't as savvy online. We heard stories of young people pestering family members for online passwords and hotspots, and then using and/or sharing these with other people without permission.
As one person explained:
Some family members do feel like you're taking advantage of them at times, when they feel like 'Oh, I should share'. And it's the same way with the banking, with the money. They'd feel like they're obligated to share.
They also described how limited and unreliable mobile phone reception and coverage was impacting cultural activities.
For instance, phone reception stops just out of town and doesn't cover most of the land and sea of the island. Sick and elderly people with safety concerns are scared to leave the township for activities out on Country.
One Elder suggested more young people would go out for cultural activities if outstations had better phone and internet coverage:
I think it'll make them happy and have that pride in being out on their own land […] Whether it's newborn turtle, or crab, fish, and them showing it off and it'll give them that self-pride and happiness […] 'This is what I caught' – and they'll show more than one family (on Facebook).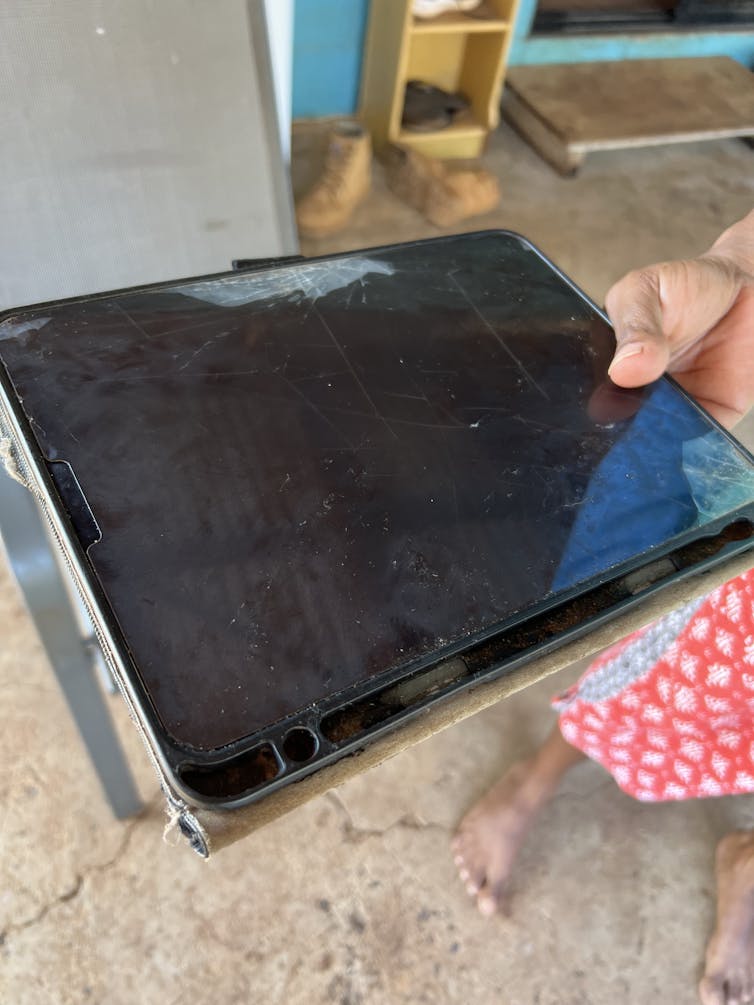 What's being done about the digital divide?
In January, the federal government established a First Nations Digital Inclusion Advisory Group to accelerate progress towards Closing the Gap targets. An Indigenous Digital Inclusion Plan is also being developed, with contributions from key stakeholders. Both of these developments are promising.
Boosting infrastructure in remote Aboriginal communities is not favourable for profits, given the small number of residents. Yet it's essential for ensuring these families feel safe, that they can continue cultural practices, and access the many employment, health and education benefits of being online.
Most of all, we must listen to Indigenous voices and work with these communities to improve speed, reliability and access to services. Organisations such as InDigiMOB are working hard to achieve this.
---
Read more: Digital inequality: why can I enter your building – but your website shows me the door?
---