I am St George, who from old England sprung…
St George did not "spring" from England, old or new. He was, of course, from the Eastern Mediterranean. People had apparently forgotten this by the time that this line from The Peace Egg, a play first printed in Manchester around 1840, was written.
The identification of St George as a specifically English hero doesn't have much of a lineage before this – there's no evidence that he was claimed as English by birth until the latter part of the 16th century. Furthermore, it's quite possible that he was not recognised as the patron saint of England as a whole (as opposed to the monarchy and the social elite) until after the Reformation.
St George was then reinvented as an English hero by English authors – born in Coventry, or Glastonbury, or Tintagel, he owned the sword Excalibur well before King Arthur laid a hand upon it and is reputed to have killed a dragon at no fewer than six locations in England.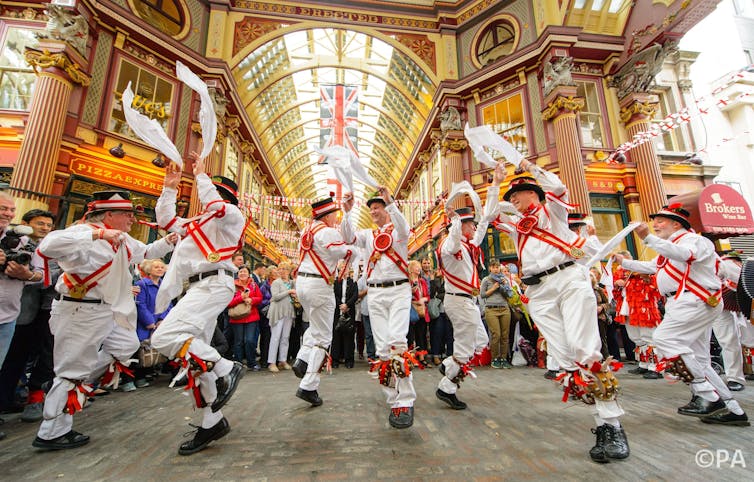 The Medieval St George
So what was going on with the cult of St George before he became English?
The Eastern Mediterranean George had deep roots in the UK well before the Reformation. The Crusaders are often credited with importing their devotion to this soldier-saint, but they were simply reinforcing and extending a pre-existing interest. There were churches dedicated to St George in Fordington (Dorset), Southwark and Doncaster before the Norman Conquest and this saint featured in some of the earliest English written accounts of martyrs.
By the later Middle Ages there are signs of a particularly English expression of interest in the saint. He attract the soubriquet "Our Lady's Knight" in poetry and songs, due to a tradition that he was a Christian soldier, executed by a heathen army but then resurrected by the Virgin Mary and armed as her champion. Next he became a knight errant, killing the dragon to rescue the princess and eventually being martyred for his refusal to give up his Christian faith.
The full legend does not survive in written form but it can be reconstructed from visual evidence and it seems to play upon the late medieval English identification of England as the Virgin's Dowry. Spenser's characterisation of the Red Crosse Knight in The Faerie Queene owes much to this formulation.
St George the globe trotter
But many other aspects of the medieval St George got lost along the way in England's move to appropriate him. Outside England, St George and his feast day (April 23, or May 6 in the Orthodox church) are strongly associated with the turn of the year and the coming of spring, with strong evidence in Estonia as well as parts of Germany, Russia, Serbia and Bulgaria.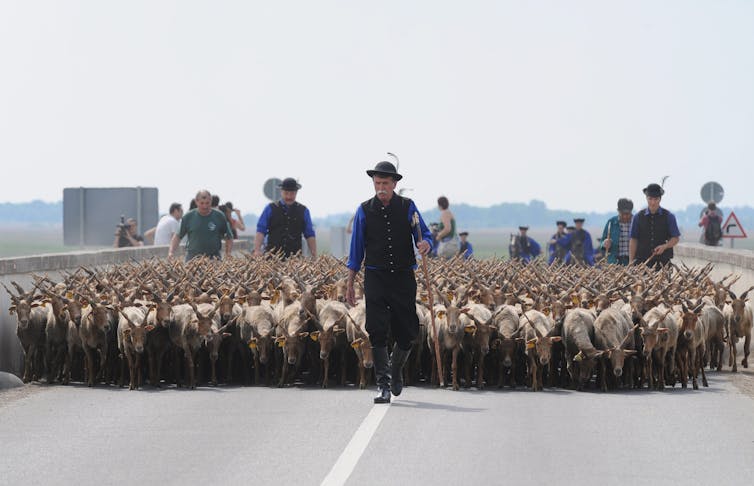 The Roma of the Balkans claim St George as their special patron and celebrate St George's Day as the festival of Ederlezi – a name which indicates his strong links to Islam and Judaism, as it derives from two ancient Turkish prophets Hizir and Ilyas (who are forms of Al-Khidr and Elijah respectively, both recognised as analogues of St George). Ederlezi's feast signifies the rebirth of nature. It's likely that the absence of any perceived connection between St George and the natural world in contemporary England derives primarily from the effect of the Reformation on more "popular" aspects of religion.
The saint and his alter-egos are also often celebrated as healers, especially of skin diseases (perhaps because of his victory over a scaly dragon) and psychiatric conditions. There are examples of this in places from modern Palestine to the healing wells of medieval Normandy.
He is also linked more generally to water, especially rains which end drought. There is a strong tradition of water in his non-Christian analogues, with stories which name Al-Khidr as the discoverer of the Well of Immortality at the confluence of the Mediterranean and the Red Sea. The name of St George's Channel, which lies between the coasts of south-west Wales and south-east Ireland, is one of only a handful of watery connections that St George still has in England, though there is also an invocation of the saint travelling by boat in the traditional Padstow May Song, from Cornwall.
To many English people, St George is little more than a rather embarrassing relic of a colonial past, thanks to the frequency with which he is depicted on war memorials, coinage and other "official" signifiers. But beneath this modern veneer he offers huge potential as a conduit to the rediscovery of our communal heritage. Whatever St George's flag may signify, the saint has clear potential to be a unifying symbol for a diverse and multi-cultural world, both within and beyond UK shores.