The appointment of Louise Richardson as vice-chancellor of The University of Oxford has been hailed as momentous and inspiring. As the first woman to hold the position in the history of Oxford University and one of few female vice-chancellors of higher education institutions in the UK, this was a remarkable and celebratory event.
Richardson's achievement as a woman from a non-Oxbridge background brings to light not only the under-representation of women in leadership roles in higher education (of 24 Russell Group universities, only three vice-chancellors are female), and the lack of diversity at our top universities, but also the failings of the academy to deal with gender inequity.
Universities in the UK, renowned globally as high-quality institutions that foster ground-breaking research and innovation are disappointingly persistent in their failure to address fundamental issues of gender equality. This is brought starkly into relief when compared with the achievements of women entering and leaving higher education.
Only one in five professors in UK higher education are female, and the professorial gender gap varies significantly from one institution to another with many falling below the average of 20%.
Who can be a leader?
Richardson has said she hopes her appointment will inspire young undergraduates. However, research on women's leadership shows that ambition alone is not enough to make a substantive difference to the continuing gender imbalance.
Research points to deeply embedded gendered assumptions that shape who we think can be leaders. These assumptions lead to a "think leader, think male" mindset with the effect of signifying women as usurpers in leadership roles, where women are viewed and evaluated first as women and second as professionals or leaders. These ingrained assumptions are played out through our expectations and treatment of men and women, and the way we understand leadership.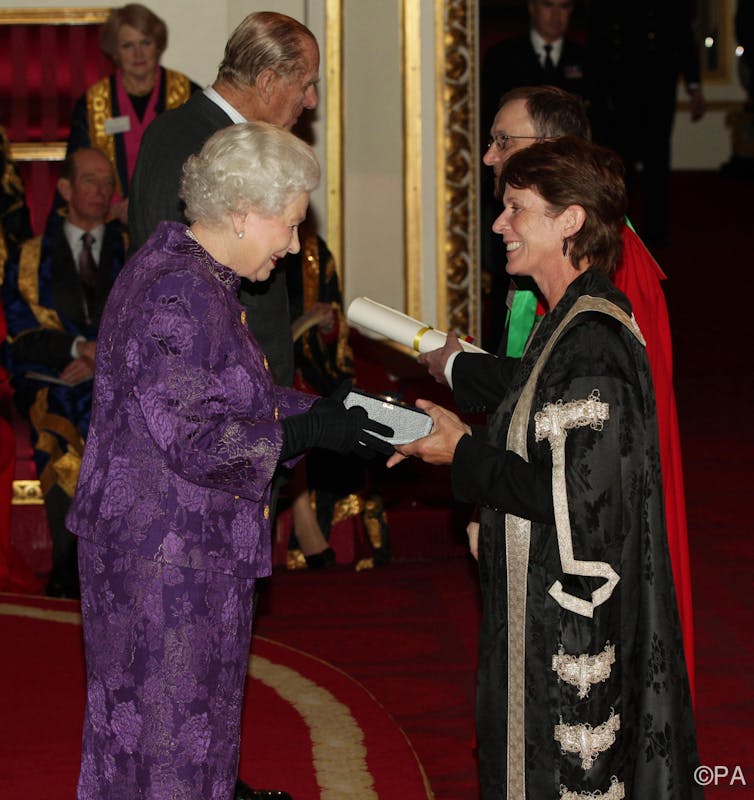 A study of women leaders in higher education highlighted how senior women's leadership and professional expertise is rarely understood as the norm, and rendered either highly visible or invisible due to their gender.
For example, women being asked to sit on recruitment boards as the "token" female draws attention to their sex rather than their status or leadership ability. Conversely women chairing faculty or university committees can find both their sex and their leadership ability rendered highly visible and under additional scrutiny because of their minority status. Put simply, women are often made to feel uncomfortable as leaders, as though they don't fit in.
This is compounded by organisational structures that exclude many women. For example many research seminars and networking opportunities are in late afternoon moving into early evening, just the time when those caring for young children are at their busiest with the school run, meal and bedtimes. Those carers are still mostly women, and typically many of those women will be at stages in their career when they need to develop a research profile and network.
As well as individual strategies that support and mentor women, we also need to focus on systemic change. Here are four ways to start.
1. Be disruptive
Women are by their very presence disruptive to the leadership norm. Their membership of a committee can bring into stark relief their minority status and encourage us to question the way things are. We need to be strategic in bringing about positive change. We can challenge practices that are inherently discriminatory and which many of us take for granted.
In administrative roles, academics have opportunity to draw attention to practices that continue to favour some over others and even to implement different ways of doing things. Research shows women can challenge the system both overtly and covertly. For instance using their visibility as women, such as drawing attention to a lack of representation of women in strategic decision-making roles, and where speaking out felt risky, acting covertly by developing networks that could work behind the scenes to effect change.
2. Teach gender in the classroom
We can put gender on the agenda in our management and business schools. This includes bringing gender into the classroom to influence the next generation. Too often these issues are sidelined or marginalised, seen as an add-on to studies rather than something that underpins our everyday experience and interactions. It is time we recognised the urgent need to foster equality through education.
By making gender part of our core curriculum we can challenge the status quo, encouraging students to think about the kind of leader they want to be and inspire new models of organising for the future.
3. Change leadership research
We can also broaden leadership research. Contemporary leadership research is still dominated by studies that polarise men and women leaders, focusing on differences in leadership styles and behaviours that can serve to reinforce men as natural leaders and women as outsiders.
By developing research that looks less at individual traits and focuses more on how leadership works in everyday practice, we can gain greater understanding of how we perpetuate gendered practices and processes. This can also help us to identify how we can make changes that foster alternative models of being leaders and of doing leadership.
4. Demand women experts
Finally, we can challenge media representations that reinforce stereotypical views of leadership as a male activity and focus more on women's appearance and domestic lives than their professional ability.
Working with the media to promote positive representation of women in leadership roles, such as calling on women academics to provide expert opinion, can challenge the representation of the academy as male.