Everyone loves Judith Wright. Her poetry was consistently brilliant and stunningly lyrical. She opened Australian eyes in the 1940s to the possibilities of modernism in poetry, she opened our eyes to the engagement poetry can have with philosophical ideas, with history, and with the guilt, racism, pride and violence in that history, she opened our eyes to our landscapes, our flora and fauna.
Then at 70, she gave up writing poetry in order to work more directly for change in our treatment of the Australian environment and the rights of the first peoples. Wright was a founding member and president of the Wildlife Preservation Society of Queensland, she was with Nugget Coombs setting up the Aboriginal Treaty Committee in 1979. She was tireless for these causes.
Wright (1915-2000) was honest enough (about her values) to lament that not only were Aborigines removed from the wild forested hills, but bushrangers and cattle duffers too. John Kinsella calls her an "elemental poet" in his long and probing introduction to her Collected Poems (Fourth Estate 2016), a tribute to the way her poems can cut to what is important and what is sublime. Judith Wright's poems became the voice of those who always knew the land was stolen.
Though when you read her, or you read Veronica Brady's biography of Wright South of My Days, you find her ancestors, squatters of biblical perseverance from the late 1820s, portrayed as the ones who treated the Aborigines with rare respect and interest.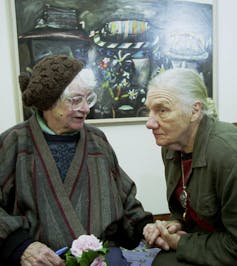 From them, and in particular from her grandfather Albert Wright, and from the diaries of the original family settlers, her great-great grandparents George and Margaret Wyndham, she inherited feelings of sympathy for injustices meted upon the land's indigenous inhabitants.
She wrote of the Wyndhams in her family history The Generations of Men that they were "figures of serene achievement". But how prescient and unexpected was Judith Wright's poetry, how much of her family story is true and how much a myth woven round our image of her?
As she was possibly our greatest poet, one of the most passionate public intellectuals this nation has seen, and a leading social activist who would still today be a progressive, it is important that we continue to re-read her, re-interpret her work, and re-investigate the life that gave rise to those poems.
Georgina Arnott has written just such an explosive book about the young Judith Wright. Arnott's book, The Unknown Judith Wright, is complex, respectful of Wright, and skeptical enough about the myths around her to look more carefully at a number of aspects of her early life in order that we might more reasonably place her and understand her within her time — as both an extraordinary individual and as someone who (like each of us in turn) carried within her the limitations, prejudices and hopes of her generation and her class.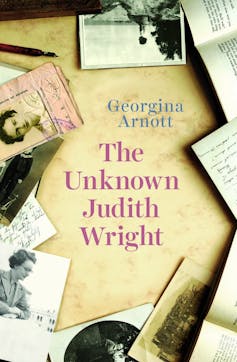 Arnott begins by following, with some admiration and fascination, the way Judith Wright managed to weave her own family history of settler wealth, privilege and power through George Wyndham's squatting on Aboriginal lands in the mid 19th century into an account that recognised the historical violence of dispossession while still allowing for a vision of the Wyndham Wrights as benevolent pastoralists.
While acknowledging that Wright "was entitled to represent her personal and family history in the way that best navigated what may have been competing truths", Arnott lays down the evidence that Wright's forebears did directly dispossess the local Hunter Valley Wonnarua Aboriginal people in 1828, that they were perpetrators of violence, that it is likely they participated in and condoned the murder of the Aboriginal occupiers of the land — and that evidence of this was there in letters and diaries Wright had consulted for her own two books on her family's pioneering history.
Unpacking the mythology
Arnott's account of dispossession in the upper Hunter Valley during the 19th century is meticulous and is riveting and alarming to read, but not surprising to the contemporary general reader who has come to understand the insult of fireworks on Australia Day.
From 1826 to the late 1830s there was a state of guerilla warfare punctuated by revenge massacres and the public display of hanged bodies by the roadside (a corncob stuck in the mouth) as warnings to would-be thieves, with pastoralists calling for military assistance against the Black Natives.
In 1839, George Wyndham (owner of almost 11,000 acres of the Hunter Valley by then) responded to a questionnaire sent by the Legislative Council to ascertain landowners' attitudes to Aborigines, that the best way to encourage them to work would be to
cut off their great toes. They could not then climb the trees for possums.
Arnott provides much detail in this picture of occupation (including on the Myall massacre of 1838), and her point seems to be that at every juncture, as a historian, Wright chose to put her ancestors in the best light or imply that their involvement in the land grabs of the era were not as compromising as some others' were.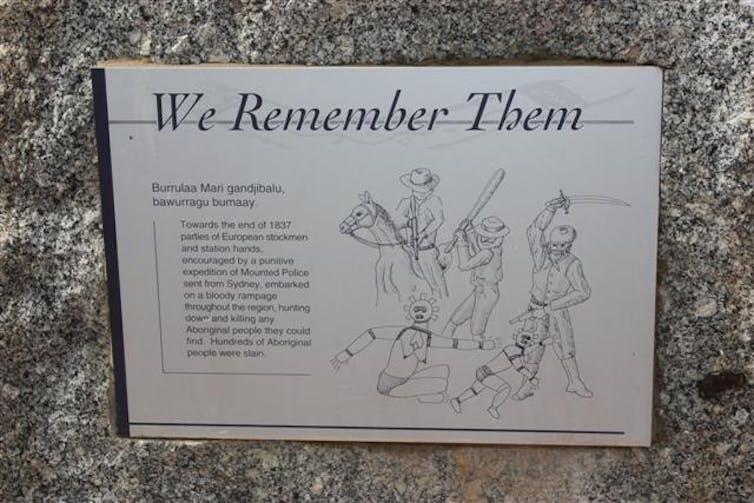 Arnott observes in response to this that even the most radical thinkers do not necessarily "shed" the conservative traces of their heritage. Her aim is to make Judith Wright in one sense a more human figure for us, and in another sense to bring her mythical status back down to earth.
Arnott does make the point that colonial history is now easier to document with so much of the national archive digitised. If Wright had been researching her family history in 2016, she might have written very different books. Perhaps this is the service Arnott performs — laying out the history that Wright could not for a number of reasons lay at the feet of her forebears.
Arnott has been further motivated by a gap in the extensive NLA archive of Wright's personal life. There are no diaries, poems, letters — nor from her three years as a university student in the 1930s are there any transcripts — no documentation of her life before the age of 31, when her first book of poems, The Moving Image was published in 1941 to an astonished readership.
This lacuna has made it possible for hindsight, admiration, and Wright's own preferred version of her life to dominate discussion of the young Judith Wright's development.
No critic and no biographer has looked for her juvenile poetry written at university, no one has examined her columns written for the student newspaper, no one has considered the program of study she conducted at Sydney University as possibly formative for her intellectual and aesthetic values; the connections between her privileged, wealthy childhood and her later radical politics have not been adequately pursued.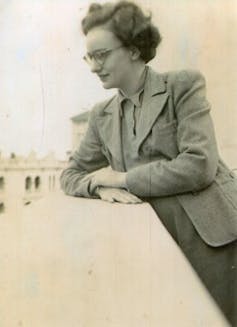 Arnott explores the possible influence of the philosopher John Anderson, anthropologist A. P. Elkin and the then towering literary figure, R. G. Howarth on her intellectual development. She considers the milieu that drew the young Judith Wright into the literary and intellectual circles of the young and relatively privileged University set. In the 1930s, at a time when University English courses stopped at the end of the 19th century, the young writers and students knew that their work must be either "for" or "against" the 20th century.
As one of the writers and editors for Honi Soit and The Arts Journal, Wright was there for the 20th century. There had been previous passing mentions of Wright publishing up to five poems in university journals (under sometimes misleading initials) during her three years there, but no attempt to group them, assess them or fit them to the mature work.
Darkness and light
Arnott has uncovered 11 poems she contends are the work of Judith Wright in her twenties at the University of Sydney. Arnott argues that these poems are more serious and ambitious than her precocious childhood successes, and that they show Wright
using a range of established poetic techniques and forms, many of them elaborate … both modernist and Victorian.
She uncovers what she claims could be an early version of Bullocky, perhaps Wright's most famous poem, and she perceives an effervescent sexuality in these poems that foreshadow the erotic writing of Woman to Man (1949).
If this book does no more than make us read more of Judith Wright's poetry, the book has served an important service. If it makes Judith Wright a more deeply human and humanly flawed presence for us, it's a book to be grateful for.
Perhaps too, it demonstrates exquisitely that no exceptional person involved in the crises of public controversies and important causes will ever pay the attention and respect to their own life that an attentive biographer will.
Whether you think Arnott's pursuit of details and facts uncovers deeper truths about the woman and her poetry, or distracts us from what is important in them, will probably say more about you than the book, for it seems that at the end of this exercise Arnott was in two minds, as perhaps Wright was too whenever she looked at her life.
In the final poem in the Collected Poems, re-issued in 2016, Wright balances a double-ness of thought in loose-lined couplets as she meditates on the meaning of darkness and light, survival and destruction, the life-giving light of the sun and that light's presence in our lives in the form of nuclear missiles, light as a form darkness takes briefly, and the inability of any fact to shine as true and absolute, for whatever is born of fire will soon be possessed by darkness.
She writes, perhaps in justification of her life, or perhaps in acknowledgement of its complexities,
…. we have not found the road to virtue.
I shiver by the fire this winter day.
The play of opposites, their interpretation—
there's the reality, the fission and fusion.
Impossible to choose between absolutes, ultimates.
Pure light, pure lightlessness cannot be perceived.