Between 1968 and 1969, ensconced in London's legendary bohemian flophouse The Pheasantry, Germaine Greer wrote a book that would change thousands of women's lives. Scrawled in pen across her statement of intent, under the title The Female Eunuch Editorial, is the sentence:
My book on women, for which I have not yet devised a title, will be a collection of essays about what it is like to be a woman in 1969.
Though it's unlikely she knew it at the time, the publication of The Female Eunuch would give birth to a shadow work that would document the inner lives and experiences of women and men from across generations.
This shadow work would eventually become the General Correspondence series of the Germaine Greer Archive. From the initial avalanche of mail triggered by The Female Eunuch grew a collection of 50 years of letters, emails, faxes, telegrams and newsletters from academics, schoolchildren, radicals and housewives all over the world, now stored in 120 grey, acid-free boxes at the University of Melbourne Archives.
The collection offers a powerful, often amusing, sometimes perplexing glimpse into the lives of the women (and men) affected by her work and drawn into her orbit, as well as the many faces of Greer herself – academic, feminist, provocateur, confidant.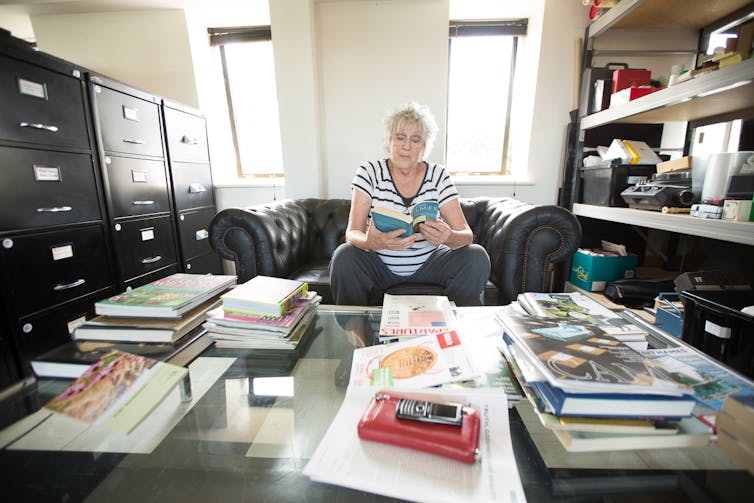 Delving into these records is a daunting and often disorienting experience. Archivists don't just collect records, they collect record-keeping systems. One of the guiding principles of our profession is that of original order – the concept that there is information and meaning implicit in the order and method in which records have been maintained.
Germaine's organising principle was egalitarian: correspondence is filed alphabetically by surname, organisation or project, regardless of date, subject or significance. A system such as this has obvious practical benefits for someone as busy as Greer, juggling television appearances, publishing deals and public lecturing, as well as attempting to answer personal mail from a devoted readership. However, when we read the series as a document – as an archivist must in the process of cataloguing – the effect is dizzying.
Grass-roots feminists and gardeners
Letters from grass-roots feminists hoping to bring about the sexual revolution in 1971 sit beside those from Essex gardeners advising on the best way to protect apple trees from rabbits.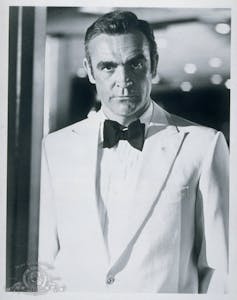 A letter from Sean Connery in 1972 requesting Greer's phone number "… as I have an idea for a project which could be interesting and fun" is sandwiched between theatre invitations and autograph requests. I like to imagine that the arrangement also has a touch of the diehard Marxist, giving equal prominence to noted author Margaret Atwood and Joe Public from Manchester.
Inside these files, time is displaced. There is a sense of disorientation while browsing through a folder and moving from printed emails to rapidly fading thermal fax paper, to telegrams and carbon copies.
Decades of changes in addresses, administrative assistants and literary agents are mashed together as we jump from a basement flat in Gloucester Walk, to the Tulsa Centre for the Study of Women's Literature, to the rural solitude of Greer's farmhouse in Essex and its legion of dogs, geese, doves and goldfish.
So, too, does Greer's voice shift through these different periods. In the 1970s, she frequently answers unsolicited letters at length, sometimes entering into detailed correspondence on issues such as women's liberation, abortion rights and contraception.
To a 17-year-old Australian girl called Penny, reeling from her encounter with The Female Eunuch, Greer writes:
There is a contribution which only you can make, and only which can give you happiness. Be true to yourself, dear Penny, and be assured of my regard for you.
Penny went on to write a women's self-defence handbook and has a black belt in kung fu.
A 54-year-old man writes asking Greer for suggestions of three to four books worth reading at his public library. She responds by suggesting he set up a second-hand book exchange and sends him a parcel of her favourites, including Madame Bovary.
New York and Tuscany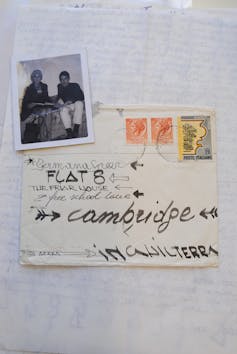 To good friends, Greer often writes in a free-association, beat-style ramble, breaking off to bake some bread in the massive stone oven that served as the foundation of her house in rural Tuscany. She returns in the evening with an anecdote about whatever particularly creative way her cat Boogaloo had courted death that week.
We are transported to the stone house Pianelli in Cortona where she beseeches friends to come and stay to escape the conservatism of Tory England during the OZ magazine obscenity trial in 1971 and, later, Thatcherism.
Greer tears around (and sometimes off) mountain roads in a Triumph convertible and reads The Thornbirds in between tapping what would become Sex and Destiny into an ancient, filthy manual typewriter borrowed from Newsweek's Rome office.
This was her fortress of solitude among the madness of the '70s and '80s. To a neighbour she writes:
This is what I came for – the sereno, a kind of weather so clear that I can hear the shepherd singing to his sheep in a valley two miles away.
Her joy is palpable in these flimsy pink and yellow ochre carbon copies of her descriptions of the state of her garden and the gathering of wild herbs. Letters written during her whirlwind 1971 tour of the United States provide the other side of the picture, betraying a horrified fascination with American politics and culture.
A letter to lawyer and civil rights activist Florynce Kennedy gives an account of staying at the Hotel Chelsea and having dinner in a singlet and clogs at La Grenouille with Peace Corps founder Sargent Shriver.
To Richard Neville in 1971 she writes:
A right-wing revolution in America could mean the end of the world; can that be what Edward Heath is preparing for? Sterile screwnoses rule us all. I am deeply afraid again like I was when I was a little girl and the war was only just out of sight.
From New York, she tells her publisher Sonny Mehta:
Jerry Rubin was trying to persuade me to come and live – come and die more like.
A talismanic figure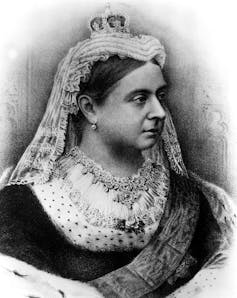 From the '90s onward, Greer finds less and less time for correspondence. She sends her thanks for a kind word scrawled on a postcard of a kangaroo or a printout form response apologising that she is unable to respond personally.
Despite this, she still treats it as something like a sacred duty to respond in some way to those who have approached her.
Greer's Country Notebook column in The Sunday Telegraph, begun in 1999, resulted in an extraordinary amount of mail from old metalworkers keen to explain to her the process of forging a carbon-steel knife and Essex gardeners sending snapshots of English bluebells in the wild.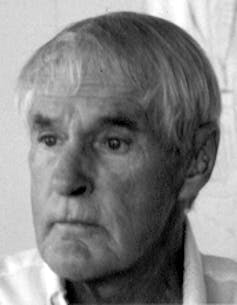 To many of her correspondents, Greer seems to have been a talismanic figure able to bring scrutiny and justice to their own personal cause. One correspondent writes regarding the accused English witch Molly Leigh who died in 1746. When the people believed her spirit continued to haunt their town she was reburied facing north-south, at a right angle to the other graves in the cemetery.
Greer's petitioner writes to recruit her to exhume and rebury Molly Leigh facing east-west (Greer's response: Let Molly Lie).
A woman who runs a private museum in Chelsea writes several times offering to let Greer try on Queen Victoria's underpants.
Psychologist and writer Timothy Leary, a man Richard Nixon once described as "the most dangerous man in America", writes from Sweden in exile:
I've loved you long. It's about time we connected.
Each believes in a mythic Germaine Greer. Most often, though, she just wants to be left alone.
She kept it all
The fascinating thing is that Greer has kept it all. Every letter telling her to go back to Australia and leave the queen alone, every handwritten unified theory, has made its way into a carefully alphabetised file and been kept for posterity.
At first, the drive to keep everything seems baffling given the sheer volume of material and bizarre nature of some of the requests. And in her newspaper columns in The Daily Telegraph and The Independent, Greer has written repeatedly about the strain of answering her mail. In a 1995 column, she declared:
all those demands for my favourite poem, recipe, book, colour, into my big new shiny black garbage bin. No more filing and cross-referencing.
Of course, rambling letters from strangers continued to be filed, though the cross-referencing may have ceased.
Perhaps as an English scholar, well practised in the use of manuscript sources, Greer has an appreciation for another concept central to archival theory – integrity.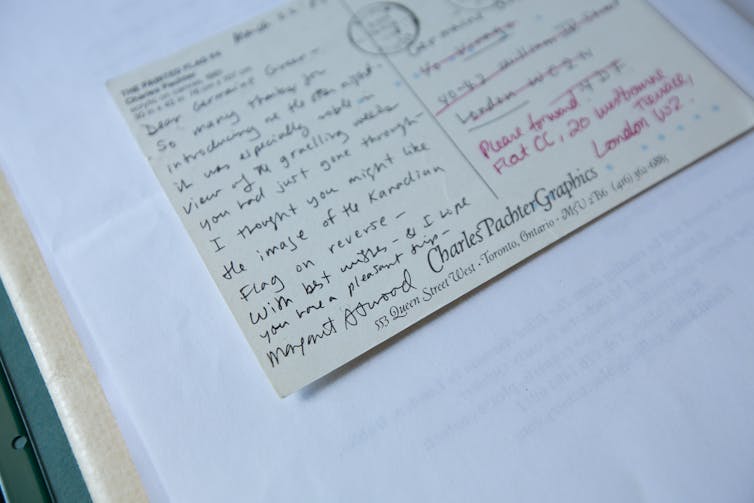 One of the modern patriarchs of archival science, Sir Hilary Jenkinson, has defined the role of the archivist as a calling:
His Creed, the Sanctity of Evidence; his Task, the Conservation of every scrap of Evidence attaching to the Documents committed to his charge.
I can see more than a little of Greer in this definition. Across the archive we see retrospective attempts by her to complete the record, including employing an AV archivist at one point to document and source footage of the hundreds of television and radio appearances she has made over the years.
Coming together
The archive as a whole has become something of a labyrinth for we archivists as we attempt to capture the complexity of its relationships. While we have biographies and Greer's published works to draw on, there is much that is undocumented beyond this archive, perhaps existing only in Greer's own memory.
Cryptic nicknames and references to places, people and events encountered early in records may be made clear 50 boxes later. Red herrings constantly present themselves – is "Rennie" Count Lorenzo Passerini or South African novelist Rennie Airth? Does "Fed" refer to Federico Fellini?
Attempting to describe the range of topics of discussion within a single file using subject headings leads to complex chunks of text that read like concrete poetry.
The description for the folder Correspondence SIN reads:
Chelsea Flower Show; Apples; Charoset; Seder; Birds as pets; Terminal care; The Female Eunuch; Prohibited books – South Africa; Bumblebees; Feminist films; Portrait of the Artist as an Old Lady (documentary); Paraskeva Clark; Women comedians; Sex and Destiny; Women's underwear; The Sunday Times; Vietnam War 1961-1975; People's Coalition for Peace and Justice; Taxicab drivers; Country Notebook (The Telegraph); Animal welfare; Dogs; The Guardian; Man-woman relationships; Rape victims – Bangladesh; Bangladesh – History – Revolution, 1971; Abortion; Advertising; Alka-Seltzer; Cave Creek Rainforest Rehabilitation Scheme; Homes and haunts; Travel.
In a column about her biographer Christine Wallace, Greer once stated that her archive "… will take five years of genuine commitment to read". One year in, I think this is a conservative estimate.
The Female Eunuch Editorial closes with a quote from Rainer Marie Rilke:
The great renewal of the world will perhaps consist in this, that man and maid, freed from all false feeling and aversion, will seek each other not as opposites, but as brother and sister, as neighbours and will come together as human beings.
Perhaps it's sentimentality, but having waded through the compressed evidence of so many lives, I feel that in some small, symbolic way Greer's correspondence achieves this. Her work can bring together novelists and gardeners, academics, prisoners and housewives, perhaps not always in agreement, but in conversation.
The Germaine Greer Archive will be accessible to researchers from March 27. Digitised items are available from The University of Melbourne Archives catalogue. To hear Germaine's thoughts on the archive, video of the public event Germaine Greer Meets the Archivists is available online.