From stadiums to galleries, the new frontier for today's mega pop star is high art. Mass popularity has its charms – sales, world tours, legions of followers – but the legacy-conferring power of art is now the ultimate sign of one's status within Western culture.
The rallying cry of "witness me, the artist" is the new mantra of pop royalty – from Beyoncé, Jay-Z and Lady Gaga to Kanye, and even Rihanna. Still, is this embrace of high art a phenomenon worth celebrating? Or, might it be seen more cynically, as a case of superstars using art to bestow credibility on their work in defiance of their own mass appeal?
Admittedly, there has never been a clear, dividing line between the pop and art world – and why should there be? Some of the most creative musicians in recent memory – David Bowie, Keith Richards, David Byrne, Brian Eno to name a few – began to study or pursued training in the visual arts.
In Australia, members of the 80's band Mental as Anything met at art school in Sydney and Nick Cave studied painting before pursuing his music. More recently, Sia, the daughter of Adelaide artist and art lecturer, Leone Furler, has become recognisable for the giant wigs that cover her face, her remarkable voice and her artful music videos featuring various dance collaborations.
Nor can we overlook the phenomenon of art rock that emerged in the sixties. Some of the most remarkable turning points in music history have been credited to the artistic turn in the work of The Beach Boys' Pet Sounds (1966), The Beatles' Sgt. Pepper's Lonely Hearts Club Band (1967), and The Velvet Underground & Nico's eponymous (1967) album under the influence of Andy Warhol's New York Factory scene.
While the emergence of the concept album took hold in the 70s, the pioneers of the music video age – Madonna, Michael Jackson and even Prince – understood the visual possibilities of the pop song better than many of their contemporaries. Their work endures for its blend of powerful music and evocative storytelling through videos such as Like a Prayer, Thriller, and When Doves Cry.
But today, the story is different. A song, mostly, is not enough. This is not to say that image is everything, but rather that one's stake in the pop world depends on musical and visual novelty. For today's pop leaders, this increasingly means sidestepping the boardrooms of marketing professionals in search of the artistic underground.
Making art out of Lemonade
Beyoncé's high-concept visual album Lemonade, for instance, takes listeners on a bold new form of musical storytelling in the style of Prince's Purple Rain (1984), Michael Jackson's Moonwalker (1988) or, perhaps more recently Kanye West's 35 minute film Runaway (2010) and Lana Del Rey's Tropico (2013).
For years, Beyoncé has been consciously attempting to shed herself of her Destiny's Child/Top 40 persona. Lemonade accomplishes that. Equal parts high-art and high-profile, it tackles the personal and the political, solitude and sisterhood and the emotional wounds of infidelity against the backdrop of race in America today.
A tapestry of song, visuals and locales, Beyoncé plays the survivor, a women-in-healing, trying to come to terms with the emotional aftermath of a love gone wrong. With cinematic grandeur, the album swims in evocative visuals of nature's mysterious powers (which have drawn comparisons to the work of Terrence Malick), and spoken word narratives, including the poetry of London-based, Kenya-born Somali writer Warsan Shire.
References to high art abound. Beyoncé infamous baseball bat wielding sequence in the song Hold Up pays homage to the work of Swiss artist Pipilotti Rist, whose 1997 video installation Ever is Over All featured a woman walking down a street smashing car windows. Some have accused Beyoncé of appropriation rather than homage.
Last year, such concerns were expressed about Drake's video for Hotline Bling which was strikingly similar to the light installation pieces of American artist, James Turell.
Beyoncé also collaborated with Nigerian visual artist Laolu Senbanjo, whose sacred body painting features in the film.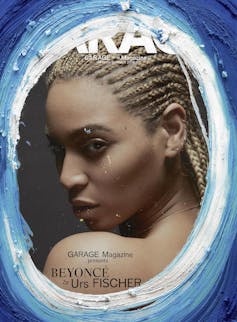 Observant Instagram followers of Queen Bey, meanwhile, will have noticed signs earlier this year of her increasing contact with the high art world. In collaboration with Swiss-born, New York-based Urs Fischer and Garage magazine (Spring/Summer 2016 edition), Beyoncé offered her thoughts on art via the magazine's app. On its cover, she was photographed with cornrows, amidst a thick swirl of pastels painted by Fischer. In the interview, she discussed Andy Warhol and her interest in modern art, name-dropping some of her favourite artists (Tracey Emin, Kara Walker, Aaron Young and Donald Judd).
What's interesting about this new period of Beyoncé's work is that she has reinvented herself as the Benjamin Button of the pop world – apparently becoming younger, less bourgeois and more defiant with age.
While most have certainly embraced her newly, empowered voice, other fans, however, wonder if the less complicated, radio-friendly Beyoncé will ever return.
Yellow Basquiat in my kitchen corner
In his own plea for artistic cred on his 2013 album, Magna Carta, Holy Grail, Beyoncé's husband Jay Z's hyper-capitalist dreams come to the fore. In the song Picasso Baby, Jay name-drops icons of the art world (Rothko, Bacon, Basquiat etc).
In homage to the reigning queen of performance art herself, Marina Abramovic, Jay adapted her (2010) MoMA installation, The Artist is Present – in which she sat six days a week, seven hours a day in a chair for a "silent opera".
Jay did a six-hour performance of his Picasso Baby at at Pace Gallery in NYC. In the video of this, directed by Mark Romanek (who also did his "99 Problems" video and is one of the directors of Beyoncé's Lemonade), Jay raps to a room full of carefully selected artistic and cultural leaders ranging from actor/director Judd Apatow to filmmaker Jim Jarmusch to artist Andreas Serrano to Abramovic herself.
Both Jay-Z and Abramovic were on good terms, until in an interview with Spike magazine, she accused Jay of not meeting his end of the business deal – namely, a sizable donation to her new Marina Abramovic institute of performance art in upstate New York. The mutually-contrived deal turned into an awkward PR debacle for both camps. (Jay-Z's people later confirmed that a donation had, in fact, been made and Abramovic apologized for the oversight.)
What's unique (but slightly predictable) about Jay's celebration of the art world is how he fantasies about it. Picasso Baby is less homage to great art for art's sake, more reverence of the reckless spoils of the "good" life. Art is worshipped as a sign of cultural power and extreme wealth:
Yellow Basquiat in my kitchen corner
Go ahead lean on that shit Blue, you own it.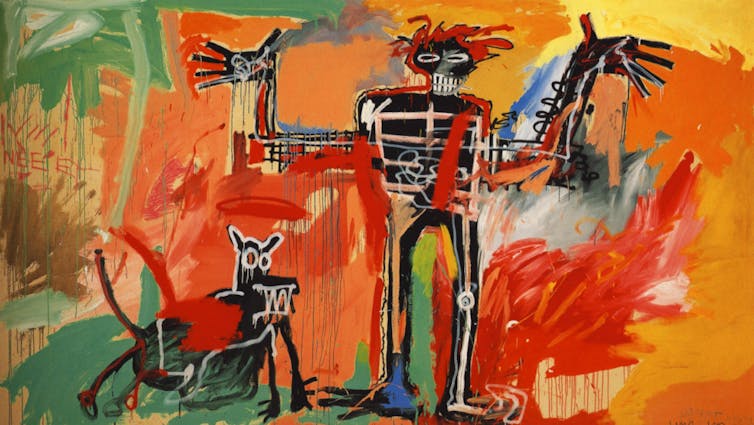 While some might argue that Picasso Baby is a "gateway hit" that opens younger fans up to the history of art, ultimately, the song never really embraces it as anything other than "art consumed by consumerism," as one NPR commenter suggested.
We are not far away here from 19th century British cultural critic Matthew Arnold's observations about the elitism of high culture. It is valued, he wrote, out of,
sheer vanity or else as an engine of social or class distinction separating its holder like a badge or title, from other people who have not got it.
From Queen Bey to Rhi Rhi
Recently, Barbadian bad-girl Rihanna has also thrown herself into the art game. On her latest effort, Anti (2016), the art partnerships are numerous: Israeli-born artist Roy Nachum and poet Chloe Mitchell worked on the liner notes, and there were enough producers and writers to staff their own soccer team.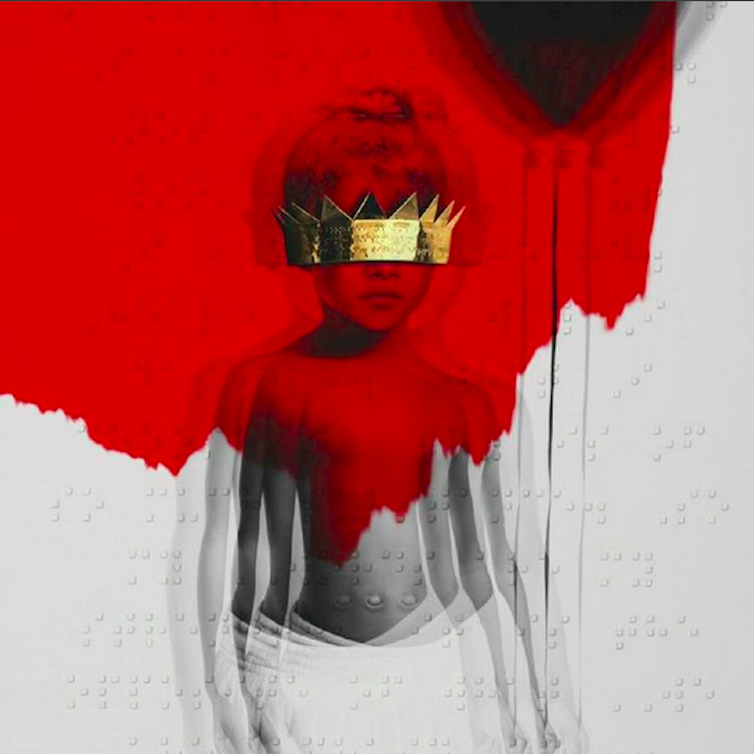 The lead single, Work, was highly anticipated and ultimately a head scratcher. Her canoodling with Drake in the song's video was predictably sexy but missed the feverish mystery suggested by the very powerful Antigone/Oedipal hallucination of the cover art. (On the album, a young Rihanna – eyes covered by a crown too big for her head – holds a balloon and is smothered by a blood red stain that she cannot see).
With songs like Woo and Work there's a blatant disconnect between the music and imagery. Arguably, Rhianna appears to be swimming in artistic waters well over her head and not satisfying her Top 40 fan base either.
Still, the recently released video for Needed Me, (directed by indie art renegade Harmony Korine) has a Springbreakers meets Scarface meets Viceland in Miami documentary feel to it, making Korine the perfect accomplice to Rihanna's nihilistic turn. With a simple, yet devilishly dark storyline, Rihanna plays the elegant, savage murderess, taking care of business the only way she knows how.
Pablo does Picasso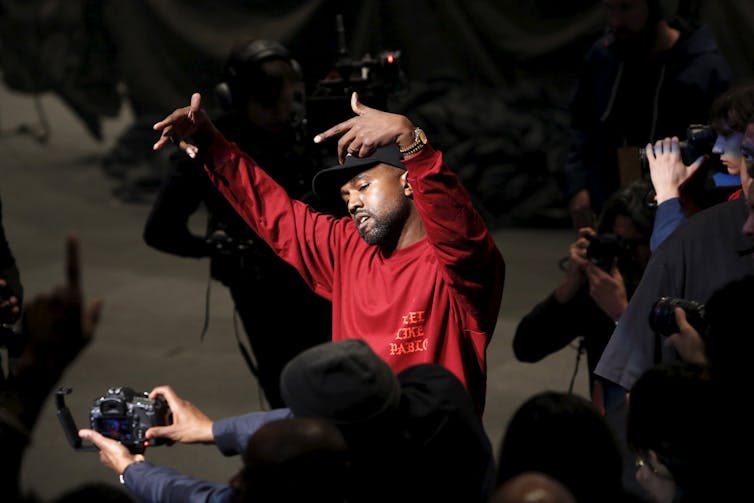 Then there's Kanye. The insufferable "think" pieces on his latest album, The Life of Pablo (2016), the Twitter meltdowns and ego-mania have reached peak decibel level, but it should be noted that as a former art school student, Kanye embodies the "child-like curiosity" that German philosopher Frederick Nietzsche discusses so fondly in many of his aphorisms on art and creation.
In interviews, it would appear that he can't get his dreams on paper – or into the factory – fast enough. He has also suggested that the paintings of Picasso, Matisse have inspired his work. In a 2013 interview Behind Kanye's Mask with The New York Times, discussing his recent love for the history of architecture, he refers to himself as "a minimalist in a rapper's body."
West's art idols are a unique blend of European and American artists/innovators (Walt Disney, Steve Jobs, George Condo, Pablo Picasso, Marco Brambilla, Vanessa Beecroft, just to name a few – and let's not forget his collaboration with Japanese artist Takashi Murakami during his Graduation period either).
For a recent collaboration with filmmaker Steve McQueen, West opened up about having his work seen primarily as art, adding:
I would trade all my Grammys – or, maybe, two Grammys – to be able to be in an art context.
For his new album, he collaborated with relatively unknown Belgian artist Peter de Potter for the cover art. West's artistic influences, fashion tastes (Givenchy, Balmain, Raf Simons) and interests in design, (The UK's Daily Mail caught him returning from a meeting with IKEA in Sweden earlier this month), suggest an explorer's spirit and a sense of genuine creative experimentation.
Vanessa Beecroft, one of West's collaborators for his recent fashion/performance pieces, (the Adidas Yeezus fashion shows, the Yeezus tours, and some Art Basel projects) has spoken positively of the artistic freedom he allows on their projects. Indeed American fashion has been revitalised by his street style alone. Consider the week-long lineup outside any store releasing new editions of his Adidas Yeezus shoes.
West's tireless quest for artistic perfection and new forms of visual expression is a welcome wake-up call to the increasingly blasé world of both high art and mainstream rap. Even if he raps about anal bleaching and "fame-thirsty" New York models, his obsession with garnering high-art legitimacy has generated some of the most interesting fusions of art, fashion and music in recent years.
When Koons met Gaga met Botticelli
Of course it would be impossible to discuss recent pop/high art collaborations without mentioning Lady Gaga's undervalued 2013 release ARTPOP. The album's cover art featured a prominent collaboration with Jeff Koons, with fractured pieces of Botticelli's The Birth of Venus (1484-6) spliced into the background.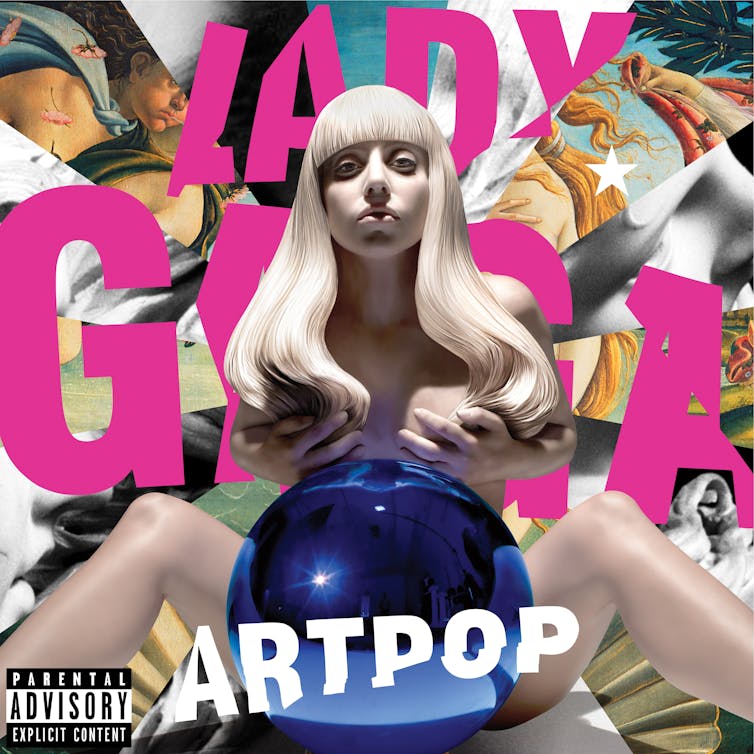 In interviews, Gaga appears to be highly articulate on the subject of artistic processes and influences.
She cites Rilke's Letters to a Young Poet as a major source of artistic inspiration and has a quote of his about the necessity of making art tattooed on her upper left forearm. With ARTPOP, her intention was to bridge the world of pop and art in ways that mass culture has never seen before.
Her powerful and unique songs, such as Artpop and Venus realised the goal. However, sales were lacklustre. Critics questioned whether her "art game" was as strong as her marketing prowess, with some all-too-literal songs such as "Donatella" and "Fashion".
Legacy building
Artistic legacy is clearly pop's new watchword. Still, today's pop stars might want to pay heed to Aristotle, whose observations about the process of artistic creation still ring true. "The aim of art," he wrote, "is to represent not the outward appearance of things, but their inward significance".
History teaches us that many artistic experiments flourish and fade. The true artists of our day (regardless of the medium) create works that connect with the complexities of the human soul in ways that crass materialism and persona-mongering cannot.
No amount of artistic referencing or posturing will take the place of original, inspired and soul-searching work.