The cosmetic store Lush has been at the centre of a scandal after it featured prominent window displays with police tape and "cop/spy" posters.
Lush has always taken a strong political stance on human rights, animal welfare, and environmental conservation. And the displays formed part of their latest campaign, "spycops", which focuses on the experiences of animal rights activists who were romanced by undercover officers as part of policing tactics used to infiltrate political groups. It was a practice that began in 1968 and ran for over 40 years.
The activities of undercover police officers came to light following whistleblowing and victims campaigning. They included spying on the families of murder victims, stealing the identities of dead children, and the use of fake names in court – as well as undercover police officers engaging in sexual relationships with women, and the fathering of children. A public inquiry was commissioned, by the then home secretary Teresa May in 2015, but this has yet to hear evidence after a series of hold-ups.
With the stalling of the inquiry, and against the current political backdrop, there has been a strong reaction on social media to the Lush "spy cops" campaign, particularly from both serving and ex-police officers. The current home secretary, Sajid Javid, and the Police Federation have both labelled the company – famed for its bath bombs – as anti-police.
Many have spoken out on social media – sparking a campaign to #FlushLush and boycott its products. Critics argue that police officers are working hard with limited resources and that this campaign is damaging and offensive to the majority of police officers and their families.
Police spies
Maybe it's not surprising, then, that not long after launch, Lush pulled the campaign "for the safety of staff" after intimidation and complaints from customers, police officers and their friends and families.
And yet, the "spy cops" victims, who supported the awareness raising campaign, are still waiting for an open and transparent inquiry to take place – which is in the interests of the public and the majority of police officers.
Police misconduct is an ongoing challenge for policing. In that it often supersedes the excellent work that is being done both by individual officers and within police forces. But this does not mean that previous police activities can be ignored. And it is incredibly important that the police service acknowledges and learns from past mistakes.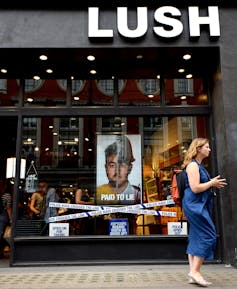 It comes after the "long road to justice" for victims of the Hillsborough tragedy, and alongside the ongoing pressure for an inquiry into the violent confrontations between police and pickets at a British Steel Corporation coking plant in Orgreave 34 years ago. But campaigns to establish the truth about police actions in different contexts are still met with resistance. And in this way, the public and institutional resistance to the "spy cops" campaign is perhaps not unsurprising.
Seeking justice
The police mission is continually shaped by changing social, political, and economic demands placed on them. But of course, while the police play a central role in the regulation and response to crime and deviance, with this responsibility comes intense scrutiny and criticism.
While many dubious police practices have yet to be subject to inquiry, those that were eventually brought about institutional change. The Scarman Report, for example, which was commissioned by the government following the Brixton Riots found significant failures within the police force – particularly with regard to institutional racism. As did the later Macpherson Inquiry into matters arising from the murder of Stephen Lawrence.
Tactics used by undercover police offers did not just impact animal rights activists – the families of Stephen Lawrence and Ricky Reel have also complained that they too were subject to these illegal policing practices.
That Lush's awareness campaign was met with accusations of "anti-police" rhetoric then, suggests that the police force and the government are still unwilling to respond to changing police priorities.
New police culture
"Post-millennium" policing has on the whole, reflected on the mistakes made and placed diversity at its core, building on four policy principles. These place the "public" and the "community" at the centre of the policing mission. They also look to modernise the workforce, to create an "ethical conscience", as well as mechanisms of accountability.
The changes within the police over recent years have been profound, which can make it easy to assume that mistakes such as "spy cops" have no relevance and should be left in the past.
But while it is easy to argue that the Lush campaign is damaging to police morale – at a time when the workforce is struggling due to funding cut backs and increased pressures – it's important to remember the police's mission is based on accountability and ethical conscience. And that the victims of "spy cops" – like victims of any crime – deserve justice. They are as yet, unable to achieve this without a transparent inquiry.