The Recognition of Aboriginal Customary Laws report was released by the Australian Law Reform Commission (ALRC) in June 1986, after an intensive, nine-year inquiry.
The report examined the interaction between two legal systems – one based in British law "received" at colonisation and the other in the customary laws of the Aboriginal peoples of Australia.
In a post-Mabo Australia, the significance of the core question about "recognition" of Aboriginal customary law no longer seems so world-defining. It's difficult to re-enter the view that admitted little challenge to the centrality of one law for Australia – or for the foundational legal position that Australia was a settled colony and uninhabited (terra nullius).
What the report did
The ALRC investigated whether:
… it would be desirable to apply, either in whole or in part, Aboriginal customary law to Aborigines — generally or in particular areas or to those living in tribal communities only.
Its report was wide-ranging: considering Aboriginal customary law in the pre-European period, and in the aftermath of colonisation.
It probed why there was a failure to recognise Aboriginal customary law within Australian law. It canvassed ways in which the legal system might recognise Aboriginal customary law in areas such as criminal law and sentencing, marriage laws and customary adoption, and in Aboriginal property distribution.
The report resonated with a concern for human rights, and reflects the equality and anti-discrimination principles incorporated into Australian law in the previous decade.
It analysed whether Aboriginal customary laws could be applied in criminal cases and whether Aboriginal communities should be able to apply their laws in the punishment and rehabilitation of community members.
The application of customary law in criminal proceedings (including proof and evidence), and the development of indigenous community courts have progressed since then. We have experimented with customary law in sentencing, and with Indigenous community courts (Koori Courts in Victoria). Still, reforms have not been as extensive as it has in countries like Canada.
The report's recommendations
No recommendations were made regarding the recognition of customary laws as the basis for Aboriginal land rights. The ALRC report followed the Aboriginal Land Rights (Northern Territory) Act, and land rights legislation in some states.
The broader legal position remained that Australia was "uninhabited" at settlement. That view was not displaced until the Mabo decision in 1992.
But the Recognition of Aboriginal Customary Law report was vital to developing concepts around the recognition of Aboriginal traditional law and custom that played a role in that legal change.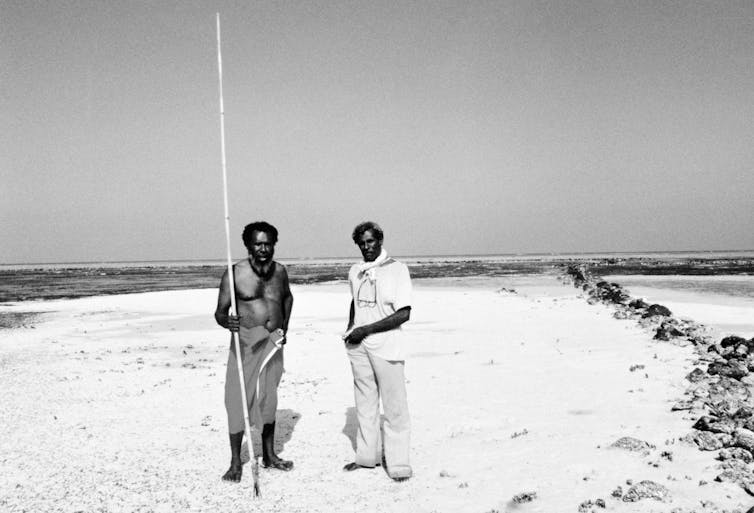 Now, 30 years after its publication, the report remains the most-accessed ALRC publication, which indicates its pervasive influence in Australia's legal system and society. Yet few of its recommendations have become actual law.
Further, there are still many different perspectives on the concept of "recognition" of customary law. Even the term customary law has origins in the British Empire. While for some it signifies a respectful identification of laws and customs grounded in another culture, for others it reinforces the power of the Australian legal system to set the terms on which the "customary system" is acknowledged.
Connection to country
Recognising Indigenous law remains controversial – as shown by debates about constitutional recognition of Aboriginal and Torres Strait Islander peoples. And, it has modern, practical implications – for example, for the use of traditional knowledge in the co-management of lands and waters.
Importantly, recognition of traditional law and custom giving rise to "connection" to land and waters is the central legal test for determining native title claims under the Native Title Act.
The ALRC reviewed that legislation from 2013 to 2015. It recommended reforms to the connection test, which requires Aboriginal and Torres Strait Islander peoples to show evidence they have remained a society that has continued to acknowledge (practice) their traditional law and customs, without substantial interruption, since before colonisation.
This is a demanding test. While some allowance is made for change to law and custom over time, difficult legal questions remain about how much change is possible for laws and customs to still be "traditional".
The ALRC's 2015 report recommended changes to the definition of native title to recognise that traditional laws and customs may adapt, evolve or otherwise develop. The earlier report had also emphasised the dynamic nature of Aboriginal customary law.
The 2015 report tackled the difficulties around showing evidence of Aboriginal and Torres Strait Islander peoples' traditional law and custom, and recommended that native title rights for commercial purposes be recognised. It suggested reforms to strengthen the internal governance capacity of native title groups, while allowing for traditional authority to be exercised.
The Connection to Country report hasn't receive the attention of the earlier inquiry, but if the Native Title Act is to help achieve a sustainable cultural and economic future for Aboriginal and Torres Strait Islander peoples, then recognition of the evolution of traditional law and custom is vital and further legal reform is needed.
The customary law report provided the basis for longer-term social change. It remains a rich source of knowledge of Aboriginal customary law and traditions, and set strong grounds for law reform.
---
This article is part of a special package marking the 30th anniversary of the Australian Law Reform Commission's report on Aboriginal customary law.