-Book Review: Leo Zeilig; An Ounce of Practice; Hope Road Publishing, London, February 2017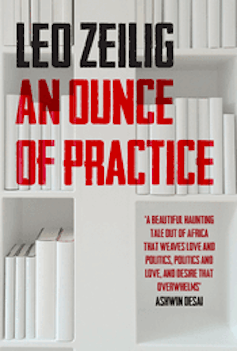 Writer and Researcher Leo Zeilig's new novel tells a gripping tale of an intellectual leftie from London, a group of southern African activists in Zimbabwe and England, and the emotional battles of living and acting in the struggles of the 21st century.
Viktor lives in London. His life is bedevilled by inertia, a sense of dying really. His family life disintegrates. It doesn't help much that he spends his days immersed in his computer. He connects with the world through Facebook and Twitter, writing blogs and posting them on a website of radical politics.
He longs for practice, for life in action. But he remains stuck in theorising, with his comrades at the university, even in his connection with his young daughter.
Tendai is Viktor's friend. Now trailing a London university campus as a reading worker and strike organiser; he's been steeled through a life lived in the southern African struggles against colonialism and apartheid. Tendai believes in practice to prevail over theory. He challenges Viktor:
If you haven't seen and lived, what good are you?
Anne-Marie is in Harare. She works with the development NGO set of expats, though deeply cynical about their politics and lavish lifestyle. Her life finds more clarity and radical action through her involvement with the "Society of Liberated Minds", a small band of self-styled revolutionaries who rename themselves "Lenin", even "Stalin", but also "Biko" and "Cabral".
Anne-Marie's double predicament is her prominent Congolese family's expectations towards her womanhood and her unpredictable lover, the Society's leader. Biko is an activist in Bulawayo. He burns with desire, rage and action. Biko lives the practice and action that Viktor longs for and, at once, shirks. In his personal life he craves connection with his family, his past, his throbbing loneliness driving him to more and more dangerous action.
Zeilig's characters connect, at first tentatively, in virtual space. Then Viktor, pushed ever deeper into his crisis and persuaded, cajoled and seduced, travels to Zimbabwe. There he hopes to find "some bloody practice", grabbing a chance to write "at last for a movement, a people struggling against dictatorship and neoliberalism". And to meet Anne-Marie …
The action heats up in Harare and Bulawayo. Hotter, more raging, more engaging, more dangerous, more violent than he could have ever imagined.
Credible characters
As in his 2013 debut novel "Eddie the Kid", Zeilig draws his characters with a close eye, deep psychological insight and extraordinary empathy. When I interviewed him, he emphasised that he wanted to avoid portraying activists as "iron Lenins", which he sees as "an unfortunate tendency in left-wing fiction".
His characters are enormously credible. Description and dialogue convey inner reflection and outward expression in words and action. In their different ways each of the left-wing activists – from the bumbling Viktor through to the passionate if somewhat dangerously zealous Biko – is well-meaning and flawed.
Even the white Zimbabwean businessman and coffee shop owner Louis, who befriends Viktor in Harare, while portrayed as crudely racist is also vulnerable and capable of love. This appears as the main thrust of this beautifully written novel: in the end, it's love that's at the heart of resistance and revolution. Of life itself. This is vividly imagined in Viktor's loving relationship with his young daughter, which, even though somewhat hapless, is depicted in scenes of moving tenderness.
Breathing authenticity
Zeilig's novel breathes authenticity with a superbly crafted cast of characters and poignant dialogue. He also impresses with acute, sensuous observations of place. The sights, smells and sounds of Harare take the reader into the dilapidated resilience of this once opulent, colonial city.
For "An Ounce of Practice", Zeilig – who has been an academic and an activist in left-wing politics in both the UK and southern Africa – has drawn inspiration from two seemingly unconnected social and political struggles. When he was working at the University of London a few years ago, he became involved with a strike of cleaners at the university.
His second theme is the "catastrophic fall" of Zimbabwe, caused by the "twin evils" of IMF/ World Bank structural adjustment policies and President Robert Mugabe's dictatorship. In Zimbabwe he also witnessed the courageous resistance of small groups of activists. In the novel he connects these stories through crafting a cast of Zimbabwean migrants at the heart of the labour action in London.
Zeilig explained during the interview,
the story is about the connections of the Global North and South, the link between how we live, love and struggle. It also looks at the 'neo-liberal' hurricane in both parts of the world.
He emphasised the connection of personal and political crisis and, "the hope, if we are to become truly human, of breaking down the barriers to action, connection and hope".
Engagement with political activism
"An Ounce of Practice" succeeds as an imaginative engagement with the predicament of global political activism today. It elegantly weaves nuanced philosophical reflections on the opportunities and dangers presented by social media and the precarity of existence in the neo-liberal academy through a vivid narrative of an individual journey, intimate love and life that never loses sight of the "bigger us".
As the main protagonist of this African Bildungsroman slowly begins to live by a saying attributed to Friedrich Engels that, "an ounce of practice is worth a ton of theory", Zeilig shows the exhilaration and hope that comes with activism. At the same time we see excruciating pain, despair and loss emerging in the encounter with violent dictatorship and repression.
"An Ounce of Practice" is a brilliant work of literary imagination that takes the reader to new realities in an engaging, moving read, hilariously humorous at times. Zeilig's new novel is a page turner for readers interested in the profound questions of radical politics and humanity in today's world.