Home Secretary Amber Rudd's decision to rule out a public inquiry into the "Battle of Orgreave" is once again back in the spotlight after being publicly condemned by North East Derbyshire Council. The Labour-run council is now calling on Rudd to "think again" about her decision not to order a full probe into the notorious miners' strike clash between South Yorkshire Police and striking pitmen.
Rudd made the decision not to hold a public inquiry into Orgreave without reviewing all of the evidence. In an announcement in 2016, she claimed that there had been "very significant changes" in the oversight of policing since the miners' strike, meaning that:
There would be very few lessons for the policing system today to be learned from any review of the events and practices of three decades ago.
She further suggested that there were "no miscarriages of justice" at Orgreave, given "there were no deaths" and "no convictions".
At the time, Rudd's decision triggered widespread condemnation and was said by councillor Derrick Skinner to show "contempt for the many former miners, their families and communities … who have waited patiently for decades for the truth".
This news comes after it was recently announced that files relating to the so-called Battle of Orgreave are expected to be made public this year, which could well lead to further scrutiny of South Yorkshire Police.
A bloody battle
The "Battle of Orgreave" became one of the most decisive events of the 1984-85 miners' strike. It happened on June 18 1984, after striking miners picketing a South Yorkshire coking plant were herded into a field near Orgreave coking plant, outside Rotherham. The miners were then reportedly charged by cavalry and subject to a series of violent attacks by police on foot and horseback.
Ninety-five miners and supporters were subsequently charged with riot and unlawful assembly, but were acquitted after a seven-week trial in light of allegations that police officers had lied in court and fabricated evidence.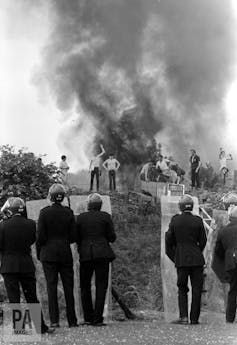 The events have caused lasting rifts between police and former mining communities, and serious questions remain about the relationship between the policing operation at Orgreave and the "underhand tactics" used by the same police force to deadly affect at the Hillsborough stadium disaster less than six years later.
And in 2016, the conduct of South Yorkshire police was once again called into question at the conclusion of a trial of ten Asian men accused of violent disorder.
Further scrutiny
The men were arrested along with two others following their involvement in an anti-racism protest in Rotherham in September 2015. In the aftermath of the child abuse scandal which erupted in the town earlier that year, the area had become a magnet for far-right groups, who organised a series of provocative marches in the town.
And while the jury at Sheffield Crown Court heard that members of Rotherham's Muslim community had largely chosen to ignore the far-right marches following the racist murder of 81-year-old Mushin Ahmed in August – who suffered a brutal attack as he walked to mosque for morning prayers – the community organised a peaceful counter-demonstration.
When the protest came to an end, the anti-racist group were shepherded by police past a local pub known to be associated with the far-right. There, they were physically attacked, suffered a barrage of racist abuse and were forced to defend themselves. Following a gruelling six-week trial, the jury unanimously returned not guilty verdicts for all ten of the men standing trial.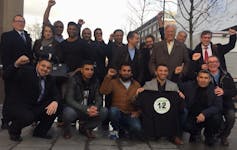 The Rotherham 12 case triggered a national campaign in support of the arrested men. This was backed by the Orgreave Truth and Justice Campaign whose members attended the trial to show support. Both groups have drawn parallels between the Rotherham 12 case and the treatment of the miners at Orgreave.
In a public statement following the verdicts, the Rotherham 12 Defence Campaign was heavily critical of South Yorkshire Police, stating that officers "led the local community towards danger and left them unprotected".
In the words of one of the acquitted men:
There are similarities with what the police did to the Orgreave miners, and how they herded them to a particular spot … I had a bin thrown at me, punches thrown at me and I had literally done nothing. Now you imagine five weeks later, at six or seven in the morning, police officers, ten of them, coming to your house. Your children are scared, you're scared, you're treated as some common criminal.
From bad to worse
The arrests have worsened the already strained relations between South Yorkshire Police and the local Muslim community in Rotherham, who have raised concerns that the force have failed to adequately respond to far-right violence in the town.
The Rotherham 12 Defence Campaign have called for an independent inquiry into the conduct and behaviour of the police, noting that public confidence in the force "is at an all time low". The police force has also been told it "requires improvement" in how it keeps people safe and reduces crime by the police watchdog, Her Majesty's Inspectorate of the Constabulary.
So, two cases, over 30 years apart, both involving a community under siege, constructed as an enemy within. Over-policed and under-protected, a fundamental breakdown in police community relations and a deep sense of injustice. And at the heart of both cases is South Yorkshire Police.
Perhaps then Rudd's refusal to hold a public inquiry into Orgreave is not because the event is no longer relevant to contemporary policing, but because of just how relevant it continues to be.
The Orgreave and Rotherham campaigners have made clear that their fight for justice will continue and a protest has been called outside the Home Office on March 13. And despite the home secretary's decision, the trials and tribulations of South Yorkshire Police look set to continue.