Fremantle's five-storey Myer department store closed in 2013 after four decades of service. The demise of a mass-market store in the heart of Fremantle should have been a large blow to the retail and broader character of the area.
In the 20th century it would have been. But times have changed, in Australia and around the world. Rather than being left dormant while development plans were being drawn up, the building reopened as MANY 6160 six months after Myer closed.
MANY 6160 is Australia's largest temporary place activation, with more than 20,000m² of space dedicated to retail, production and events. It provides spaces for independent artists, designers, other cultural workers and small business enterprises.
In February 2016, MANY 6160 became home to Australia's second-largest private gallery (after Hobart's MONA). Called Success, it operates from the building's basement.
The temporary use of space has become popular in cities and towns across the world. When properties have lost their capacity to be rented or sold at a profit, or are left vacant for redevelopment plans, they have the potential for interim uses while the owner waits for development or for property prices to warm up.
How does temporary occupation work?
The advantages of temporary occupation are many. It allows members of a community to come together to work, socialise or learn, unencumbered by market-rate rents. It taps into culture's current interest in customisation, localisation and co-creation. At MANY 6160 you can buy everything from 3D-printed jewellery to surfboards.
Temporary users can act as surveillance and maintenance providers for the property owner. At the same time, they bring cultural cachet to the space and adjacent area.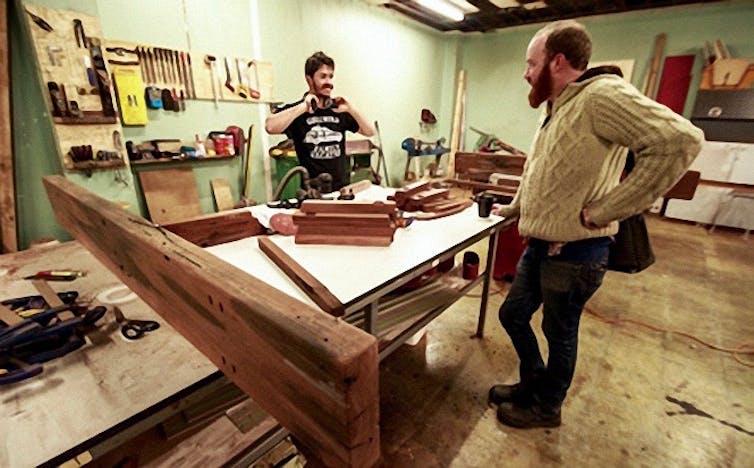 Temporary occupation can bring about the challenging and redefinition of planning regulations and rental contracts. At MANY 6160, rental contracts are short – renters need give only 30 days' notice to opt out.
With planning regulations tailored towards permanent occupation, the local council was slightly confounded as to how to determine the building class of the gallery in the basement. MANY 6160's architect, Nic Brunsdon of Post-Architecture, says:
The city would not sign off on it at first. We had to get an independent evaluation to certify the building. All you need is a piece of paper [of certification] rather than do something to address the code.
Brunsdon delights in this grey-area-ness:
It's the place where no-one wants to be. It's fertile ground. You need to revel in uncertainty and risk.
Recognising the benefits for users and owners, government agencies and developers are making it easier for real estate to become available for temporary use. They can, for example, reduce the liability for building owners and provide incentives for owners and citizens to start up their own projects.
Space-brokering agencies have emerged in cities and towns across Australia – Adelaide, Townsville, Geelong, Newcastle and Parramatta – and further afield, in places like Christchurch, Singapore, Chicago and Dublin.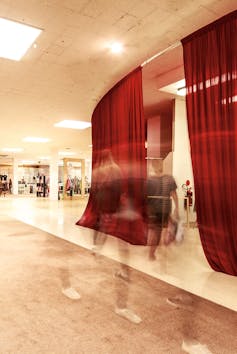 Perth has its own space-brokering service, Spacemarket, also available as an app since 2016. The service helps a diversity of tenants, from tech start-ups to community groups, to use the thousands of square metres of underutilised space in the Perth CBD.
It also partly solves a problem for commercial leases: vacancies fluctuate with market cycles; when vacancies are high, temporary occupation may be a solution.
While many local councils see the temporary use of space as a solution to providing cheap spaces for creative workers, in the long term it may not be so. Buildings will still be bulldozed or converted, rents will increase and tenancies will become affordable.
When this happens, those occupying the temporary space can get squeezed out, even though their presence and activity made the area culturally and economically valuable to start with.
This is a potential scenario for the creatives at MANY 6160. A A$220 million development planned for Kings Square may eventually force them to move on, despite the council's ambitions to preserve the diversity of the temporary occupation in future.
Temporary, but with a city-making legacy
So, can temporary use influence local city-shaping and state decision-making in the long term, rather than simply being a stopgap? Can projects like MANY 6160 help to forge new approaches to urban design and planning?
The answer is yes. Temporary occupation creates opportunities for a new type of city-making.
With the current trend towards decreasing public expenditure on the built environment, the temporary use of space demonstrates alternative models of governance where developers, councils and citizens work together to resolve the issue of a lack of resources. The MANY 6160 project, in particular, demonstrates a shift in government behaviour towards incentivising and supporting citizens.
The City of Fremantle contributed $20,000 to the project. Citizens have put in thousands of hours of volunteer labour, along with the architects, who have borne start-up costs of more than $50,000. There is also the goodwill of building owner Sirona Capital.
A new world of cross-societal participation in urban design and planning has been opened up. However, the biggest advantage of temporary use has not been leveraged at the Fremantle site. The missed opportunity is an incremental approach to development, so that temporary occupation becomes a pivotal intermediate step towards long-term development.
In this scenario, the occupation of MANY 6160 could inform and influence the Kings Square development. Learnings from the temporary place activation – about the location, the community and other local factors – could contribute to the next iteration of the site.
The temporary project could be embedded within broader master plans and urban frameworks to test out experimental programs and governance models that could be brought into the long-term development.
The temporary occupation of space is ripe for exploration in Perth and other centres where the use of sites is constantly changing. When we cannot predict the future, let alone the next decade, interim use provides ways to reimagine buildings.
Citizens are increasingly demanding spaces for hours, days, weeks or months rather than years. This type of future city, contingent on mobility, requires a looser planning vision, one that allows for temporary occupation to inform future occupations, rather than merely being a placeholder for the development to follow.
---
The Conversation is co-publishing articles with Future West (Australian Urbanism), produced by the University of Western Australia's Faculty of Architecture, Landscape and Visual Arts. These articles look towards the future of urbanism, taking Perth and Western Australia as its reference point. You can read other articles here.