On Thursday, Gold Coast man Gable Tostee was found not guilty of the murder of a woman, Warriena Wright, who fell to her death from his unit's balcony.
The case raises questions about how common death by falling is – and how many such incidents are homicides.
The prevalence of death by falling
Cases of homicide by falling are rare. The US Centre for Disease Control reported in 2014 there were 33,018 deaths by falling in that country. But, of these, only four were determined to be homicides.
Out of 31,240 falling deaths in 2013, only 11 were deemed homicides.
Australian Bureau of Statistics data shows that, for 2015, only 28 – or 1% – of fall-related deaths involved falling from a building or a structure.
Data from the Australian Institute of Criminology's national homicide monitoring program shows that between 2008 and 2010 there were no recorded homicides as a result of being "pushed from a high place". Between 2010 and 2012, the program recorded that five (or 1% of) victims of homicide died as the result of being pushed from a high place.
A study in the state of Maryland in the US over a six-year period identified that of 139 falling deaths, only two cases were deemed homicide.
Falling deaths and murder
The Tostee case is not the first instance of a fall from a building causing death being linked to criminal conduct.
In 2001, while a senior detective at Surfers Paradise, I led an investigation into someone who had lured a young woman into his 12th-floor unit. After being assaulted the woman tried to escape and fell 12 floors, miraculously surviving the fall. Her assailant was charged with deprivation of liberty and grievous bodily harm.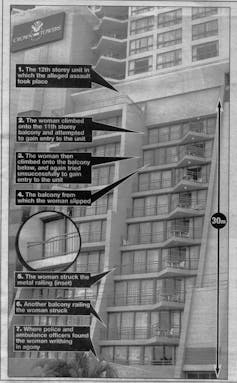 In 2013, New South Wales man Simon Gittany was charged with and convicted of the murder of his girlfriend, Lisa Harnum, who he killed in 2011 by throwing her off a 15th-floor balcony in a fit of rage.
Two men were found not guilty of the falling death of Tumara Cousins, who fell 31 storeys to his death from a Surfers Paradise high-rise in May 2012.
During the trial it was alleged the duo went to see Cousins at the resort in relation to a drug deal, then assaulted him and pulled a gun, causing him to try and escape by climbing across balconies before he fell. A jury found them not guilty.
The Tostee case
Tostee pleaded not guilty to the murder of Wright, who fell to her death in the early hours of August 8, 2014. The pair met through the Tinder dating app. Tostee and Wright had had sex on the night of her death and then began to argue.
At trial the defence argued Tostee was using reasonable force to defend himself after Wright hit him with rocks, or tried to hit him with a telescope clamp.
The prosecution argued Tostee intimidated the victim by physically restraining her after she used a telescope clamp to strike him or try to strike him. He forced her onto the balcony and locked the balcony door.
In summing up, Justice John Byrne told the jury that to convict of murder, they must be satisfied the intimidation caused the victim to carry out an act, and that act – climbing from the balcony – caused her death.
Justice Byrne also said the possible defences open to Tostee – such as self-defence, removing a disorderly person, or preventing repetition of insult – needed to be excluded for the jury to return a murder or manslaughter conviction.
Australian legal precedents
Queensland police based their case against Tostee on a 1991 High Court case, Royall v R.
In this case the defendant was in an abusive relationship with the deceased. On the day of her death he had assaulted her and then broke into the bathroom of the unit they shared. The deceased fell by unknown means from the bathroom window to her death. Royall was charged and convicted of murder.
His appeal to the High Court failed when the court ruled that if you cause someone to fear death or grievous bodily harm, and they die trying to escape, then you are held liable for the death the same as if you had caused the death.
Justice Brennan said that regarding causation:
It is also well established that the death may be held to have been caused by an accused's conduct though the direct or immediate cause of death is a final fatal step taken by the victim where that step is taken in an attempt to preserve himself or herself from physical harm which unlawful conduct on the part of the accused has induced the victim to fear, provided the victim's attempt at self-preservation is reasonable having regard to the nature of the accused's conduct and the fear it was likely to have induced.
Investigative challenges
One major challenge in cases of death by falling are that, in many instances, the only person left to provide a version of the deceased's last moments is the suspect. The cases often become circumstantial with little direct evidence, and rely on careful crime reconstruction.
In such cases, crime scene examination becomes crucial, as does the collation of information from third-party witnesses. The Tostee case also highlighted the increased role technology-based evidence will play.
In this case, it seems justice has prevailed.