Pupils at a school in the Cape Town suburb of Bonteheuwel say they are being terrorised by two "girl gangs". In Kraaifontein, about 20 kilometres away, a 15-year-old boy has been arrested for allegedly stabbing a 16-year-old classmate to death. The attack, police say, has gang links. This is not a new phenomenon in the suburbs collectively known as the Cape Flats, which were created during the apartheid era when working class coloured people were forcibly relocated to housing projects.
Research suggests that the problem of school gangs is actually growing. Conversation Africa education editor Natasha Joseph asked Professor Rajendra Chetty to unpack the issues.
You've recently published research that explores school gangs in the areas broadly known as the Cape Flats. Why do children join gangs?
The problem is complex. It should be viewed from a social, political and economic perspective. Social problems on the Cape Flats include poverty, the breakdown of family control and a loss of ties to extended families. The divorce rate is climbing and there are more single parent households. Boys from such disrupted households, full of anger and humiliation, form gangs to demonstrate a degree of manly defiance and pride in their desolate communities.
Youngsters copy the kind of endemic male brutality in South African society that's evident in the country's high rates of rape and murder, xenophobia and a militarised police service. This culture of anger, violence and criminal behaviour in the community spills into schools. Pupils proudly identify with the dominant gangs. Schools themselves then become fertile grounds for criminal and antisocial behaviour like drug abuse.
After these latest attacks, the education department in the Western Cape province has called for the police to step up patrols and keep schools safe. Can policing alone make the gangs disappear?
Increasing police involvement would not address the Cape Flats' myriad problems. Steps should first be taken to heal the breakdown in relationship between the community and police and strengthen the partnership between schools and the community.
Police brutality against young offenders has been on the increase in these communities and the situation has been exacerbated by police corruption and police collusion with the drug merchants.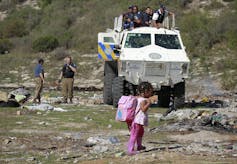 It would be valuable if the police could play a key role in schools' drug abuse awareness programmes. This would not only engender a collaborative partnership with the schools, but also create a way for the police to regain credibility among youth. The programme must shift from a punitive approach to an enabling, caring and supportive methodology to address gangsterism and drug abuse in schools.
Society would benefit greatly if the police, school and community focused their efforts on prevention instead of tackling the aftermath of gangsterism among learners.
In South Africa, policing is a national government responsibility. The state should provide specialised policing resources and introduce expert drug units to control gangsterism and drug abuse in the Cape Flats.
You're very critical of the Western Cape Education Department in your research, arguing that it could be seen to deliberately have let the situation in Cape Flats schools get out of control. Why do you say this?
It is unfortunate that inequality in schooling is not being addressed. It is ironic to note that the Western Cape Department of Education has decided to close low-income, low- performing schools and is ignoring the social needs of struggling communities in the Cape Flats. Poor communities like those on the Cape Flats seem to be on the fringe of the department's agenda.
It is also concerning that there has been no urgency by the national education department to develop, implement and evaluate school-based interventions.
For instance, the national Drug Abuse Policy Framework stipulates that teachers receive suitable training to equip them to deal with social problems as they arise in the classroom. Teachers on the Cape Flats have not received such specialist training.
What are some immediate, concrete steps that the government, schools and communities can take to really start turning the situation around?
Community development needs serious consideration in any efforts to address poverty and social ills. The capitalist democracy foregrounds the interests of business, profits and the middle class. This happens at the expense of poor communities, which has resulted in the increased levels of poverty and crime seen in some areas. These schools don't exist in a vacuum, so providing them with basic educational resources, organising leadership seminars for principals that focus on tackling social problems and setting up feeding schemes for the children who go to school hungry could make a huge difference.
There also needs to be better support for pupils with behavioural problems. All schools once had guidance counsellors - this position should be recreated and filled in every school on the Cape Flats. He or she should be tasked with implementing, monitoring and evaluating the substance abuse prevention programme in schools.
A collaborative strategic intervention programme should be formulated that involves communities, schools, the education department - provincially and nationally.
Importantly, data is needed to identify spatial patterns of drug abuse and gangsterism in schools. Policy makers and service planners could use this data to allocate resources for prevention and treatment at schools with the highest level of problems.