Gareth Sansom is a rare and an intimidating phenomenon in Australian art – an artist who thinks deeply, is fiercely independent, is visually literate and has mastery over an extensive range of skills.
His retrospective exhibition at the National Gallery of Victoria, Gareth Sansom – Transformer is bold, provocative, exquisitely crafted – and simply brilliant. Sansom is an artist who takes no prisoners, breaks all of the rules and leaves you spellbound.
Sansom was born in 1939, the same year as George Baldessin and Brett Whiteley - a generation that took pleasure in risk taking and had little reverence for the conventions of the old order.
Like Baldessin and Whiteley, he too was besotted with Francis Bacon, explored the dark side of the human psyche, and was prepared to work across mediums, splicing and collaging images like the montages in film noir that so appealed to all three artists. However, unlike his two contemporaries, Sansom has been blessed with longevity and continues to work at the peak of his powers with some of the strongest, toughest and most uncompromising pieces amongst his most recent.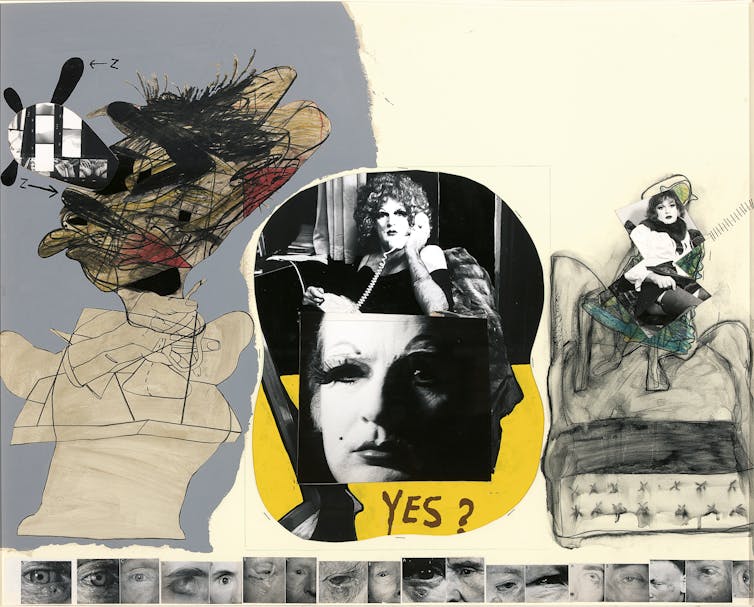 Sansom creates complex, multi-tiered narratives in his paintings, drawings and collages. There exists a seductive temptation to decipher the story and the artist willingly provides clues from his personal biography, art historical anecdotes and other lures and traps for the viewer. Many of these clues are brought together in the excellent accompanying catalogue edited by the exhibition's curator, Simon Maidment.
In some ways, one can become engulfed in this semiotic quicksand, which is instantly gratifying in the same way as gossip may be an antidote to curiosity. We learn of the artist's juvenile fantasies, obsessions and possible sources, but these are all largely beside the point.
Knowing that the cross-dressing Barry Humphries may have inspired the artist to do the same or that he used a room at home to stage and photograph a scene from the Bates Motel may satisfy some of our curiosity, but it adds little to the understanding of his work.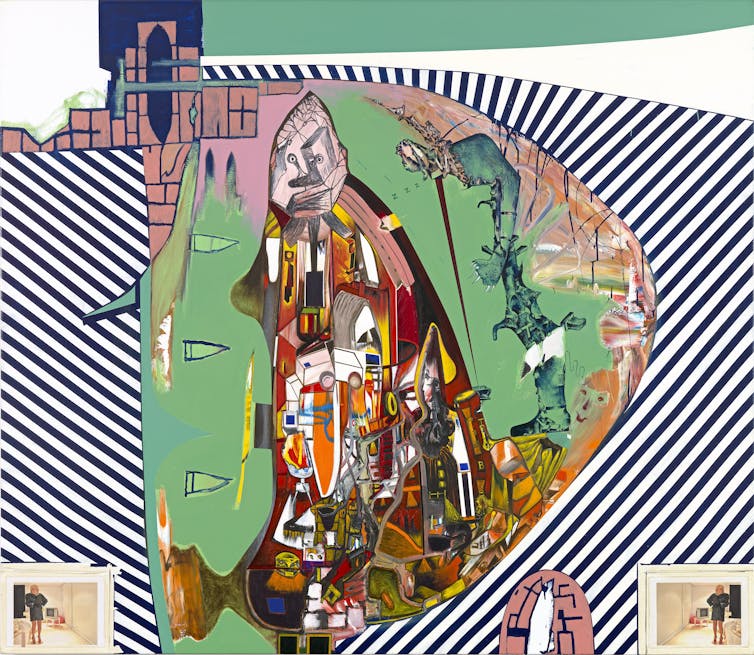 Sansom, for all of his transcultural references, is not, in the final analysis, a literary artist – an illustrator of verbal ideas – and for all of his reading and immersion in film and popular culture, his art is the triumph of visual intelligence. It speaks to us on a visual level that bypasses the verbal decoding.
Like an alchemist, Sansom will mix a scene that can be traced back to Ingmar Bergman's The Seventh Seal or Alfred Hitchcock's Psycho, but he throws all of this into a creative cauldron in which image, text, difficult colours and, those painful to the eye, plus a mass of other unexpected, startling imagery is brought together to shock, surprise and delight.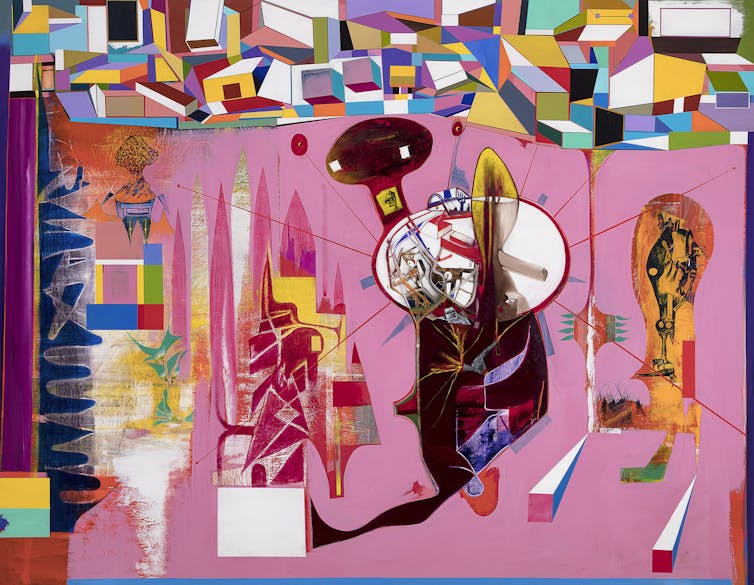 Sansom has been doing this for 60 years and I have been viewing it for about 40 years and he has never failed to shock and surprise me. I have always thought that his work was good, but never realised it was this good. From those very early collages of the 1960s through to the monumental paintings of the last few years, there is an enormous consistency, emotional intensity and a generous dose of whimsy in his art.
Although we may have all now become somewhat resilient to being shocked through depictions of explicit sexuality, brutal violence, graffiti and the extreme manifestations of pop art, Sansom's work can also seduce and emotionally disarm us before visually ambushing us.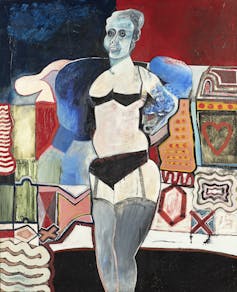 This exhibition has about 130 such visual ambushes and intellectual naughty pleasures. From early show stoppers, including He sees himself (1964) and The blue masked transvestite (1964), through to much more recent pieces, such as Wittgenstein's brush with Vorticism (2016) and Transformer (2016-17), they are all works that contain a fair amount of humour – often black humour. There is also a cringe factor at play, as if the artist has caught you in the act of enjoying his work and for this you must be humiliated.
For all of the notes of anarchy and praise of the temporary and the ephemeral, throughout the exhibition you also become conscious that you are looking at complex, sophisticated and well-structured works that are built to last.
Where does this exhibition place Gareth Sansom?
Much of this work – particularly that from the past 20 years – would look good in any international company. Although not shy of the fact that it is made in Australia, the imagery is definitely not made for Australian eyes only or as an export commodity that is stamped "Made in Australia" for outside consumption.
Just as Anselm Kiefer bears the impact of his German origins and Jean-Michel Basquiat of his emergence within the New York punk scene, Sansom is a Melbourne product, but has a unique and unmistakable artistic voice. He can comfortably take his place as an internationally significant contemporary artist.
Gareth Sansom - Transformer, National Gallery of Victoria, Federation Square, Melbourne, 15 September 2017 – 28 January 2018