I am a guilt-stricken carnivore. Even though I love eating meat, I have become increasingly uncomfortable with the ethics of killing animals for consumption and with the environmental impact of the meat industry. I also have mixed feelings about gentrification. I clearly see the benefits it can bring, but I am also aware it can adversely affect local communities and businesses. One thing I have not done until now is think of these two issues in conjunction.
A few days ago, a colleague sent me an article in the British free newspaper Metro about the recent closure of one of London's oldest pie and mash shops, AJ Goddard in Deptford. According to the article, the owner blamed gentrification (a claim that has been previously made about the closure of pie and mash shops more generally). The influx of newcomers who were vegan, vegetarian, or "into fad diets" were apparently what caused the shop's closure after 128 years of operation.
My initial reaction was to question this claim. The owner told the Metro that he'd had a few people coming in and asking if they did vegan pies: "It's like some kind of bad joke – we're a traditional pie and mash shop, of course we don't sell vegan pies." If this was the case, I thought, why not seek to reflect the desires of local customers and start selling a vegan option? If people were coming in to ask for them, then the demand was certainly there.
The owner's apparent refusal to sell vegan pies was because the shop was a "traditional" one (in other words, one that sells meat pies). But this claim is problematic: the contents of London pies have changed over the years in response to changes in supply and demand. Pies in the East End were originally associated with eels. The move towards meat (mostly beef) came with the overfishing of eels in the 19th century, though the tradition of eating eels is still present (most shops sell jellied eels and a few also do hot stewed eels). And, the second element of the dish, mash, was only added on a few decades later.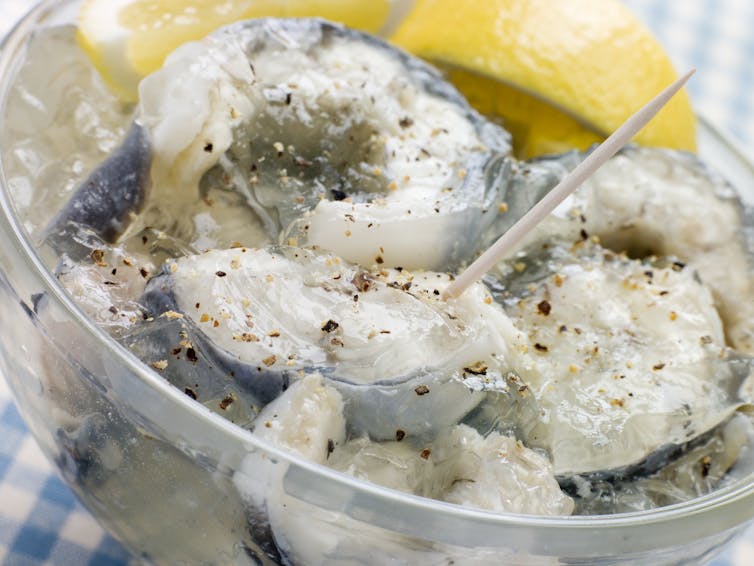 Meanwhile, the media charge that vegetarians and vegans are to blame fits in well with a meat industry that perceives itself as being under siege. Across the world, there have been campaigns to prohibit vegetarian and vegan products from using meat-based labels such as sausage, steak and burger, and in France the industry has even asked for government protection from vegans.
Food identities
But the closure of this south London shop raises a wider question regarding the relationship between food and identity. People's food culture tends to reflect their class, gender, national and political identifications and as such are often slow to change. The French gastronome Brillat Savarin famously said, "tell me what you eat and I will tell you who you are".
Britain has been described as a "nation of pie-lovers" and pie and mash served with liquor (parsley sauce), aka the Londoners' meal, has been closely associated with East End "cockney" culture for more than a century. And so one could read the closure of AJ Goddard, and many other pie and mash shops, as an indication of the decline of cockney culture and identity.
But we could go even further and lament, with Brexit in mind, the decline of traditional English culture and identity; in terms of food culture this has included the closure of "traditional" pubs, cafes and fish and chip shops. Gentrification and veganism are thus associated with foreigners or out of touch liberal elites who not only do not understand, share or respect local culture and traditions, but actively seek to change them, and authorities who do nothing to protect them. A pie shop's decision not to reflect the tastes of local customers could in this view be political as well as pragmatic; tied to "traditional" views of food culture.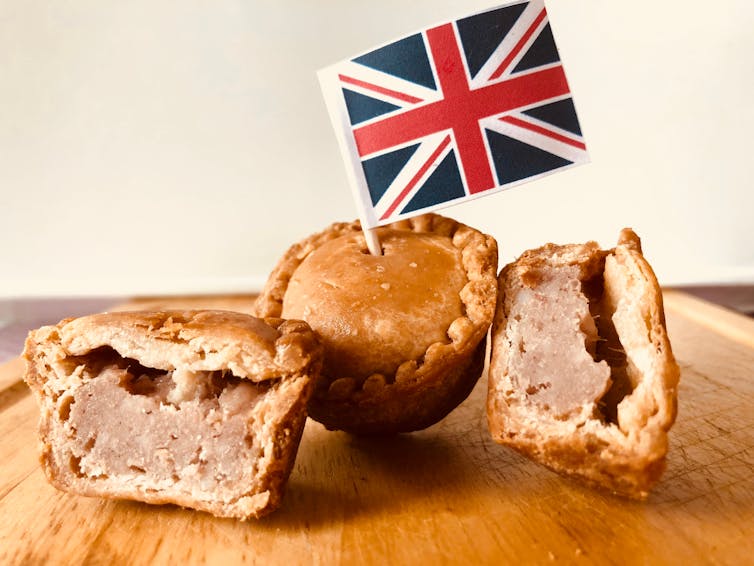 Dynamic food
Food culture is dynamic and not immutable. The rise and fall of pie and mash, just like other national food icons, reflects the changing nature of social and economic life in Britain over the past century.
The first pie and mash shop opened in 1844 to cater for the demands of a growing working class in East London, fuelled by the growth of the docks, and based on the flow of people (migrants) and goods (most of the eels originally served came from Dutch fishing vessels). Pie and mash were thus products of change and were probably, at the time, seen as a food fad. They were also, to an extent, products of migration from other parts of the country and from abroad. Of the three families that started the pie and mash trade in London, the Kellys, the Cookes, and the Manzes, the latter two were Irish and Italian.
The pie and mash shops that have survived have increasingly moved away from a narrow interpretation of authenticity and tradition. Most now include vegetarian options, which according to one owner are "really popular", and some have even gone as far as providing non "authentic" sides such as gravy and chips. A few of the more modern shops have gone further and have included less traditional options such as Thai green curry and chicken tikka masala (and the latter can be arguably seen as a British national dish). One of the most successful London pie shops offers 21 different pies, including three vegetarian and five vegan ones.
All this is true. But the desire, particularly after Brexit, to lament the decline of English culture and to read events through the lens of identity politics has become pervasive. And in fact, according to the Huffington Post, the closure of this pie and mash shop had more to do with local politics and austerity than simply the influx of vegans. Apparently the owner later claimed that the real reason his shop was relocating to Kent was because of the rise in rent and business rates and the condition of the building, which is owned by Lewisham Council.
Whatever the reason, in today's era of healthy eating, whether you are a vegan, meat eater or flexitarian, serving carbs with carbs is always going to be a hard sell.