Opinion polls and local election results currently make unhappy reading for Germany's government. In fact, the consistently strong performance of the far-right Alternative for Germany (AfD) in Europe's largest member state (and arguably the member state with the best reasons to ward off a far-right challenge) is worrying for everyone.
The anti-immigration, climate sceptic AfD recently celebrated two significant local election wins and has been polling ahead of the government in national voter intention polls. This happened despite the fact that the German courts have the whole party being monitored by the secret service on grounds of suspected extremism.
AfD representatives have been tangled up with arguments about memorialising the Holocaust on plenty of occasions and one former AfD lawmaker is currently in custody on suspicion of taking part in a violent attempted coup.
Germany's three-party government, made up of the SPD (social democrats, the party of Chancellor Olaf Scholz), Greens and the FDP (a centre-right liberal party) is undoubtedly unpopular. The most recent Deutschlandtrend poll (which is based on fieldwork completed at the start of July) found that 77% of respondents were "dissatisfied" with the government's performance. Meanwhile, national polls have, in recent weeks, consistently put the AfD in second place.
The opposition CDU/CSU (Christian Democrats), led by Friedrich Merz, is out in front but with support from an underwhelming 27% of voters in national opinion polls, while the AfD is at around 19%, ahead of the SPD (18%), Greens (14%), FDP (7%) and Left Party (5%).
It is clear that the AfD is particularly strong in eastern Germany, which displays strikingly distinct patterns of voting behaviour and political values compared to the rest of the country, even though it's well over 30 years since the Berlin Wall fell.
Both the recent electoral successes unfolded in the east. In June, Robert Sesselmann was elected the first AfD county mayor after defeating his CDU opponent in Sonneberg, a rural area in the state of Thuringia. In the first week of July, Hannes Loth won the AfD its first full-time mayoral post in Raguhn-Jeßnitz, in the neighbouring state Saxony-Anhalt.
A recent poll Thuringia put the AfD on 34% if a state election were held tomorrow, well ahead of the CDU (21%) and Left Party (20%).
There will be elections to the regional parliaments of three eastern states in September 2024. The prospect of the AfD topping the poll is a major risk.
Gaining ground
There is no denying that Scholz's coalition government, formed in December 2021, has been dealt an exceptionally difficult hand. The Ukraine war and energy price crisis pose major challenges to Germany, a country whose economic model was substantially predicated on access to cheap (Russian) energy, and whose foreign policy was founded on dialogue rather than conflict with Russia.
It also just so happens that the issues coming to the fore are the same issues that aggravate the differences between the governing coalition partners. Energy and climate policy are sources of particular disagreement between the Greens (and to a lesser extent the SPD) and the pro-car, climate-cautious FDP. On fiscal policy, too, the partners are poles apart. The Greens and SPD are focused on investment while the FDP is all about balanced budgets and lower taxes.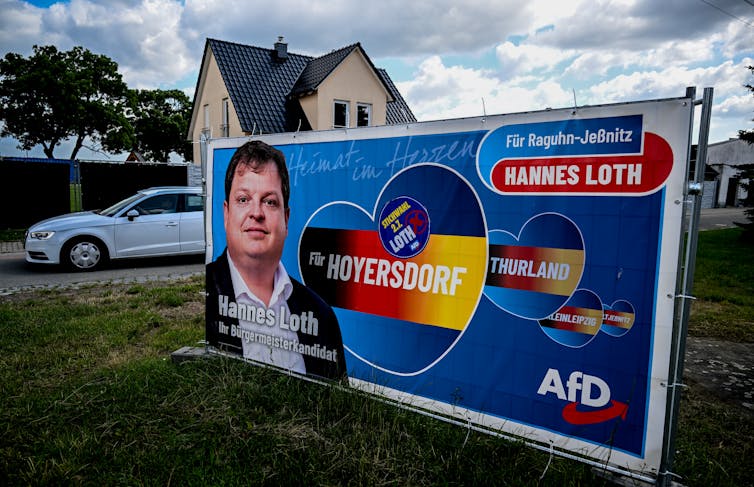 But there is also a significant proportion of German voters who disagree with some of the key tenets on which all mainstream parties (whether government or opposition) broadly agree. That 23% of Germans want to see less support for Ukraine is a problem for the establishment and that figure rises to 37% in the east, where there are stronger historical ties to Russia and where there has been far greater scepticism of German troops serving abroad, whether in Iraq, Kosovo or Afghanistan. Meanwhile, 37% of Germans (and a massive 87% of AfD voters) say climate protection measures are going too far, while 52% felt that Germany could not cope with the number of refugees it was receiving.
The AfD's support is not about the party becoming more mainstream. It remains fractious and polemical on a level that is still unpalatable for many. German voters recognise the party has become more extreme, with a lower proportion open to any form of co-operation between the AfD and other parties than back in 2017.
What is has done, however, is skip rather effectively from issue to issue. For instance, at the 2021 federal election, it successfully emphasised its opposition to the government's COVID restrictions after the issue of refugees had declined in importance. And the AfD should not be characterised as a party for the "losers of globalisation", as is often the case for extreme right parties. Notably in the east, its support cuts across different income and age groups.
Elections ahead
Scholz continues to strike a calm, optimistic tone in public. In a recent interview, he strained to emphasise just how friendly dealings between coalition partners have been. But with no end to the Ukraine conflict and associated economic challenges in sight, governing will continue to be difficult. A series of nearly back-to-back elections (two major state polls this autumn, followed by European elections in May 2024) will give a substantial incentive for coalition parties to seek to advance their own profiles at the expense of their partners. The FDP has already been doing precisely this following a rotten set of results in four state elections in 2022.
Perhaps most concerning is the presence of a significant minority of Germans, notably in the east, at odds with key tenets of mainstream politics and happy to support a party led by politicians who have variously criticised the Holocaust memorial in Berlin as a sign that Germany expends too much energy atoning for the past, dubbed Germany's armed forces a "genderised, multiculturalised troop serving the USA", and which questions Germany's democratic credentials while sharing Kremlin propaganda.