Women are still underrepresented in political institutions across the globe. A lot of time has been spent looking at how to increase the share of women in parliaments but progress in political executives – where political power is concentrated – has been slower and more erratic.
But recent developments suggest it isn't that hard to make governments more representative of the population as a whole. Our research shows that to make a real difference, national leaders need to make it their personal goal to appoint more women to their top team. And since the theme for International Women's Day 2016 is #PledgeforParity, there's no time like the present.
Take Canada as an example. In November 2015 incoming Prime Minister Justin Trudeau appointed an equal number of men and women to his ministerial team because he wanted "a cabinet that looks like Canada". Parity cabinets have also been formed in France by François Hollande, Chile by Michelle Bachelet, Italy by Matteo Renzi, and Spain by José Luis Rodríguez Zapatero.
What is the common denominator here? In each case the prime minister or president has had a strong enough political will to achieve parity. Our research on ministerial recruitment finds that prime ministers and presidents have significant powers of discretion over ministerial appointments. What they say and want is key when the top team is chosen. If the prime minister or president prioritises gender representation in the process of cabinet formation, he or she can make it happen.
Tired arguments
Several arguments are often wheeled out against prioritising gender parity. These start with insistence that there are just not enough qualified women to fill the jobs and then move on to the assertion that "appointments should be made on merit not gender".
But cabinets are small – usually between 15 and 20 members – so a head of government needs only to find a few of women to make a big difference. Just six women are needed in a cabinet of 15 for a selector to reach a 40% gender equality threshold. It is, frankly, inconceivable that there are not six qualified women in the ministerial eligibility pool.
It doen't even necessarily matter if a president or prime minister is faced with an insufficient number of elected women on the government benches. The eligibility pool is often larger than we might think. In most cases, national leaders are not restricted to the lower houses of parliament when looking for ministers. In the UK, Australia and Canada, for example, ministers can be appointed from upper houses too; and in parliamentary democracies like Germany and Spain ministers are often senior politicians from regional political institutions. In many cases prime ministers can even bring on board non-elected experts.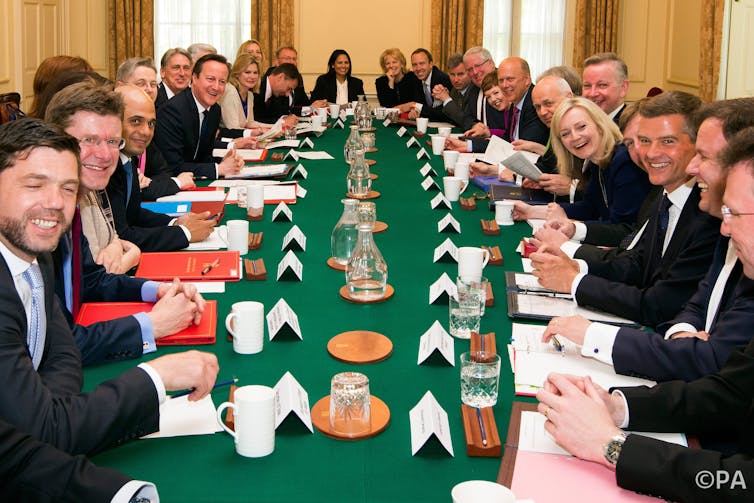 What's more, it doesn't make sense to say there are not enough "qualified" women because we have found that there are multiple ways to qualify as a minister. Put another way, merit means a number of things in the process of selecting ministers to form a cabinet.
Some ministers will of course be appointed to a specific portfolio on the back of their policy expertise, but other qualifying criteria are equally as important. Experience in parliament; leadership in the party, loyalty to the prime minister, all come into play.
There is also a range of other representative criteria that a selector needs to consider to produce a balanced cabinet. These vary by countries but might include region, language, religion, or party faction. Increasingly, over time, we find that gender is becoming an important representative criterion in many countries. The point is that merit is not a fixed entity. It varies across country and leader.
Pushing ahead
Despite all this, it would wrong to claim that prime ministers face no obstacles to appointing more women, even if the will is there.
One constraint for a selector is leading a coalition government. Back in 2008, British Prime Minister David Cameron made a pledge, not quite for parity, but to give a third of his jobs in his first government to women by the end of the 2010-15 parliamentary term. By 2015 just five of 21 ministers (24%) in his cabinet were women.
Cameron faced significant constraints to his powers of selection because he governed in coalition with the Liberal Democrats. The smaller party had five ministerial posts but its selector (Deputy Prime Minister Nick Clegg) failed to appoint any women. Cameron had discretion over 16 portfolios to which he appointed five women (so in a sense he did manage 31%). Following the 2015 election Cameron, as sole selector, appointed seven women to his cabinet of 21 (or 33%).
Prime ministers and presidents – and other selectors in coalitions – have significant power and discretion in the process of ministerial appointment. They have the power to include women in cabinets, and to increase women's cabinet numbers quickly. These selectors are the people to persuade to pledge for parity if we want to see more equal gender representation in more cabinets worldwide.
Susan Franceschet and Karen Beckwith also contributed to this article.