Crime fiction series are enormously popular, with readers, authors and publishers. An established series develops characters and locations, builds audiences – and generates revenue.
Certain series become synonymous with their authors' names, as anyone who's ever sat down with a Christie can tell you. But what happens when the author of a beloved series dies?
Author Stieg Larsson passed away before his (completed) Millennium trilogy was published. Now a fourth Millennium book, The Girl in the Spider's Web (2015), written by David Lagercrantz, has been published.
Readers get new adventures of Lisbeth Salander and Mikael Blomkvist, and publishers hope to repeat the commercial success of the estimated 80 million sales of the original novels worldwide.
Larsson's series is not the only one to be brought back to life this year. British author Sophie Hannah penned the first Hercule Poirot novel – The Monogram Murders (2014) – since Agatha Christie died in 1976, and Anthony Horowitz wrote the latest addition to James Bond's post-Ian Fleming career: Trigger Mortis (2015).
Resurrecting characters and series has a long history. Due to pressure from readers, Arthur Conan Doyle famously revived Sherlock Holmes in Sherlock Holmes Returns (1903), eight years after killing him off in The Final Problem (1893).
The final Holmes story written by Doyle appeared in 1927, thus satisfying readers' demands for Holmes's adventures for a further 24 years. Holmes, of course, has outlived his creator, with multiple rewrites and TV and film adaptations.
Finding an author's voice
For English readers, The Girl in the Spider's Web, the English translation of_ Det som inte dödar oss_ (That which does not kill us), introduces two major changes.
First, we have a new author, David Lagercrantz, who has previously published a novel based on the life of English code-breaker Alan Turing, and ghost-written a much praised autobiography of Swedish footballer Zlatan Ibrahimovic.
Second, the series has a new translator. Reg Keeland has been replaced with George Goulding, who translated Lagercrantz's Turing novel.
Translators are often ignored, but changing them is no minor matter, as the Swedish original is mediated through the skill and ability of the translator. While Lagercrantz, to a certain degree, has to ventriloquise Larsson, Goulding has to imitate both Lagercrantz and the earlier Keeland translations.
When a popular fiction writer achieves great commercial success, often through some innovation, there are inevitably imitators who seek to cash in on this success.
(Think of the slew of forensic investigators who appeared after Patricia Cornwall's Kay Scarpetta shot to fame.)
Is David Lagercrantz little more than a Stieg Larsson imitator? If he is, he is an imitator who has the advantage of being able to use the original characters.
Lagercrantz would argue that he is both imitator and innovator. In an interview with The Guardian he said:
I had to be faithful to Larsson's work, but I also had to be true to myself.
One such area is violence. Lagercrantz downplays Larsson's graphic, quite confronting violence in favour of the "intellectual thrillers" he prefers.
Critics have generally been positive in their reviews of The Girl in the Spider's Web. They've praised the tighter focus of the writing and described it as:
a respectful and affectionate homage to the originals.
The creative essence
Readers may be happy to meet Blomkvist and Salander again, but Larsson's vision was much broader than the very memorable characters he created. While perhaps true to the original at the level of character and writing, Lagercrantz's novel misses the target of left-winger Larsson's criticism.
In the Millennium trilogy, Larsson attacks Swedish racism, rampant capitalism, entrenched misogyny and violence against women, the nation's conservatism and reluctance to acknowledge its pro-Nazi sympathies, and the institutional abuse of individual citizens, such as Lisbeth Salander.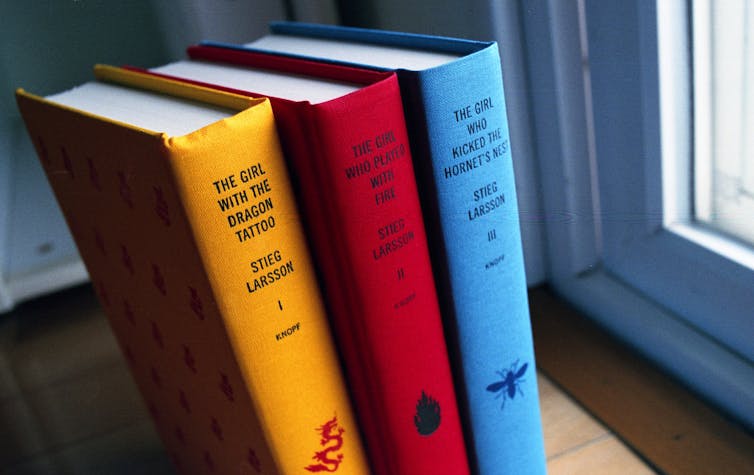 Lagercrantz continues Larsson's left-wing criticism. But there is a major difference. The Swedish national focus of the Millennium trilogy is, in The Girl in the Spider's Web, distinctly international. This is not necessarily problematic in itself, but in doing so, Lagercrantz pens just another well-written and entertaining international conspiracy novel.
Indeed, The Girl in the Spider's Web could be part of the Bond franchise. The bureaucratic, banal, but nevertheless evil, villains of the Millennium trilogy were recognisable. They were individuals who overstepped the mark and abused their power or privilege. Here, they are replaced with a Bond-like super-villain whose main aim is to destroy Salander.
Motivations, once political, are now very personal. Evil is no longer specific, localised; it exists elsewhere. The original novels' social criticism and call to be vigilant against the multiple incursions of the state – specifically Sweden, but ideologically any state – in the lives of its citizens, is displaced into the world of shadowy international conspiracies.
Lisbeth Salander was always larger than life, but she was believable. Lagercrantz offers us a world of comic-book characters.
The Cervantes clapback
Shortly before finishing the second volume of the adventures of Don Quixote, Spanish author Miguel de Cervantes discovered that another author had pilfered his characters.
Alonso Fernández de Avellaneda, the pseudonym of an author whose identity is still unknown, continued the adventures of Don Quixote and Sancho Panza in his own novel, introducing numerous changes.
Cervantes was justifiably enraged and, when he published the second volume in 1615, he returned the favour, incorporating minor characters from the false Quixote. In a humorous twist, Cervantes has them sign statutory declarations confirming that the Don Quixote and Sancho Panza they had previously met were pale imitations of the real Don and his squire. Cervantes had his revenge.
One wonders what Stieg Larsson would do if he had the chance.