Deborah Mitford, Dowager Duchess of Devonshire, often referred to as the "last Mitford sister", has passed away. But Debo, as she was known to friends and family, was an institution in her own right. Under her care, Chatsworth House became one of the most profitable stately homes in the country and her work educating children about the origins of food marked her out as a great innovator. She was also a great beauty with a sweet and innocent disposition that belied her business acumen. No wonder men dropped at her feet.
One such man was the novelist Evelyn Waugh, who adored "glorious Debo" and remained friends with her all his life. Debo was exactly the kind of woman to fire Waugh's romantic imagination. She was beautiful, but didn't care – and seemed to go out of her way to make as little of her looks as possible. While fiercely intelligent, she had no time for the kind of sharp dinner party wit that Waugh relied on to charm his friends – and so remained resolutely uncharmed. This in itself spurred Waugh on to even greater romantic heights, and the less attainable she was the more he idealised her.
In these ways, Debo had much in common with Waugh's second wife Laura. She too was from an aristocratic family and conveyed an unworldliness that contrasted starkly with the kind of bantering riposte Waugh shared with Debo's sisters Diana and Nancy. Both Debo and Laura were happier in a cow field than a ballroom, and both were about 15 years Waugh's junior.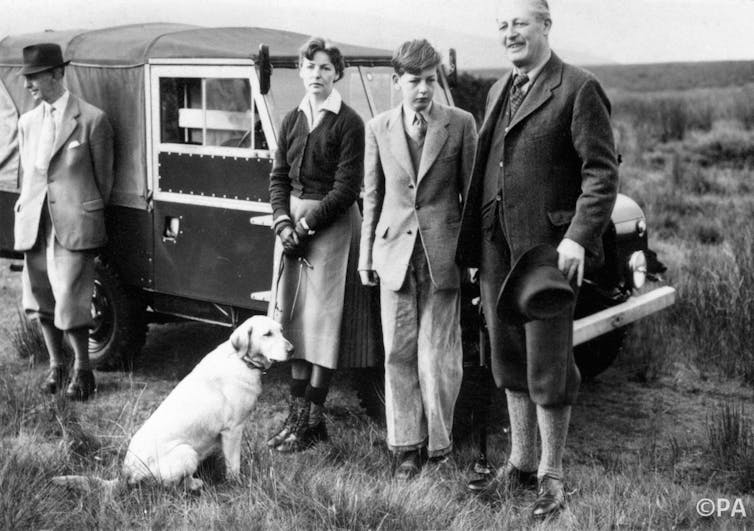 When, in 1957, Debo invited the 53-year-old Waugh to Chatsworth, he was ecstatic. He would love to come, he wrote. Did she really mean it? Life on the estate proved a lot more modern than he had anticipated; Waugh, who could not bear even to have a wireless in the house, was taken aback to find a television in Debo's dining room and a telephone in her drawing room. Brideshead Castle it clearly was not. Instead of inhabiting a world of dusty decline, Chatsworth was a warm family home and a budding hive of industry. It made Waugh feel, he told his friend Ann Fleming, very old.
It is remarkable to think that although Waugh and Debo were contemporaries, Waugh died almost 50 years ago. The world Debo and her sisters grew up in, and the world Waugh wrote about, was one of political extremes that went right down the centre of the Mitford family itself. Debo's sisters Diana and Unity were fascists. Diana, the first Mitford Waugh lost his heart to, married Oswald Mosley, and Unity Mitford shot herself in the head in Munich's English Garden the day Britain declared war on Germany.
On the other side of the fence, Jessica Mitford ran off with her first cousin to aid the communists in the Spanish Civil War and Nancy was an outspoken socialist. While Waugh and Nancy Mitford explored these politics in their fiction (Waugh mocked fairweather leftists who never stood by their convictions, Nancy lampooned her fascist brother-in-law Oswald), Debo stood apart from her turbulent times and – ultimately – survived them.
So despite often being described as "the last Mitford sister", Debo carved out a path that distinguishes her legacy from that of her louder siblings. In a letter to Waugh, Nancy Mitford revealed that Debo's favourite song was Civilisation – a hugely politically incorrect ditty in which a wise native prefers the jungle to the dubious charms of urban life. Debo Mitford, the housewife Duchess, her hair a mess from collecting hen's eggs, was possessed of just such a wisdom.