As urban populations around the globe skyrocket and the demand for housing grows, space is increasingly at a premium in cities. Unfortunately, despite some notable efforts to include green space in cities, native wildlife is not often a priority for urban planners, despite research showing the benefits it brings to both people and ecosystems.
It may seem that bringing biodiversity back into cities would require large areas of land set aside for habitat restoration. But it is possible to use relatively small spaces such as transport corridors, verges and the edges of sporting grounds. Think of it as "land sharing" rather than "land sparing"".
The idea of transforming public areas in cities into green space is not a new one. Allotment vegetable gardens, which have long been a staple of British suburban life, are enjoying a revival, as are community gardens in Australia.
These gardens are obviously great for sustainable food production and community engagement. But we think similar efforts should be directed towards creating green spaces filled with native vegetation, so that local wildlife might thrive too.
Benefits for biodiversity
Cities can be hostile environments for wildlife, and although some rare species are still present in some cities, the destruction of habitats and growth of built-up areas has led to many localised extinctions. Often, species are left clinging on in particular reserves or habitat remnants. "Green corridors" through the built environment can link these habitat fragments together and help stop urban species from being marooned in small patches – and this is where native gardens can help.
Cities are often built in fertile areas on coasts, and because of their fertility are often home to large numbers of species, which means that planting native vegetation in public spaces can potentially help a wide range of different species.
A study in Melbourne found that native vegetation in urban green space is essential for conservation of native pollinators, as introduced plants only benefit introduced bees. But with the right habitat, even small mammals such as bandicoots can survive in urban areas.
Benefits for people
Native green space in cities can also be used to educate communities about their wildlife. Community gardens can be a very effective way to bring people together and create a sense of identity and cohesion within a community.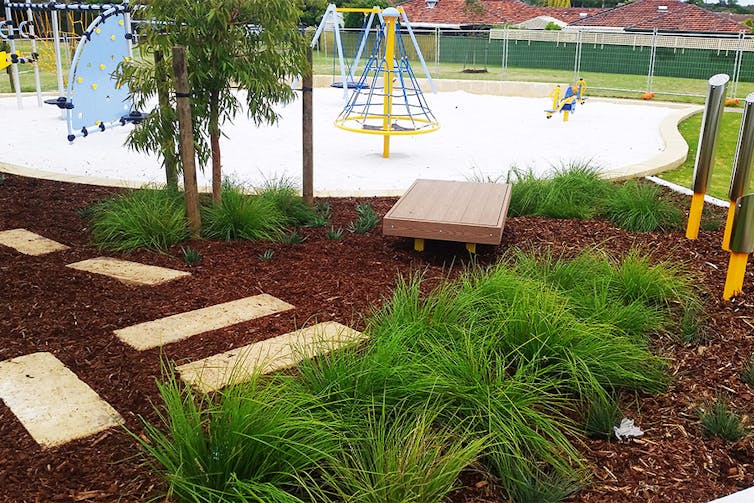 Many people in cities have little or no contact with nature, and this "extinction of experience" can make them feel apathetic about conservation. Green space lets city dwellers connect with nature, and if these spaces contain native rather than introduced plants, they have the added benefit of familiarising people with their native flora, creating a stronger sense of cultural identity.
Where to share
There are many places in urban areas that can be tinkered with to encourage native species, with little or no disruption to their intended use. Picture the typical Australian park, for example: large expanses of grass and some isolated gum trees. Biodiverse systems are more complex, featuring tall trees, smaller ones, shrubs, herbs and grasses, which together create diverse habitat for a range of species. So by building native garden beds around single trees, at the park's edges, or within designated areas (even among playgrounds!), we can gain complex layers of habitats for our native animals without losing too much picnic space.
We think of verges as places to park our cars or wheelie bins, but these grass borders are another underused area where we could plant native gardens. This not only improves the aesthetics of the streetscape but also reduces water use and the need to mow.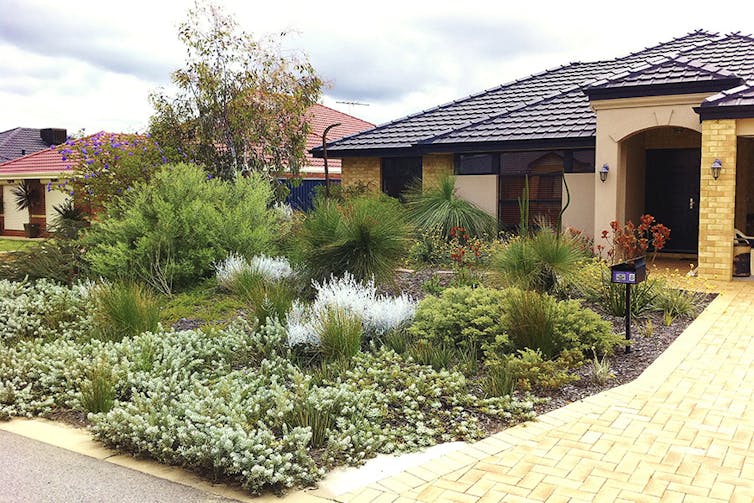 Australia is a sporting nation and our sports grounds are cherished features of the urban landscape, yet there are plenty of opportunities here for native vegetation. The average golf course, for instance, only uses two-thirds of its area for actual golf (unless you're a very bad shot). The out-of-bounds areas nestled between the fairways offer plenty of space for native biodiversity. Likewise, the boundaries of sporting ovals are ideal locations for native vegetation borders.
Even infrastructure corridors such as train lines, electricity corridors, and the edges of highways have the potential to contribute to the functioning of local ecosystems.
Making it happen
As the existence of community gardens and Landcare groups shows, there is already a drive within local communities to make these ideas a reality. In fact, some groups of "guerrilla gardeners" are so passionate about urban greening that they dedicate their own time and resources towards creating green public space, often without permission.
But urban gardening doesn't need to be illegal. Many councils in Australia have policies that encourage the planting of native plants in private gardens, with some even offering rebates for native landscaping projects.
Ultimately we need to both share and spare urban landscapes. By conserving habitat fragments and planting native gardens to connect these patches, we can bring native plants and animals back into our cities.