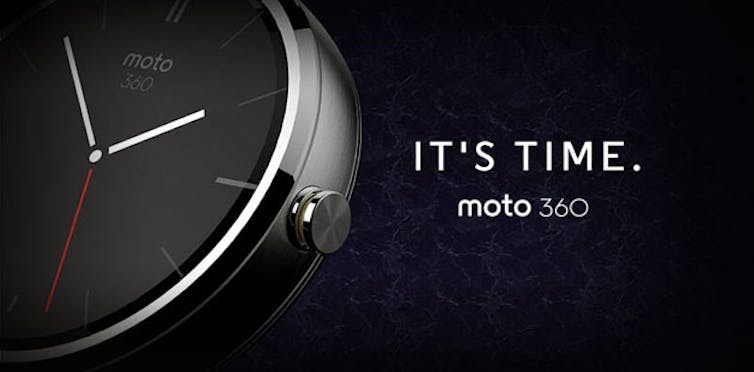 Google has set the agenda for wearables after announcing Android Wear, a version of Android designed specifically for watches and other wearables. If Apple and others were going to make a move in this space, it seems that Google has ramped up the pace and is actively working with a number of partners to bring out Android Wear devices.
The first of these may be Motorola with the Moto 360 watch. It isn't clear when this will be released but the promotional video shows an attractive watch that has a circular face and a comparable width to the Galaxy Gear. LG has also announced an Android Wear smartwatch.
We are now well and truly into a period of computing interaction that acknowledges that we will be interacting with computing devices through a range of devices from laptops, through mobile phones to wearables like watches, glasses and other forms that we haven't even as yet imagined. The point of this is that the nervous system that connects all of these devices and makes them truly useful are Google's cloud services. Google has demonstrated that it really understands this with its announcement last week of price cuts that make 1 TB of storage available on Google Drive for USD $120 a year.
Companies like Apple may be pursuing similar strategies with its move into car devices and its in-car integration CarPlay but this is a scratch on the surface of what Google is doing with its overall strategy in the wearble space. In fact, one can't help feeling that Apple is falling further behind in this space as it tries to find the perfect solution to bring to market.
Google Wear also poses a challenge for companies like Samsung who have moved away from Android to adopt its own operating system Tizen. Most at risk however is Pebble. The Pebble smartwatch faces a real battle given that it is trying to establish an application ecosystem for its watches. Although it has stated that it thinks it has a lead in the smartwatch market, that lead is extremely tenuous given the attention the space is getting from Google and its partners. Personally, I think the Pebble watch is a fantastic device as unlike the other watches it is extremely light and only requires charging once a week. However, that frugality has come at the price of limited functionality and whether that becomes an issue in the long run remains to be seen. It is difficult to see other device manufacturers concentrating efforts on the Pebble when there is going to be a range of devices supporting Android Wear.
The distinguishing characterstic of Android Wear is that it emphasises voice interaction with the wearable. The command "OK Google" tells the device that you are about to make a command and will be common across all Google platforms. Although the voice interaction with Google phones and the Chrome browser on laptops is now very impressive, it is still a matter of it becoming culturally acceptable to talk to your phone or watch in public and so how this type of command interaction eventually gets used will be interesting to see. The ultimate benefits if voice does take off however is that it changes dramatically the way in which we interact with devices, potentially replacing the need for screen-based devices such as smartphones and even computers.
Not all wearables are going to be treated equally however. The acceptance of devices like Google Glass into everyday society is likely to be a long process if it gets accepted at all. Wearables like watches don't face the same issues as Google Glass as they are limited in context to the wearer and so don't threaten others in the same way that Google Glass can do.
The launch of Android Wear has signalled the very real next wave of computing from mobile to wearable. It is important to recognise that we are at the very beginning of this phenomenon and it will be another 5 to 10 years before this truly becomes as common-place and dominant as the mobile phase of computing has become.