The government estimates its proposed A$3.5 billion child care package will encourage more than 240,000 families to increase their involvement in paid employment, including almost 38,000 jobless families.
The changes, starting in July 2017, would see working families on incomes between $65,000 and $170,000 on average about $30 a week better off, while high income earners would have their entitlements protected and an increase in the cap on them.
The government is selling its initiative as a workforce participation measure, so justifying generous help to the wealthy and a tough attitude on requiring most people to work, study or train if they are to receive the subsidy.
The extra $3.5 billion spending over the forward estimates is to be funded by the harsh changes to the family tax benefits system that did not pass the Senate after the 2014 budget. The trade off will require winning Senate support, probably from the crossbench because Labor remains opposed to the hit on family tax benefits.
Labor families' spokeswoman Jenny Macklin said the opposition would examine the child care plan but reaffirmed "we will not be cutting family tax benefits". She said it was evident the budget would contain very significant cuts to families' budgets.
Meanwhile Treasurer Joe Hockey on Sunday announced a saving of nearly $1 billion over the forward estimates by stopping people "double dipping" on paid parental leave – getting benefits from both their employer and the government scheme. Where the employer scheme is less generous than the government one, they will be able to top up.
Hockey said the double dipping was mostly by people who earned more than $90,000 a year. Asked how many people had been double dipping Hockey said "it would be thousands. We have not put a specific figure on it at this stage".
Under the child care plan there will be a single means tested child care subsidy for all families, but with varying provisions according to circumstances.
For family incomes up to $65,000 the subsidy will be 85% per child of the fee or a benchmark price (whichever is lower). This will reduce to 50% for family incomes of $170,000 and above at the time the scheme is implemented.

Family with incomes less than $185,000 will no longer have a cap on what they receive.

A $10,000 cap per child at the time of introduction will be established for the total value of subsidies for family incomes of $185,000 or above. At present there is a $7500 annual cap on the child care rebate.

Hourly benchmark prices at the time of start up will be $11.55 for long day care, $10.70 for family day care, $10.10 for out-of-school hours care and $7 for the in-home nannies pilot starting January next year.
A new activities test would put strict requirements on most people for their subsidies. To get up to 36 hours of subsidy a fortnight would require eight to 16 hours of activity; 17-48 hours would be needed for up to 72 hours subsidised care; up to 100 hours would need 49 hours of activity.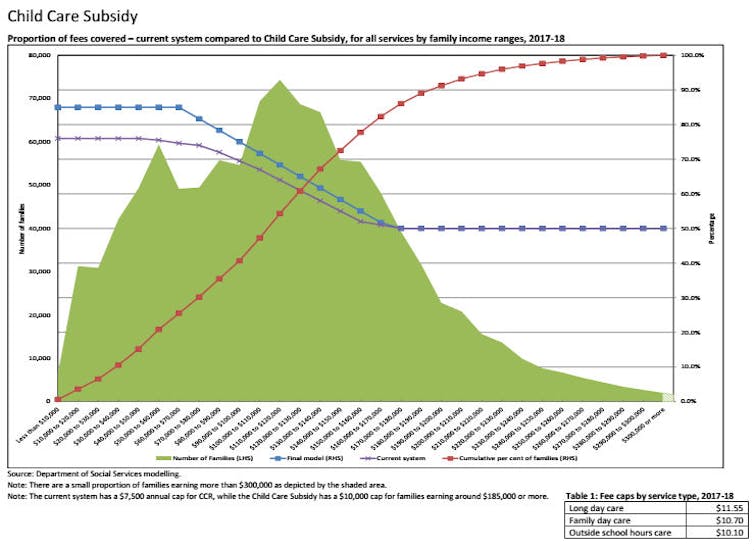 But up to 24 hours a fortnight subsidised care would be provided for children from families with incomes under about $65,000 who did not meet the activity test. The government says this is to ensure continued access to early childhood learning.
The present requirement says a person meets the work, training, or study test for the child care rebate "if you and your partner participated in work-related commitments at some time during the week in which you used child care … No minimum number of hours is required". There are various exemptions.
The government says the package will put downward pressure on child care costs.
The estimates of participation increases are based on research under the auspices of the Social Services department. Quantitative research found that 24% of families with children under 12, both in work and out of work, indicated they would be encouraged to work more as a result of the measures, the government's "Jobs for Families" announcement said.
"Based on 2011 census data, this would translate to around 240,000 families being encouraged to increase their involved in paid employment. The total number of families encouraged to work would also include almost 38,000 jobless families, where no one is in work."
The Productivity Commission estimated a quite modest participation dividend from a less generous scheme, noting various factors as well as child care that affect mothers' decisions about returning to work.
The government's announcement does not spell out assumptions underpinning its figures, other than the quantitative research.