Auto related crimes have increased 20 per cent in Melbourne over the last five years with police citing 16,000 cars stolen in 2015. And Victoria's Chief Commissioner Graham Ashton is reportedly attributing a rise in thefts and burglaries to the "Grand Theft Auto generation".
Victorian police, like many other politicians and police chiefs, cite violent films such as the Fast and the Furious series and video games such as Grand Theft Auto V as factors inciting youths to commit "stylized" crimes.
Mind you, Commissioner Ashton went on to tell 3AW that, "We're not actually dealing with more youth offenders but the youth offenders we've got are committing more and more offences."
There seems to be more to this story than just violent video games.
Violence and video games
First person shooter games such as Call of Duty – where violence is viewed from the player's perspective – are often used to explain violent gun crimes.
And the Grand Theft Auto series is commonly used to explain crimes such as auto theft because the game revolves around three criminals who drive around and steal cars. Grand Theft Auto V was the fastest-selling entertainment product in history, selling over 60 million copies.
Regardless of the crime, violent video games are commonly used as a scapegoat to explain youth violence because it's easy to draw mental comparisons between what an individual does on screen and what they do in real life.
Although studies show that playing violent video games does increase short term aggression, there's no evidence that the effect is greater than other aggressive triggers (like getting cut off in traffic). And it's important to remember studies exploring aggression only asked players to undertake relatively trivial acts, like blasting another player with a loud horn or making them eat chilli peppers. Although uncomfortable, these are far from being acts of violence.
Studies exploring the relationship between actual violent acts and video games show a very different story.
By exploring the sales of violent video games along with patterns in violent crimes, US researchers have shown that violent crimes actually decreased in areas where video games were more popular.
Another study found no evidence of an increase in crime associated with increased playing of video games and perhaps even a decrease.
A similar relationship was found when exploring violent crimes and movies.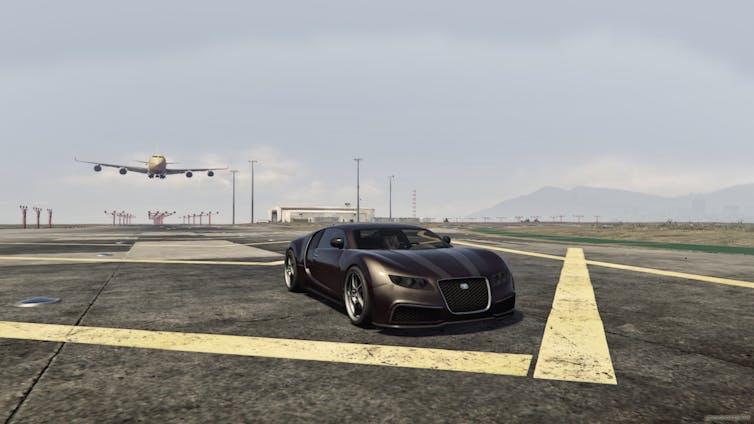 When delving deeper into relationships, researchers often find that video games alone aren't enough to trigger long-term aggressive behaviour and that violent video games often need to be paired with family violence and innate aggression, as well as poor communication with parents to have an impact on a child. Thise means that things are more complicated.
Victoria's Assistant Commissioner Robert Hill is also quoted saying that burglars were taking inspiration from movies including Fast and the Furious and Grand Theft Auto. But there is no evidence supporting the claim that games like Grand Theft are the cause of increased violence.
What's going on?
The increase in car thefts in the Melbourne area is reportedly attributed to the Apex gang.
Police say the Apex gang largely comprises of individuals between the ages of 12 and 19 of South Sudanese, Pacific Islander, Maori, and Anglo-Australian decent. They come largely from the Dandenong, a relatively poorer suburb compared to say, Templestowe, where some of the crimes are occurring.
A recent ABC interview with "James", reportedly an Apex gang member, indicated that he viewed life in Dandenong as hard. There were, he said, "no jobs". The gang, he said, "is just a group of youths. Everyone's got to have friends, you know. It means brotherhood. Everyone looks after each other."
Although Victoria's Premier Daniel Andrews has said that that neither he nor Victorians are interested in "these 'poor me' stories" of disadvantage, there is plenty of evidence that wealth disparity is a fundamental cause of increases in violent crimes.
Ground breaking studies by Martin Daly and Margo Wilson in the 1980's demonstrated that those who had fewer opportunities and lacked viable options to increase their status in life were more likely to commit violent crimes. They went further to demonstrate that income inequality could explain the high variation in homicide rates between the US and Canada.
What needs to be done?
What's currently happening in Melbourne is unacceptable. But blaming video games is a pathetic attempt to steer the public's eyes away from larger problems: disparity in wealth, youth unemployment, lack of decent schooling and general societal detachment.
But understanding the relationships between poverty, family relationships, education and crime is much more complicated. And more importantly, it requires more serious solutions such as the reorganisation of social and educational systems.
It's far easier and simpler to blame the so-called "Grand Theft Auto Generation".