Kevin Rudd's dream is about to be shattered. The Prime Minister went into this campaign believing that he could win. After seizing back the leadership against the odds, he thought he could defy those odds once again and crush Tony Abbott.
Now the odds are beating him. On Labor polling the government is looking at losing about 20 seats, even a few more.
Maybe it was always a mirage, but the pre-election polls gave Labor just a glimmer of hope. Newspoll had the ALP and Coalition at 50-50 in early July, soon after Rudd's reinstatement. That still meant it would have to improve, but Rudd was embarking on a presidential-style campaign and Abbott initially appeared to have difficulty responding to the new situation.
Where did it all go wrong?
Before addressing that question, there is another that we can't answer until tomorrow night. That is: how wrong has it gone?
Judgement about the Rudd Mark 2 experiment will depend on the size of a loss. If it is contained, Labor will have achieved all that many in the ALP hoped for initially. Rudd will have salvaged more "furniture" than Julia Gillard had been expected to save. Labor believed the seat loss under her might have been 40.
A big Rudd defeat, however, would have Rudd's party critics spitting. He would have given Labor huge grief for little or no benefit. (The anti-Rudd forces have been on best behaviour in the campaign, in contrast with the Rudd camp in 2010.)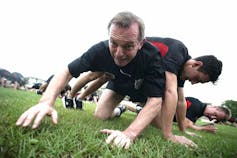 The issue then becomes one of definition - the line between a respectable loss and a devastating one.
Whatever happens, Labor arguably needed, for its own future peace of mind, to bring Rudd back. Otherwise the party would have been left wondering: what if? Now it will know how much Rudd could, and couldn't, do for it.
For Rudd to win this election required his personal popularity to overwhelm voters' deep disenchantment with Labor's performance during the last six years.
That was probably never going to happen, even if Rudd had run a first class campaign. Which he hasn't.
His enthusiasts mistook people's liking (even nostalgia) for him, which kept his popularity high before his return, for how they would vote if he were leader.
After he was restored Rudd made a strong start, trying to defuse as much as possible issues that were tearing at Labor's support. NSW Labor would be cleaned up. Moving from the carbon tax to an emissions trading scheme would be accelerated (but part paid for by an unpopular crackdown on car fringe benefits tax arrangements). The draconian "PNG solution" targeted boats arrivals.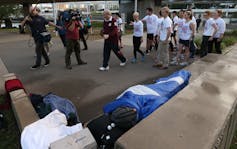 To pre-empt the fiscal outlook update that would come in the campaign, the government was forced to bring down an economic statement. It showed revenue further deteriorating and contained more "nasties", a bleak background for the campaign.
Meanwhile the Coalition made itself a smaller target by capitulating on the Gonski school reforms, promising to match Labor's money in the first four years. In many policy areas there was little difference between Labor and the opposition.
The campaign's early show stopper was the recruitment of former Queensland premier Peter Beattie to contest the marginal Liberal seat of Forde. It looked like a masterstroke; in fact, going "retro" was not all that smart.
Labor's geographic strategy assumed that Rudd, a popular Queenslander, could pick up Liberal National Party seats in that state, offsetting what it hoped would be limited losses in NSW. On what the polls are now showing the ALP over-estimated Rudd's pull in the north, where indeed ALP seats have had to be stabilised, while NSW turned really bad.
Labor's messaging strategy was its "new way". Abbott blew this up when he said a "new way" required a "new government".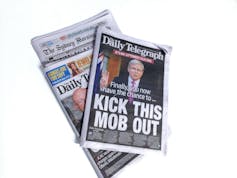 The Labor campaign was soon visibly in trouble. Rudd turned on Rupert Murdoch (the extraordinarily biased coverage in the Daily Telegraph and Courier Mail in particular have really got to him). He released a flakey Northern Australia policy (to be followed later by the unconvincing fast train and naval relocation policies). A couple of ALP candidates were turfed. There were tensions in the campaign organisation.
As soon as be became leader, Rudd challenged Abbott to debates. But Abbott secured the campaign debates on his terms (one with journalists, two people's forums). The second debate turned bad for Rudd when a makeup artist complained about him on social media.
After promising a positive campaign, Rudd had to turn highly negative, attacking Abbott's generous paid parental leave scheme, claiming he had a $70 billion funding hole, declaring he would "cut, cut, cut" health and education. and warning of changes to the GST. It was far from ideal but it was the best weaponry the research could come up.
Rudd has suffered from lack of traction in the campaign. Then there was the highly damaging blow when, a week ago yesterday, the heads of the Treasury, Finance department and Parliamentary Budget Office distanced themselves from Labor's attempt to claim a $10 billion hole in $31.6 billion of savings the opposition had released.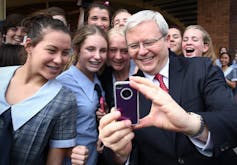 During this campaign Abbott has been like the surfer who's caught the wave. He just had to keep upright, avoiding serious mistakes. When you're travelling well, the small gaffes (talking about a candidate's sex appeal) can even work to your advantage, and setbacks (candidate problems) are less serious.
Both leaders had good launches but Rudd had left his until the Sunday before polling day – far too late for it to yield maximum benefit, although it did help re-start his campaign after the blow from the bureaucrats. His final week has been better.
As with the debates, so with the costings. Abbott had his way, staring down calls to release them before yesterday. Now they are out, Labor has virtually no time to effectively attack them; anyway they were fairly bomb proof, most having gone through the PBO.
As happened for John Howard in 1996, Abbott has found Labor doing much of his work for him. Voters might not warm to him, but his approval ratings improved as the air went out of the Rudd balloon.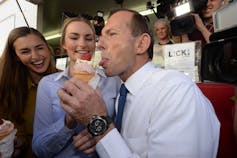 Yesterday's Essential poll asked voters how their opinions of the leaders had changed during the campaign. Only 16% said their opinion of Rudd and the Labor party had gone up; 40% said it had gone down. Abbott had a larger proportion than Rudd going up (25%) and a smaller proportion falling (35%).
Rudd set himself a herculean task. He has tried to destroy Abbott in a little over two months of increasing negativity. But Abbott has run his negative campaign against Labor for nearly four years.
In the Labor camp they're realistic. It is not clear when Rudd accepted that the prize was out of reach, but now he is said to be stoic.
Abbott's confidence has been showing through all week. He believes he's days away from the job that he used to think was an impossible dream, unless all the other contenders in his own party fell over - which they sort of did. And then two prime ministers fell over, and now one of them is set to fall a second time. The weirdest things happen in dreams, and in real life too.