As the demand for greener and cooler cities increases, new "green infrastructure" technologies, such as green roofs and walls, are coming to the fore. But what are they?
Put simply, green roofs and walls are landscaped building surfaces. Australia has been relatively slow on the uptake of this movement, with much of the available expertise, systems and materials based in the northern hemisphere.
Last month saw the release of Growing Green Guide: a free guide to green roofs, walls and facades in Victoria – a collaborative local and state government project, which I contributed to.
And this weekend at the Melbourne International Flower and Garden Show there will be a pop-up garden display by the Melbourne School of Land and Environment demonstrating many of the ideas and techniques behind green infrastructure.
But for those who are not in Melboure and/ or won't be able to give over their weekend to the delights of Australia's urban horticulture industry, here's a snapshot and some important design factors.
The impact of green infrastructure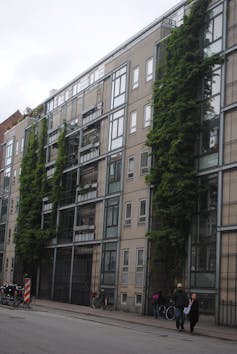 Green roofs, as mentioned already, are a landscape constructed on a roof and include a range of different types. They can be a small, container beds two metres deep supporting trees and shrubs, or lightweight configurations of only a few centimetres in depth and more than a hectare in size covered in succulent and herbaceous vegetation.
Green walls fall into two very different types. Living walls support plants through irrigated, vertical containers or felt-based structures fixed to a wall surface. Green facades use climbing plants to provide green coverage over a wall, either directly on the building surface or more commonly using a steel trellis or cable system, with plants grown in-ground or in containers that are supported across the building facade.
The evidence of benefits associated with green roofs and walls is increasing as research efforts (from the US, UK and Australia) expand across the globe. Green roofs have been shown in a number of studies to reduce building energy budgets, slightly reducing winter heating costs but providing more significant reductions to summer cooling.
A modelling study in Toronto on the implementation of green roofs across low-rise, flat roofs greater than 350 square-metres concluded that ambient air temperatures across the city could be reduced by up to 2C.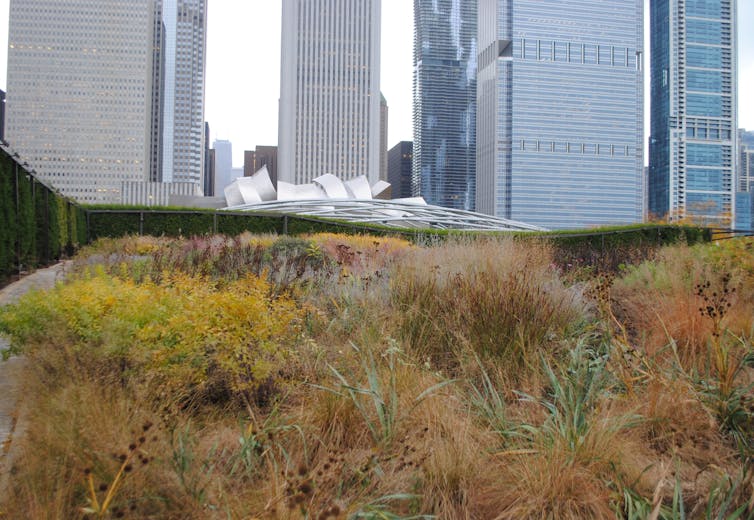 The benefits of retaining stormwater on green roofs are well established and tend to form the basis of many city green roofs tax or incentive schemes, particularly in North America.
Green roofs act like a sponge on a roof, absorbing and storing rainfall and allowing re-use form plants, in turn reducing urban water run-off. One study involving a green roof with a 60mm deep substrate (soil substitute) showed rainfall retention of almost 83%.
Green roofs and walls have been shown to increase property values, partly because people like to view them, but more because they provide more recreational and amenity uses. In one New York study rentals were shown to be 16% higher in buildings with green roofs compared to those without.
The dramatic growth in green roofs and walls across the US over recent years, despite generally poor economic conditions, suggests demand for these installations will continue.
Why not try this at home?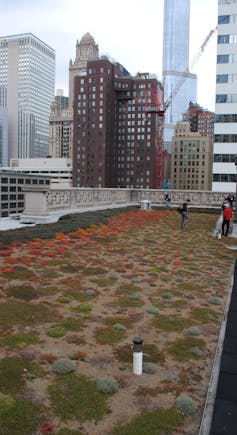 Naturally, green roofs and walls need to be planned and designed properly to ensure they are successful. The most significant issue to consider is weight loading. A roof or wall must have the structural capacity for the mass of a green roof, wall or facade installation – both at construction and over time.
Not all plants will succeed on the sometimes hostile and elevated environment of a roof or wall; and vegetation growth is strongly limited by the depth, available volume, air, water, nutrition and environmental conditions present at the site.
Low growing succulents, such as sedums, and drought-tolerant perennials including many Australian plants, are widely used because of these constraints.
Waterproofing is another key issue and most structures will require additional specialised treatments to ensure the integrity of the structure is not compromised by the installation. Excess water will need to be drained away, particularly from green roofs.
Most modern systems, such as those produced by German green-roof company Zinco, incorporate lightweight plastic drainage cells to provide this outcome.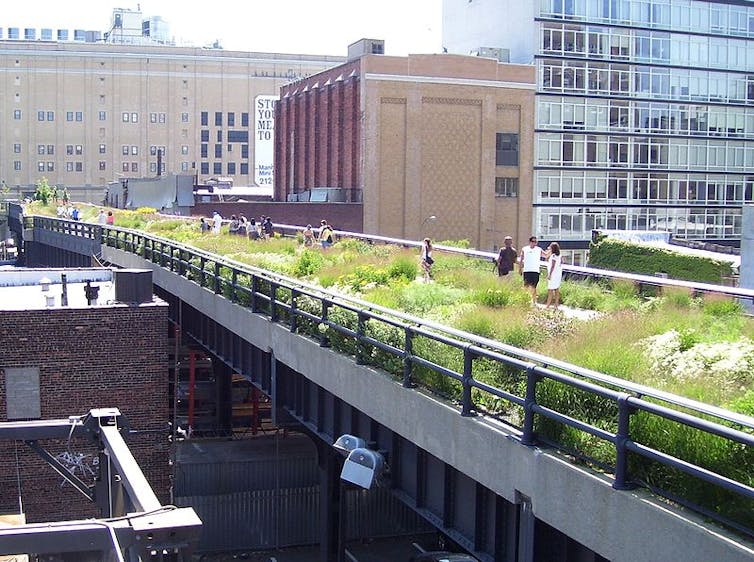 While the Growing Green Guide was written to increase local understanding and skills amongst architectural and design professionals in Melbourne, it is also relevant to a wider Australian audience.
Who knows? Australia might even have its own version of New York's aerial greenway [High Line](http://en.wikipedia.org/wiki/High_Line_(New_York_City) one day.

Are you an academic or researcher working in urban design? Contact the Arts + Culture editor.