I grew up in social housing. It provided a stable and secure (albeit overcrowded and cold) home for my family, for life. As fire tore through Grenfell Tower, just 500 metres from where I was staying in London, I witnessed the complete and terrible destruction of 120 homes just like the one I grew up in. In the morning, I passed the police cordon and saw dozens of fire fighters standing in complete, abject shock.
Yet as the ashes settle, it is clear that the threat of ruin extends well beyond Grenfell Tower. Indeed, the policies which I argue have contributed to this disaster have been rolled out across social housing projects both in the UK, and across Europe. Earlier this year, not far from Grenfell, local residents in Westminster voted against any form of refit to their notoriously poorly-maintained Brunel Estate. And many residents across London fear the prospect of "urban regeneration", seeing it as a type of social cleansing, shorthand for a modern form of slum clearance.
Residents worry that any improvements will set them on a slippery slope to gentrification and eventual displacement. Over the years, I have watched with dismay as successive governments – both Labour and Conservative – have depleted the available housing stock through schemes such as right-to-buy, while also running down the standard of the remaining housing stock with constant budget cuts. Faced with this gradual depletion and dilapidation, many family homes languish in a state of disrepair, while tenants' fears that they could lose their homes go unassuaged.
This is not just a British problem. During my academic research in France I have seen deplorable incidences of housing stock that are not fit for human habitation, and where repairs are routinely neglected. Where regeneration does take place, I fear it is often done with little consultation and even less accountability.
A warning
As Londoners get to grips with the tragic losses at Grenfell Tower, reports have emerged about a recent refit that the tower underwent. Only last year, the site was given a £8.7m refit, during which a new central heating system was installed, more homes fitted in the lower levels and new cladding added to the outside of the building, among other things.
Yet a local residents action group claims that throughout the process, their concerns about fire safety risks – relating to cluttered exits, lack of emergency access and faulty wiring – were ignored by both the building owners, Kensington and Chelsea Tenant Management Organisation (KCTMO), and the local authority, Royal Borough of Kensington and Chelsea.
It has also emerged that the new cladding was made of aluminium – a heat conducting material which did nothing to halt the spread of the flames. This type of cladding is commonly used across Europe, and indeed the world, to cover the outside of buildings to improve insulation – and also appearances. Indeed, a spate of fires in Dubai, where the cladding is very common, forced authorities to change building regulations.
During my research in Roubaix, in the north of France, another residential block – the Mermoz Tower – was also refitted with aluminium cladding, as part of a redevelopment to add a shopping mall to the base of the estate. The residents I spoke to there for my research were concerned about the quality of the refit, and felt that their worries went unacknowledged. Some time later, a fire broke out and spread up the outside of the building, just as we saw in London. A report by the Fire Protection Research Foundation later indicated that combustible cladding can play a role in the spread of fire, listing the Roubaix fire as a case in point.
KCTMO said in a statement "it is too early to speculate what caused the fire and contributed to its spread. We will co-operate fully with all the relevant authorities in order to ascertain the cause of this tragedy." A spokesperson for the council said: "We have heard a number of theories about the cause of the fire at Grenfell Tower. All of these will be thoroughly investigated as part of the formal investigation which has already begun." The construction company behind the recent refit of Grenfell has also said it would "fully support" an investigation, and that the work met all required building control, fire regulation and health and safety standards.
Redressing the balance
The regeneration agenda has not only contributed to the destruction of social housing – it has also made it much more difficult to hold those responsible to account.
Since urban regeneration became a policy priority in the 1990s, such schemes have become increasingly complex. New Labour touted "the third way" as a means of drawing private companies and funding into urban regeneration schemes. The goal was to harness the efficiency of the private market while undertaking repairs and building schemes. The result was a labyrinthine system, wherein private building contractors are given complex and far-reaching responsibilities for social housing sites.
Grenfell Tower is a case in point. Owned by the local council, it is managed by KCTMO, which is a separate tenant management organisation and which sub-contracts repairs out to further private operators.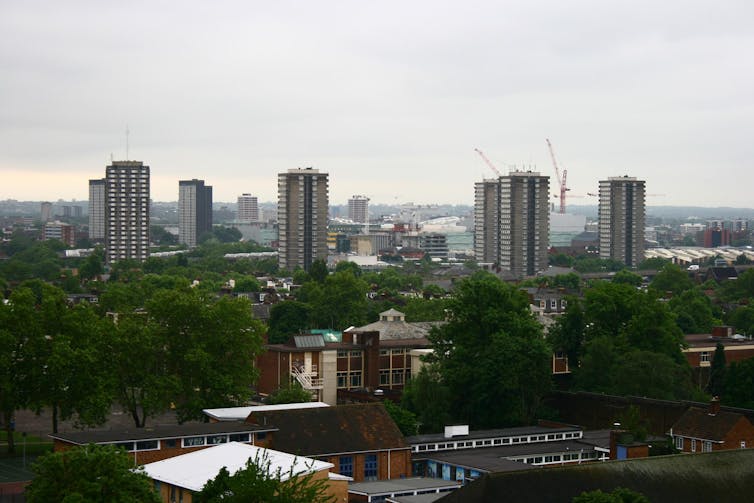 As the inquiry into this disaster unfolds, it is likely that the decision-making mechanisms and accountability structures in this complex arrangement will be examined carefully. Yet as social housing tenants who complain about repairs will know only too well, it is likely that the investigators will find it difficult to determine exactly what has happened – and which party in this confusing arrangement is at fault.
The tragedy which occurred at Grenfell Tower exposes the problems with the successive reforms to social housing in the UK. All too often, I see profit and regeneration being placed above the safety and satisfaction of residents. In the wake of this catastrophe, political and community leaders must work to rebalance the scales of power toward the residents themselves, and away from the interests of private developers.
My grandmother grew up in the terrible slums that the Grenfell tower replaced. When asked about rehousing options, she chose uncertainty and a new start in a pre-fabricated house in the suburbs. As I was on the phone to my extended family – who still live in the house – we were very pleased she did.