I am a scientist who has spent his career working with industry at the interface of science, engineering and medicine. I have served on many advisory boards on translating research into practice. But I never feel the flames of knowledge exchange burn as bright as when I'm at Za'atari refugee camp, in Jordan.
The news is often full of refugee crises couched in terms such as "how will we cope?", without much thought for the refugees themselves. And Europe has seen only a fraction of the number of refugees compared to countries like Jordan. Za'atari alone holds 80,000 people. I had my eyes opened to the complexity of refugee life for the first time in July 2016, when Helen Storey from the London College of Fashion and I were invited to visit Za'atari by the UNHCR. Now we're part of an international team of experts – varying from engineers to fashion designers – trying to come up with solutions to some of the most complicated problems on the planet.
The refugees' legal status usually prevents them from taking up employment, owning property or moving freely, stripping them of agency. At home they were farmers, engineers, teachers, doctors, so not only have they been forcibly displaced, but also forcibly unemployed. And they can't do anything that even looks like it might lead to permanence, like getting a job or fixing their house. Despite this, the eagerness to put a plan into action was truly astounding, and many smiles and jokes were exchanged. It is incredible to see the resilience of the Za'atari folk.
I learned the expression "necessity is the mother of invention" as a child and here I saw it play out in front of me: limitations improve creativity and we think up solutions we would never have thought of in a lab. We've made windmills, wheelchairs and recycling trucks out of old bikes, and grown tomatoes without soil. Our partners at the London College of Fashion work on the human end of well-being, recognising that personal care and making skills have profound effects on people's self-worth and mental health – and provide the framework for building livelihoods and communities.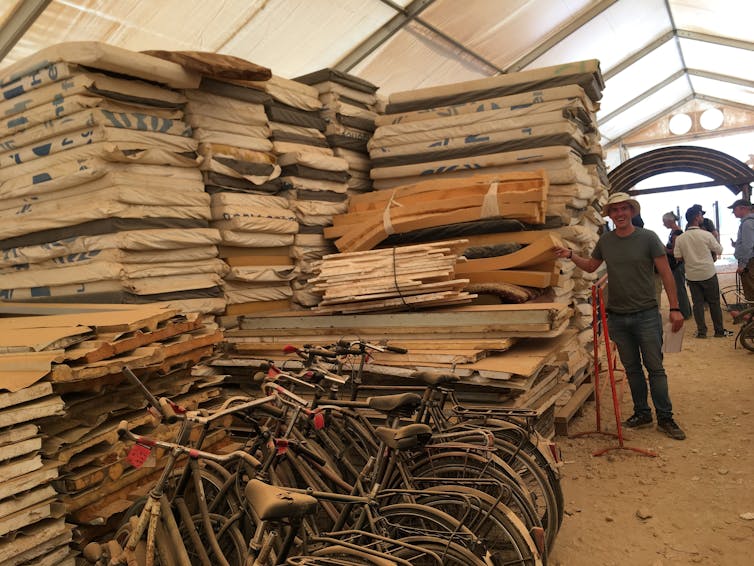 Bed meals
The majority of refugees in Za'atari come from the Dara'a region in Syria which is known for its fertile soil and the camp is full of farmers. We wanted a way to tap into those skills, but we can't plant anything in the ground due to Jordanian law. Water is very limited here too, and the soil is very salty. I have a couple of horticulture projects on the go that use specialised high-tech polyurethane foam as synthetic soils with lower water requirements, so I repurposed this science to use the foam mattresses from the camp. We were successful in growing tomatoes in Sheffield in mattresses that I brought back from my first visit to Za'atari and have tested the crop to make sure it is safe to eat.
We then worked with enthusiastic residents and the Norwegian Refugee Council to repurpose waste materials into hydroponic pot systems in Za'atari. Hydroponics is a way of growing plants without soil, using just a nutrient solution, and the roots supported in an inert medium. Yogurt tubs provided the pots and polyurethane foam from mattresses the growing media. We introduced the basic principles of hydroponics at a workshop run by Grantham PhD student Harry Wright with Za'atari residents (and in many cases they knew more than us).
The attendees quickly set up a production line, cutting raw materials, making up nutrient solutions, planting seedlings and cuttings in the pots. Within an hour we had 30 odd pots. Since our initial visit there has been ongoing collaboration and progress with partners in Za'atari.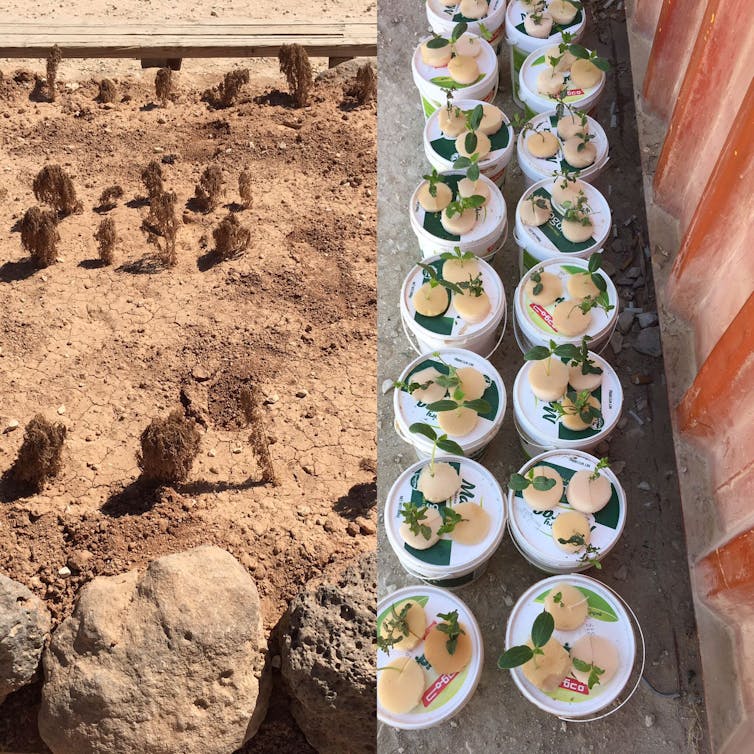 Scrap yard challenge
A team of seven scientists and engineers also went to Za'atari for a week of "scrap yard challenges" to come up with co-created solutions for home-scale water heating and electricity generation. There are plenty of materials to hand, sheet steel and angle bar, wood, canvas and poles from tents, and a stock of recovered bicycles donated by the Amsterdam Police. The bicycles provided lots of parts for subsequent build projects and we were helped by donations from two Sheffield companies, bicycle parts Planet X, cable and rigging equipment from Gripple.
The Syrian farmers are very adept – as soon as there is a plan agreed as what to build they are away building it, and sometimes they were so eager to get going that there was no plan and it got built anyway. We were truly amazed at what could be built using a hammer and angle grinder and a welding torch.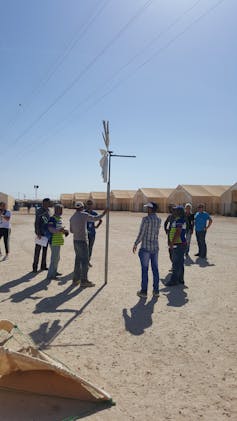 For example, Patrick Fairclough, a professor in mechanical engineering, led a project aiming to produce energy from windmills. He is very familiar with windmills to run pumps and generators from his childhood in South Africa. He'd already built some prototypes at home and was ready to go with three different designs. Two vertical prototypes were built to generate electricity at the home level and the horizontal bucket windmill is meant to provide a direct drive to a fan inside a caravan, to provide some effective cooling in the hot summer months.
We ended up using the bottom bracket (where the pedals and cranks attach) from a bicycle as the bearing for this windmill and thin aluminium wash basins for the buckets. It worked a treat and now the team, both in Sheffield and in Za'atari, are thinking about how to safely deploy it, in particular how to shut them down in case of a storm.
All this goes to show what can happen when you get in on the ground. In doing so we learn a lot about what does and doesn't work, irrespective of what is theoretically possible or even preferable. The initial beneficiaries of this work will be refugees but eventually the wider population throughout Jordan can use these technologies we have co-created. They would never have been developed without us all being there together in the camp. Knowledge and research has to be exchanged on the ground – laboratories and theory are not enough.