Scotland is often portrayed as a place where heavy drinking comes as part of the furniture, yet it seems the Scottish public are less and less inclined to agree. New results from the Scottish Social Attitudes (SSA) 2013 survey suggest they are growing tired of the stereotyping of the Scots as a hard-drinking nation and are well aware of some the problems it's causing society.
Only 19% of Scots think that, "getting drunk is a perfectly acceptable thing to do on the weekends". Admittedly this is not much different to 10 years ago, when we started measuring attitudes to alcohol, but the proportion of young people of that opinion has dropped sharply over that period (from 53% in 2004 to 40% in 2013).
Just 16% of all people agreed with the statement: "getting drunk occasionally is all part of being Scottish", while most (62%) disagreed and around one in five (21%) had no strong view either way. This is the first time that we asked this question.
So most don't approve of getting drunk and most reject the claim that getting drunk is an innate part of being a Scot. Yet it is known that many Scots continue to drink excessively. The Scottish Health Survey reports that 41% drink more than the government guidelines.
We also know that how we perceive our own drinking can be pretty wide of the mark sometimes. Only 10% of those exceeding the government guidelines described themselves as "heavy drinkers". While getting drunk might be perceived as a particularly harmful or serious behaviour, people may still not be aware of what it means to drink at excessive levels and the harms associated with this.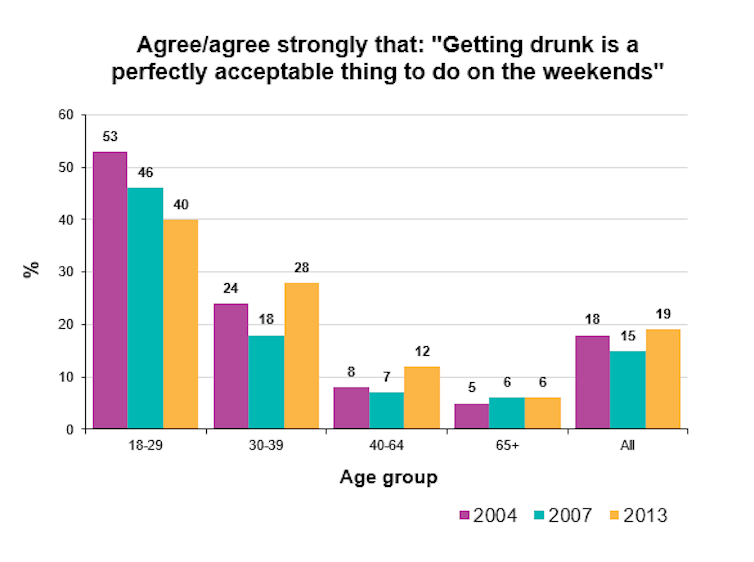 Rising awareness
The latest findings also suggest a growing view that alcohol is problematic to Scottish society, even more so than hard drugs like heroin, cocaine and crack. Six in ten (60%) Scots chose alcohol as the drug that caused the most problems for Scotland in 2013, according to the latest results. This represents a significant increase over time – increasing from 46% in 2004 and from 51% in 2007.
As in previous years of SSA, the proportion that chose alcohol as causing the most problems far outweighs other types of drugs, with only 19% choosing heroin, 6%, tobacco and 3% cocaine. Interestingly this trend was apparent across all age brackets –- not just in the older age groups. The percentage of 18–29 year olds who thought alcohol was the drug that causes the most problems for Scotland increased from 44% in 2004 to 55% in 2013.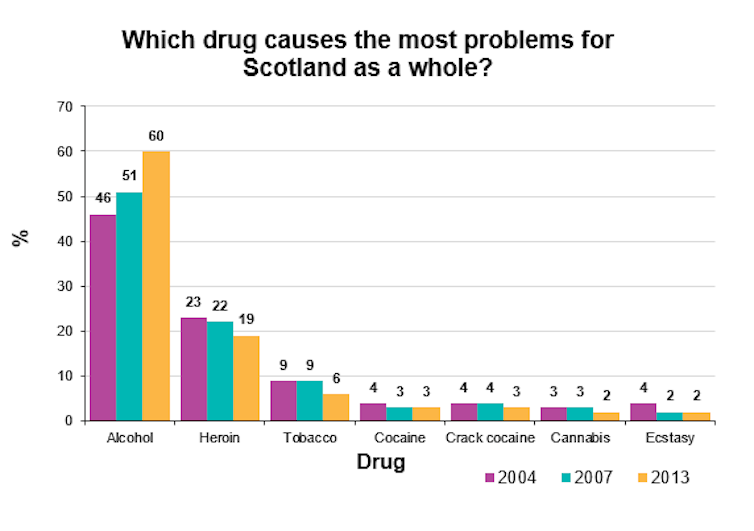 Further evidence of public awareness came from a new question posed to participants for the first time in 2013. When asked how much harm, if any, they thought alcohol causes in Scotland, around half (49%) were of the view that alcohol causes "a great deal" of harm. A further 35% viewed it as causing "quite a lot" of harm.
More to do
It's estimated that alcohol is responsible for around 20 deaths a week in Scotland. Scottish health minister Alex Neil has described this as "Scotland's Shame" –- and it also comes expensive: alcohol abuse is said to cost every adult in Scotland the equivalent of £900 per year. It would be difficult to refute that alcohol is damaging the nation.
The long-term strategy for dealing with alcohol problems is partly premised on the idea that fostering more positive attitudes to alcohol will help reduce consumption. But while the increasing awareness of the problematic and harmful nature of alcohol is encouraging, it hasn't been coupled with a shift in some attitudes to alcohol. For example drinkers increasingly believe that others would think it odd if they didn't drink at all (31% in 2007 to 41% in 2013).
Some in society hold particularly permissive views towards drinking. For example a sizeable proportion (33%) did not see a problem with a student binge drinking. And as well as the fact that most people remain unaware of what constitutes sensible drinking, many people are unclear about how many units are contained in alcoholic drinks.
One in three were unaware of the current guidance on daily alcohol consumption and around half were unaware of the unit content of a pint of beer. The challenge to increase awareness and foster more positive attitudes towards alcohol continues.