Hard Evidence is a series of articles that looks at some of the trickiest public policy questions we face. Academic experts delve into available research evidence to provide informed analysis you won't get from politicians or vested interests.
It's a hoary old chestnut: the man who, on turning 40, dons a leather jacket and buys a motorbike he doesn't know how to ride. The woman who hits her mid 30s and takes an Eat Pray Love-style journey to Asia to find herself. But there's more to the midlife crisis than worn out stereotypes. The evidence shows that we do indeed suffer more between the ages of 35 and 55. Explaining why is more difficult.
In the well-being report we've looked at well-being in children, teenagers and adults and found that there are three critical time points in life when well-being dips: mid-teens, midlife and in oldest old age. The first phase can be explained by personal, social and economic circumstances, but the latter two episodes cannot.
Puberty blues
As children go through secondary school their well-being progressively declines. Between the ages of 11 and 15, the proportion with low levels of subjective well-being increases by more than two-thirds from 14% to 24%. This is in line with recent findings from a Children's Society's inquiry, which found child well-being reached its lowest ebb among 14-15 year olds.
Puberty is, of course, a critical stage in the life course, when there are many physical, emotional and social adjustments to be made. It would be easy to dismiss the dip in well-being as the inevitable consequence of hormones and physical change. But importantly, we found this is the result of social context and so could be responsive to changes in circumstances.
For example, disruptive behaviour at school and being bullied were both linked to low subjective well-being, while feeling supported and sharing meals together as a family were critical to positive well-being among secondary school aged children. After controlling for these and other factors, the association between age and well-being was no longer significant.
Stuck in the middle
But what about the next dip – the midlife crisis?
Confirming a widely reported "U-curve" in subjective well-being - we also found that adult well-being was particularly low from the mid-thirties to the mid-fifties. However, unlike for children we did not find this dip was entirely explained by circumstances. Age remains a statistically significant predictor of well-being even when we statistically accounted for other factors.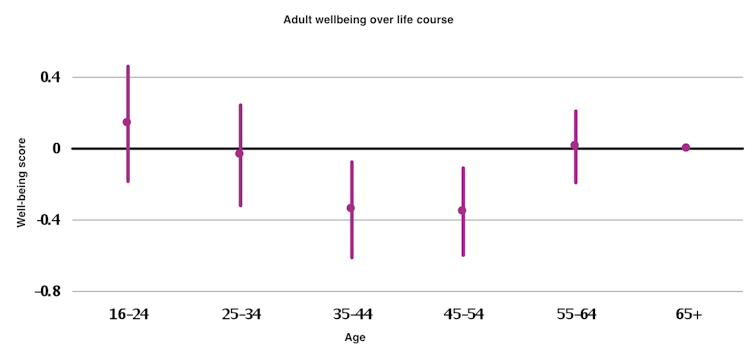 We found this midlife drop in wellbeing was evident when looking at two different surveys that captured somewhat different aspects of life. The midlife crisis was apparent both when looking at all adults together and when analysing men and women separately. We used Understanding Society, a survey of 40,000 UK households, to focus in on the social aspects of life, looking in detail at relationships inside and outside the home with family and neighbours. We also used Health Survey for England data to look at predictors of well-being among men and women separately and including more detail on health.
The latter analysis showed that the lowest dip occurred earlier among men, at the 35-44 mark. Among women, the lowest midlife dip was in the 45-54 age group and women's well-being also drops off again in later life.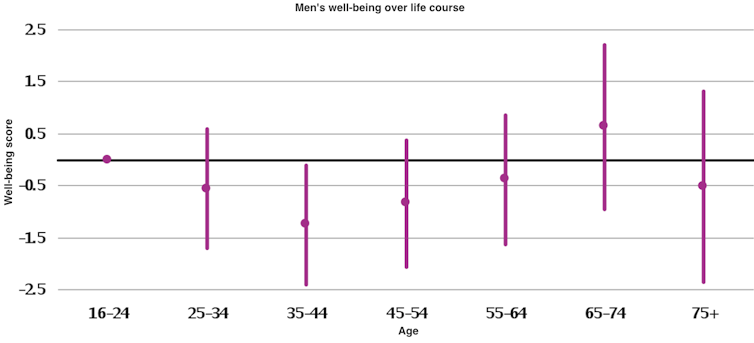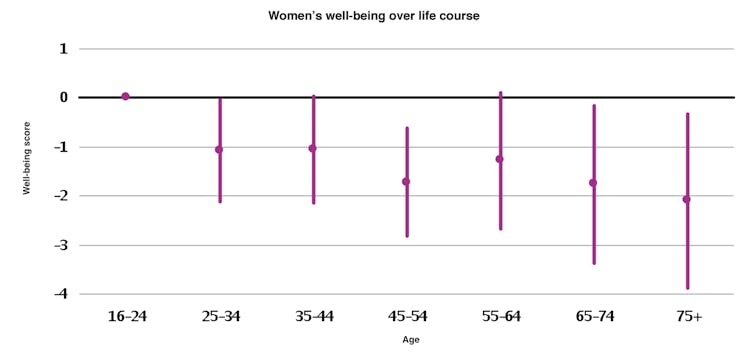 No answers
The evidence is clear then, the midlife crisis is real. But what could be the reason for it; is it physiological or psychological? The short answer is we do not know what is driving it.
There seems to be something in particular about the midlife crisis (and the old age crisis for women) that makes it less amenable to differences in circumstances than the troubled mid-teen years. Our analysis showed that the midlife crisis is not because it coincides with the children in the household being moody teenagers. Nor is it because of the quality of the relationship between partners, or indeed whether one has a partner at all. Neither is it explained by feeling unable to cope with the demands of work, being unsatisfied with work, leisure or income or even poor mental health. Midlife remained stubbornly linked with lower well-being when we controlled for all these and a whole bunch of other characteristics.
Other research has suggested that the midlife crisis occurs due to unmet expectations; the realisation that one's youthful aspirations have not and will not be achieved, and that as people adjust their expectations in later life wellbeing improves.
That may be at least part of the explanation but we need more research to better understand this stage in life. We can't stop the passage of time or the ageing process but we can try to understand what factors predict the onset of, and recovery from, the midlife crisis. The midlife crisis is not inevitable, and not everyone will experience a substantial drop in their wellbeing between the age of 35 and 54. But until we know more about the factors – other than age – associated with this drop, we cannot make any recommendations for how people might be able to reduce the risk of them experiencing it.