Like many other Australians, I am alarmed by the hardening policy positions on asylum seekers of both major political parties. And today, the Royal Australian College of Physicians (RACP), of which I am president-elect, has released a public statement about what these policies mean for their health.
Many Australians are concerned about the conditions asylum seekers face while their fate is decided and the impact this will have on their physical and mental health.
Such concerns have been heightened following recent policy announcements by both major parties that aim to put people in detention and resettle them in places where their health will be at risk.
Politicians say they are committed to "stopping the boats" and solving the "asylum seeker issue". The resulting hard-line approaches to immigration policy may get and retain votes in some sections of the community and contribute to an election win, but at what cost?
While the new measures will ostensibly stop people from drowning on their way to Australia, what about our international obligations to protect the human rights of individuals, in particular their right to health?
The physical and environmental conditions in off-shore detention facilities and regional processing centres will compromise the right to health that people seeking refuge in Australia have.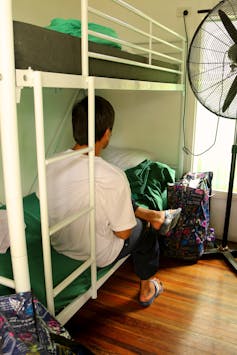 We will see the physical health and mental well-being of thousands of vulnerable people, including children, damaged. Are we all happy to have this sit collectively on the Australian conscience?
The RACP is calling on the next government to adhere to its international obligations and show respect for health as a basic human right, especially for this vulnerable group.
Dangers on the ground
Asylum seekers detained in off-shore detention facilities and regional processing centres located on Manus Island and Nauru are exposed to multiple environmental and infrastructure deficiencies that put their health at risk.
Papua New Guinea has endemic malaria, with over 100 cases for every 1,000 people and 430 deaths in confirmed cases every year.
Clearly, this presents a significant risk to the health of the people we're sending over there. Especially because standard environmental avoidance measures, such as repellent sprays, treated mosquito nets and staying inside after dusk, are difficult in temporary accommodation settings.
And there are no options for malaria prevention in very young infants who, along with pregnant women, are at highest risk for malarial disease.
The immunisation schedules in Papua New Guinea and Nauru don't include key illnesses such as mumps, varicella (chicken pox), human papilloma virus or pneumococcal vaccines as recommended by the Australian Immunisation Schedule.
And large numbers of people living in close proximity presents a real risk for transmission of vaccine preventable diseases.
Close living conditions will also amplify the risk of tuberculosis infection; multi-drug resistant tuberculosis is a serious concern in Papua New Guinea.
People sent to both Papua New Guinea and Nauru are also at risk of dengue fever, typhoid fever, hepatitis A and other water-borne infections.
There are major challenges to delivering adequate health services, mental-health care, child-health screening, and providing medical accountability and access to clean drinking water (particularly on Nauru) for the people we place there.
Steps in the right direction
There are also complex issues around equity and different standards of health care and services for refugees compared to citizens of Papua New Guinea and Nauru, particularly children.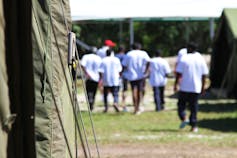 Indeed, children and adolescents seeking asylum are particularly vulnerable to the effects of detention.
The detention of children is contrary to Australia's obligation to uphold the rights of the child. To ensure Australia adheres to these obligations, the RACP statement is calling for the incoming government to take the following steps:
increase the capacity for placing children or adolescents and their families in community residence, and make this the standard model of care for all children. Under no circumstances should children be separated from their families;

no children are to be held in regional processing centres on Manus Island and Nauru;

immediately transfer children seeking asylum and their families to a community setting;

establish an independent mechanism for the oversight and management of health-care services available in off-shore detention facilities and regional processing centres; and

undertake immediate and sustained efforts to improve the efficacy and speed of the assessment process for all detainees to eliminate prolonged detention.
Most of the discussion and debate around asylum seekers during this election campaign has been about the rights of asylum seekers to permanently settle in Australia. Let's not forget about their basic human rights, particularly their right to health.
The government's approach to processing asylum seekers is an immigration decision but ensuring their health is an issue of rights. The two positions are not, and must not be, mutually exclusive.