Donald Trump has said Mexicans "are bringing drugs, and bringing crime" to the US, while his fellow Republican presidential hopefuls are also talking up hawkish anti-immigration policies as the primary season unfolds.
That they feel confident doing so says something about American Latinos' surprising history of not showing up at the ballot box in big numbers. But based on the data we have, it seems the anti-immigration right may have finally gone too far.
Latinos are the largest ethnic minority group in the US, making up 17.4% of the population, yet the Latino electorate has so far underperformed at the ballot box. The Pew Research Centre projects that a record 27.3m Latinos will be eligible to vote in 2016. That's 4m more than in 2012, but still only about half of the US's Latino population.
Expanding the size of the electorate through voter registration and naturalisation campaigns is undoubtedly an important step towards augmenting the political influence of the Latino community. But the impact of a larger electorate will be mitigated if half of eligible Latino voters continue to stay home on election day.
At the 2012 election, an alarming 12m eligible Latinos chose not to vote, and the Latino turnout rate dropped from 49.9% in 2008 to 48%. Conversely, 66.6% of African Americans and 64.1% of non-Hispanic whites voted.
While mobilising unlikely voters in Chicago in 2014, I witnessed how misinformation and a lack of understanding of how the government functions fuels public disillusion with the political process, a major reason many voters, not just Latinos, opt to reject the ballot box.
But the viciously anti-immigrant rhetoric promulgated by Republican candidates is forcing Latino voters to pay attention.
Waking up
A 2015 survey of registered Latino voters jointly conducted by the National Council of La Raza (NCLR) and Latino Decisions found that 43% of respondents felt more interested in this year's presidential election than in 2012. The same survey found that immigration reform, deportations and Barack Obama's recent interventions via executive actions are the most important issues for 39% of respondents, tied with job creation and the economy – whereas immigration issues ranked only fourth among Latino voters' priorities in 2012.
This doesn't make good reading for the Republican presidential front-runners, who claim to recognise the importance of the Latino vote to their campaigns but repeatedly alienate voters with their xenophobic rhetoric and unrealistic immigration policies.
On some themes, Donald Trump is in a league of his own: at the start of his campaign in the summer of 2015, he described Mexicans, by far the US's largest Latino subgroup, as criminals and rapists. But all three candidates have called for mass deportations of undocumented immigrants and have promised to end Deferred Action for Childhood Arrivals (DACA), an administrative policy that allows certain undocumented youth the ability to temporarily live and work in the US.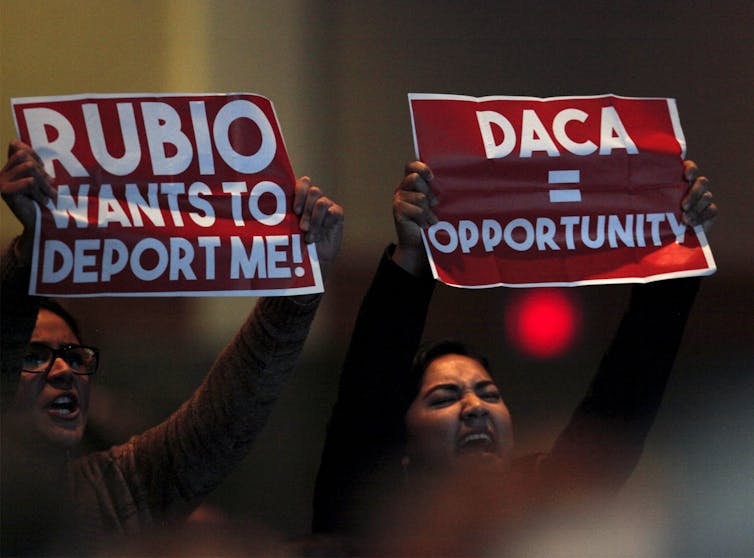 These promises alarm me since I'm a DACA beneficiary. DACA, among other things, made it possible for me to gain employment after graduating from Amherst College and to continue my graduate education. I am currently a Gates Cambridge Scholar at the University of Cambridge, and a future Schwarzman Scholar at Tsinghua University in China.
If Trump, Cruz or Rubio reach the White House, the other 660,000 beneficiaries and I would return to living under fear of deportation without access to legal employment.
From the ground up
Deporting all 11m of us is not realistic and will hurt the economy. The cheap labour of undocumented workers subsidises the standard of living of every American. Undocumented immigrants also pay billions in taxes which help support public programs. The Institute on Taxation and Economy Policy that undocumented residents paid an estimated $11.84 billion in state and local taxes in 2012 – and that legalising undocumented people would add $2.2 billion a year to state and local taxes.
Republican candidates know their immigration proposals are unrealistic, but they chose to ignore the facts to score political points with their conservative base.
Fortunately, the American people are on our side. A 2015 Gallup poll found that 65% of US adults and 77% of Latinos favour a path to citizenship for undocumented immigrants. While I can't vote, most of my extended family members, my colleagues and my friends can, and they will not vote for a candidate who wants to deport my mother and me.
Cruz and Rubio, both Cuban Americans, are perhaps hoping Latinos will ignore their stance on immigration and support them in the general election by virtue of their last names. But, if nominated, their ethnicity alone will not endear them to Latino voters. In the aforementioned NCLR survey, only 4% of respondents said they would blindly vote for a Latino candidate; 55% of Latinos listed the candidates' positions as the most important factor influencing their vote.
This will only matter if Latinos vote in numbers that can make a real difference. Raised turnout and greater political representation are not the catalysts for political empowerment, but the products of it. If those who stand up for Latino interests want to sustain political participation in a meaningful way, civic engagement at the grassroots level must be their focus.
If they can be brought to the ballot box in representative numbers, they could dramatically change American politics. But without a sustained grassroots organising effort, a significant number of Latinos will remain political bystanders in the US.