Hundreds of headteachers from schools across the country marching on Downing Street is not something you see very often. But many school leaders feel compelled to take drastic action over the issue of school funding. Headteachers are not normally a militant group – they tend to spend their working days encouraging others to conform. But lack of money has caused them to take to the streets.
For several years now headteachers, principals and CEOs of multi-academy trusts have been calling for adequate and fairer funding for their schools. At first glance it might seem their cries have been answered: government ministers and DfE officials repeatedly state that "there is more money going into our schools than ever before". And, with total school funding set to rise to more than £40 billion by 2020, you might wonder what heads have got to complain about.
Funding is of course only half the story, as expenses are also increasing. The DfE's own statistics, updated annually, show that over the past 10 years the total number of children in state-funded primary and secondary schools has risen from 7.4m to just under 8m – a rise of 8%.
Meaningless statistics
The notion that more money is going into schools is based on meaningless statistics. Because as well as the number of children in schools increasing, the costs of goods and services have also increased over the past decade. So the issue is more about how much funding per pupil has changed in real terms, after the effects of inflation have been taken into account.
The secretary of state for education, Damian Hinds, appeared to answer this question directly in response to a parliamentary question in January, when he stated that "real terms funding per pupil is increasing across the system".
The minister's assertion was challenged by the UK Statistics Authority which forced an amendment to the parliamentary record. The amendment stated that Mr Hinds had made an error and that in fact he could only say that overall real terms funding per pupil is being maintained between 2017 and 2020 – after again repeating that "there is more money going into our schools in this country than ever before".
---
Read more: Small village schools are at risk of closure because of unfunded costs
---
Calculating real terms increases is something of a dark art, open to a degree of interpretation and requiring some assumptions. However, robust independent analysis by the IFS suggests that although school funding per pupil nearly doubled between 1997 and 2016, the real terms value is set to fall by 2020.
This explains the concern of headteachers and the identification of a funding crisis. They may have a bottom line budget figure that is bigger than last year's – but by the time they've taken into account additional pupils, growing staffing costs and the rise in prices that we all experience, they have less to spend per pupil.
'Fairer' funding
A further change that will bite in some schools is a new "fairer" funding formula. Similar schools in different parts of the country have received varying rates of funding based on a locally implemented funding formula that has at its heart the number of children in the school. From 2018 a new national formula is being implemented, which aims to treat schools more fairly.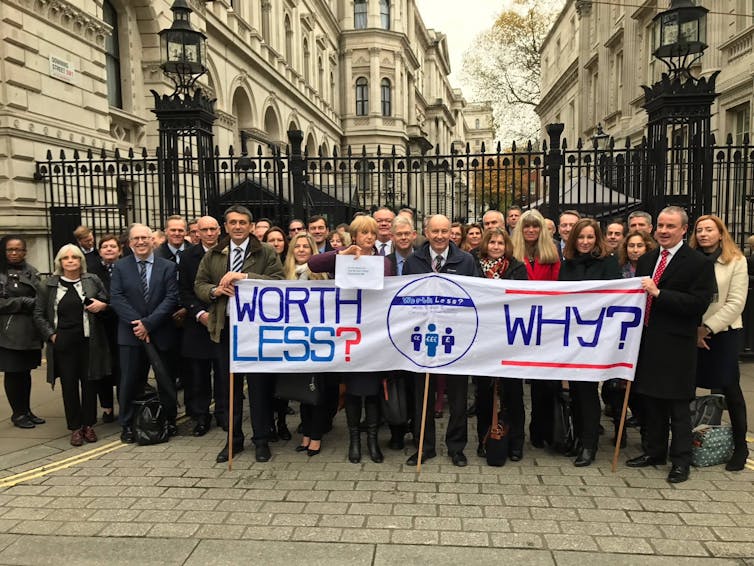 The new formula has of course stimulated debate – but it's a debate in which some school leaders have refused to engage. Their argument is that there is little point in discussing how a pie is shared out, if the pie itself is not big enough in the first place. Once again it's a real terms argument about the actual cash available to spend on children in schools.
So, will a visit to Downing Street make any difference? So far there have been no signs that the government's approach will differ from that of Mr Hinds – of simply looking at the global spending figure. And in that sense, the response still looks set to be "we'll give you more altogether, but you'll receive less per pupil".