A soldier, an engineer and a rugby league player walk into federal parliament. It sounds like the opening line of a bawdy joke, or the premise of a reality TV show. But on July 1, three senators from the Palmer United Party (PUP) – Jacqui Lambie, Zhenya Wang and Glenn Lazarus, along with Motoring Enthusiast Party ally Ricky Muir – will do just that.
From their first day in parliament, the PUP will hold the balance of power in the Senate. If Labor and the Greens oppose legislation, the Abbott government will need these four votes to reach a Senate majority of 39. This is from a party whose leader is famously erratic, whose organisation remains uncertain and whose senators lack any political experience.
This combination of inexperience and immense power might seem odd, or even a little worrying, but it isn't a unique case in Australian history. In July 1891, The Sydney Morning Herald was also concerned about the NSW parliament's latest batch of politicians:
[They] have been placed in a position of power and of responsibility, for which they could not have been fully prepared … Any plans laid down beforehand may well be subjected to reconsideration when they have to be adjusted to a much larger set of circumstances than was originally contemplated.
The newspaper was referring to the election of 35 politicians from the Labor Electoral League, the first victory of what would later become the Australian Labor Party. Not for the last time in its history, The Sydney Morning Herald was questioning its maturity. Would a party of boilermakers and bricklayers, saddlers and shearers, form respectable government? Could a party with a narrow platform understand diverse policies, let alone vote intelligently on them?
A lot has happened since 1891. The ALP has split and reformed three times, spending longer in opposition than in government federally. But the survival of Labor beyond its inaugural caucus might provide some lessons for a party like Palmer United, a party wishing to be more than a shooting star across Australia's political skyline.
Like the PUP, the structure of Labor's first caucus was largely improvised. It wasn't initially clear how responsive parliamentarians would be to the party's conference and the local leagues and trade unions that supported them.
By 1893, however, the ALP's conference was disgruntled enough to stamp its authority over elected representatives. Annoyed by the period's legislative gridlock and angry at responses to the 1892 Broken Hill mining strike, the conference labelled four prominent parliamentarians "traitors", disaffiliating them from the party. It proclaimed that "these deserters should be treated with undying hostility".
As a result, a number of Labor members refused to take the party's pledge at the 1894 NSW state election. Thirteen people were subsequently elected as "independent" Labor candidates.
Worryingly for the PUP, its internal structures are even less clear than Labor's were in 1891. Lambie recently assured the public that PUP founder and leader Clive Palmer wouldn't dictate how senators vote. However, the party's constitution grants enormous power to the "Interim Executive Committee", chaired by Palmer himself. Its platform lacks detail, giving little advice on specific policies.
If the PUP doesn't want to fray like 1890s Labor, these internal questions need answers. Without mediating processes, elected politicians will have to either happily obey Palmer or assert their independence. If Palmer wants one thing and the senators another, the PUP may find itself less united than its name suggests.
One glue that can hold a party together is a common political project. Even Labor in the 1890s, a party with a relatively clear base and purpose, found itself being pried apart from the inside over the "fiscal question". While most Labor candidates agreed on certain things – equal male suffrage, the eight-hour day, factory laws – there was deep disagreement over protectionism and free trade.
Labor tried to stall on the issue, outsourcing the policy to a referendum, but it wasn't enough to stop factions splintering.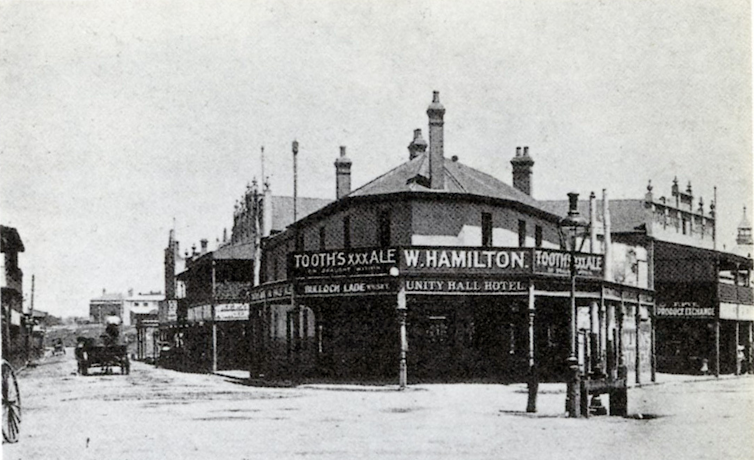 There's little indication of how the PUP will deal with such political dilemmas. The party came to power on the back of a few specific promises, rejecting the carbon tax and advocating a more welcoming refugee regime.
But if Palmer had a primary message, it was his full-blooded critique of Australia's political class – a form of anti-politics that was light on detail. In his maiden speech, he accused parliament of being "indifferent" to the needs of Australians.
Without a broad and established platform, there's an infinite number of ways the PUP could split on unexplored policies. One example is already emerging. In a recent interview, Lambie pledged to use her Senate position to leverage money and influence for her home state, to:
… [fight] for a fairer share of Australia's commonwealth for Tasmania.
But one of the PUP's few explicit policies is that:
… if a particular region creates wealth, a significant percentage of that wealth should go back to the region.
With Tasmania being a net recipient of GST funds, the PUP clearly can't do both.
This is not to say that the PUP is unfeasible. As Donald Horne argued in 1964, Australia possesses a rich vein of anti-political sentiment:
… politics [in Australia] is usually considered to be somebody else's business, and a dirty business at that.
But if Palmer wants to turn this distaste into long-term influence, he needs to be aware of the landmines under his feet. If he doesn't tread lightly, an explosion could be a misstep away.