Up until Sunday's debate, we heard grumbles that this election is too personality-focused. The beef was that the last few months in political news had been consumed by conflict and drama. "MPs" are "Media Personalities". Good entertainment, bad news.
Now, it seems we'd like a bit more charisma. There's certainly evidence to suggest that Australian media politics is lagging on this score. We just need to understand that this isn't about the individual foibles that lead to wooden note-reading and finger pointing.
Globally, personality politics isn't about personality: it's about what happens when changing political systems, media businesses and public sensibilities collide. On this count, data suggests that Australia falls toward the bottom of the pack in the world of "celebrity politicians".
Last year, social scientist James Stanyer looked at media coverage of political leaders in Australia, France, Germany, Italy, Spain, the UK and the US from 1995 to 2009. He found that each devotes considerably more attention to politicians' homes, spouses, children, birthdays, holidays and sex lives than they did in the past. However, the degree of change varied. Presidential democracies with baby-boomer leaders, weak party ties and a strong tabloid press, were especially prone to "personisation".
According to Stanyer, UK and US coverage is more personality obsessed than Australia, which came fifth out of the seven nations examined. Journalists are more belligerent, and politicians are more likely to reach out to voters through alternative media avenues, other than news. Either way, it's entertaining.
When up to 64% of UK MPs don't give direct answers to direct questions, perhaps it's not surprising that interviewers switch to inquisition mode. The decline of deferential interviewing on British television reached its nadir when BBC Newsnight host Jeremy Paxman infamously asked then-opposition leader David Cameron: "Do you know what a pink pussy is?".
The lewd interrogation had a point. The answer is a cocktail. The question was, should a person with commercial interests in businesses that sell "pink pussy" by the jug be trusted with alcohol policy? A legitimate concern. And great theatre, too.
In the face of such mockery, it's not surprising that other famous politicians sought less hostile routes to voters. Ostensibly, Britain saw another new low in 2006, when pugnacious MP George Galloway entered the Celebrity Big Brother house.
A strong opponent of the Iraq War, Galloway insisted he was "working" by presenting his ideas directly to the public. He could, so the argument went, achieve more on reality television than he could with parliamentary speeches, or jousting with the likes of Paxman. Ultimately, his most memorable achievement was a skin-crawlingly creepy impersonation of a cat.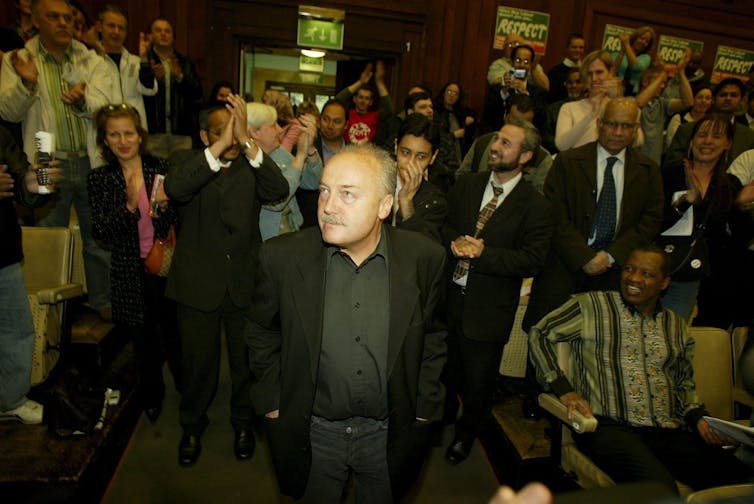 Funnily enough, voters found the episode quite authentic. Some bought his argument; others dismissed his celebrity sojourn as an exercise in ego; but supporters and detractors alike thought that the relentless gaze of reality television would show the truth of who Galloway was.
Galloway's reality TV adventure was about more than hubris. When the Labour Party's Julia Goldsworthy appeared on celebrity athletics show The Games shortly afterwards, she was trying to win money for an air ambulance service in her local constituency. Her decision showed another truth about British politics: that political journalists ignore most MPs. Reality television and Twitter are vital resources for representatives seeking local credibility. Ironically, for the hundreds of politicians whose fate determines who forms government, there's too little personality in elections.
For good or ill, then, being able to entertain is a pretty handy way to win trust through personality. When Bill Clinton famously called for issue-based electioneering with the slogan "it's the economy, stupid", he didn't really mean it. In the next breath, he was hanging with talk show host Arsenio Hall on TV, playing the saxophone in his Ray Bans. Surveys at the time showed most voters didn't know what Clinton's economic policy was, and now, no US presidential hopeful can ignore the talkshow circuit. But again, this isn't about personal characteristics: it's about the changing systems of political communication.
On this count, Australia isn't especially personality focused, compared to the rest of the world. And even if the tendency is moving in this direction, changing things isn't simply about individuals committing to issues. It's about the channels of political communication, not those who swim them.
This is an important context for the media events that have occurred so far in the campaign. It's vital to understand why David Bradbury's on-air meltdown became such big news, as it is to analyse the role of Rupert Murdoch. Perhaps the levity of these stories is best underlined by looking too at the global shifts among politicians, media industries and audiences that have, in combination, turned politics into a sort of entertainment.