Although Judy Watson's paintings are clearly landscapes, the fundamental orienting feature of most Western landscape painting is missing in them: there is no horizon.
In her paintings we are looking down or up. We are surrounded and enclosed by the image of the land, rather than assuming some privileged position of power and authority over it.
Her unstretched canvasses, as black ground is, appear to be cut from the soil. They are presented as a fragment of the land, imbued with all its texture, complexity, and resonance.
While working on early paintings like black ground, Watson found a way to manipulate materials drawn from country in a more physical way and to relate to them from her personal experience. It was the impetus she needed; as she said once in an interview:
it's so forgiving cloth, you can scrub it and do all those sorts of things and so in a way it was a real release just to work on the ground on those canvasses.
She pours paint that pools and soaks into the raw canvas. The application of ochres and pigments to the surface and her ability to control this process and at the same time take advantage of the serendipitous puddling and drying, makes a direct connection to country. Watson trained as a printmaker and this very active engagement with the surface gave her the confidence to work directly on the canvas spread out on the floor.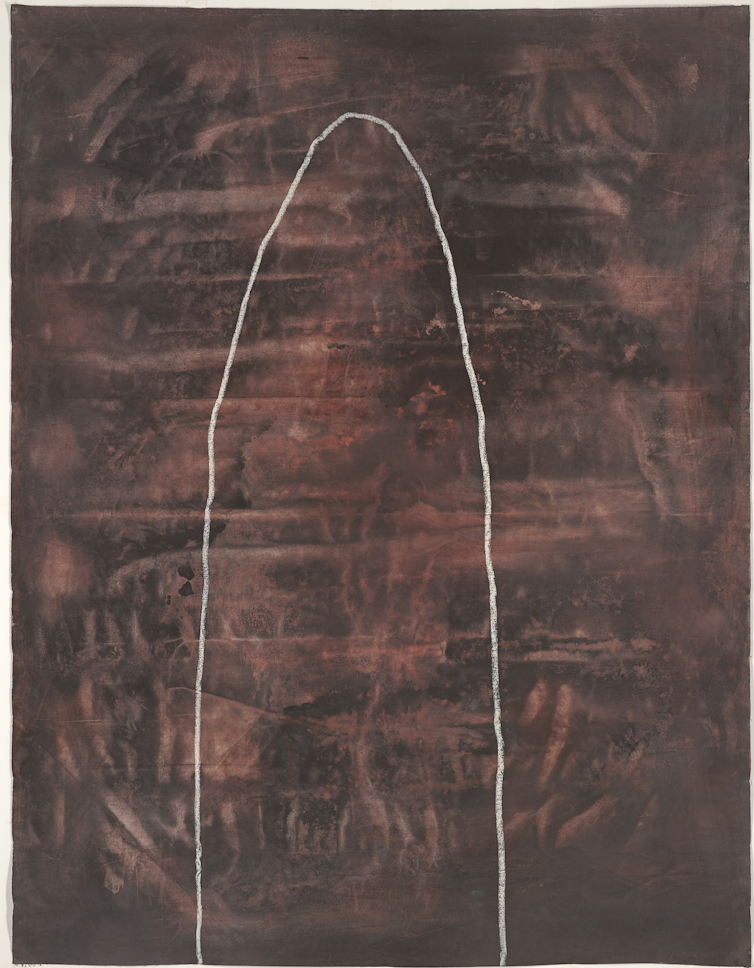 Whether the subject is the outline of a termite mound, as in black ground, or the spiralling double crown of her child's head or a nuclear test, the images she creates are both immediately accessible and yet tantalisingly ambiguous. This poetry is at the core of her practice; it emanates from the nature of their fabrication, because paintings like black ground are, quite literally, summoned up from the earth.
Her canvases become the ground for her eloquent and poetic chronicle of the suffering of Aboriginal Australians – the massacres, prejudice, and disdain – while simultaneously evoking the dignity and achievements of Aboriginal people. As a contemporary Australian artist she bridges both cultures and works in the space between to create powerful images of reconciliation and understanding.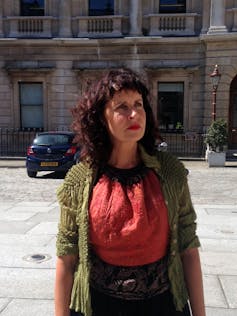 In search of a practice that was more open and available, socially engaged and practical, Watson initially worked as a printmaker. Her practice is inherently political; she has never been afraid to confront questions of race and colour in Australia.
Her latest exhibition, opening this December at the National Gallery of Victoria, alludes to this in the title: Who's Afraid of Colour? For Watson, and her generation, the political dimension of their practice, whether commenting on the massacres of her people or the injustice facing contemporaries around the world, is of fundamental importance.
The rich and dark surface of black ground is also the background of our history in this country, the black history that is the foundation on which everything else is built. Watson has said "my grandmother's blood seeps down into the land," and this autobiographical intimacy is an effective way of engaging her audience; revealing by inference, disclosure, and enlightenment.
For Watson, a Waanyi woman from North West Queensland, her country is her grandmother's land around Lawn Hill Gorge and Riversleigh Station. Making connections back to country is vitally important for Indigenous Australians, it is at the core of identity, the thing that shapes and guides the sense of self and provides the base for understanding others. As Watson explained:
when you walk in that country
the earth is a beating pulsating heat, blood, heart
things are hidden
like the bones of the people who have been there before
you are walking in their footprints.

A sense of humility and her determination to take a stance on significant issues remain core principles in her work. These are ideas are reflected in the titles of her pictures, which are always presented in lower case, like snatches of conversation, ideas in parenthesis or possibilities still evolving.
By avoiding the authorisation of capitalising, Hannah Fink suggests that Watson refuses to make a definitive statement, her titles remain as "fragments, phrases overheard from a greater narrative". These works contribute to the larger political landscape, and each has its part to play.
Her use of these constructive and framing methodologies are both concrete and symbolic, like the gentle flow of sand through Gough Whitlam's hand into the open palm of Gurindji man Vincent Lingiari (recorded in the famous photograph by Mervyn Bishop in 1975).
Her paintings are the record of their manufacture; the pooling and puddling of pigment, the imprint of burnt ground, the controlled float of colour and the accretion of forms and images, borrowed or found. Through this process of engagement with the land she alchemically transforms these materials into a poetry of belonging and ownership.
---
Who's Afraid of Colour? opens at the National Gallery of Victoria, Australia, Federation Square, 16 December 2016 – 17 April 2017.