Since the invention of colour printing, photography and film in the second half of the 19th-century, the line between art and popular culture has been a highly permeable membrane. Some artists, like Toulouse Lautrec, danced elegantly on that tightrope, as did Andy Warhol a century later, gladly providing content for the insatiable beast while taking what they needed to push their ideas forward. Pipilotti Rist happily prances around in that same zone.
So, when Beyoncé released the video for her song Hold Up in 2016, Rist would have relished the homage. Dressed in layers of wafting yellow tulle Beyoncé takes to the sidewalk. Barefoot and with a baseball bat in hand she proceeds to demolish the front window of cars parked alongside. It is a clear homage to Rist's Ever Is Over All, a two channel video installation the artist made for the 47th Venice Biennale in 1997.
Twenty years later, the image of Rist in a turquoise dress, sauntering down a footpath with an oversized flower in her hand, also smashing the front windows of parked cars, has been reimagined to sell Beyoncé's anthem for a slighted woman who has decided to fight back. It works brilliantly.
Rist's original video is memorable because of that simple rhythmic soundtrack and her swagger, which exudes a sense of confidence and inner resolve. Happy to add her own layers of popular culture homage, such as the ruby slippers she wears to reference Dorothy's jaunt down the Yellow Brick Road, Rist depicts a sweet young girl holding a flower spike who anarchically destroys vehicles. Under the supportive gaze of a Policewoman, her action has just the right mix of sassy insouciance that Beyoncé was looking for.
For Rist, the feedback would likely have been extremely gratifying. She expresses
the greatest respect for some MTV clips, since they have a power of innovation and a spirit of discovery that really surpasses video art.
Rist first gained international attention following her selection for the influential Aperto'93, an exhibition curated by Helena Kontova and Giancarlo Politi for Achille Bonito Oliva's 1993 Venice Biennale. Her early projection works emerged from her studies in audiovisual design in Basel, which in turn had led to animated cartoons and stage sets for music videos, made in tandem with her career as the drummer with the all-girl band called Les Reines Prochaines (The Next Queens).
The references to popular culture garnered from this milieu began to effortlessly cross-fertilise with her early video works.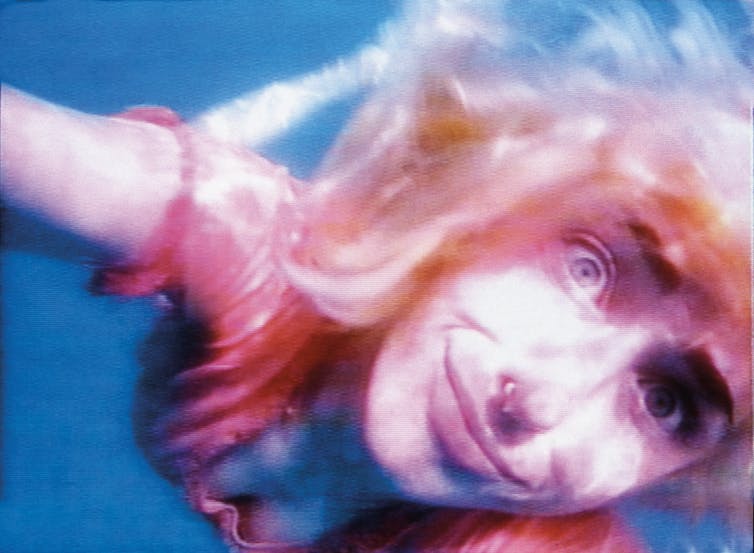 Another obvious pop-culture reference is her name, in part borrowed from Astrid Lindgren's tomboy creation Pippi Longstocking and Rist's nickname as a child, Lotti, hence Pipilotti. Indeed Longstocking's parentage does seem to encapsulate Rist's approach to her creative work. The daughter of an angel and a pirate, benignly stealing what is necessary to capture our imagination and urge us to take control of our world, perfectly captures the spirit of celebration of the feminine that pervades all her work.
Ever Is Over All is a vivaciously feminist call to arms. The protagonist (Rist herself) is presented as a joyfully anarchic figure, a wonderfully mischievous girl/woman grasping a flowering phallus and delivering well-timed blows to authority while remaining triumphantly graceful and elegant. Her carefree manner draws us along for the ride, and we happily join with her in her rampage. It is surprisingly liberating and, yes, amazingly joyous!
Technically, the video sits in that liminal zone between music videos and video art. While it borrows the tropes of the music video, it edges into the world of the art gallery through its installation on two screens, that juxtapose the film of Rist destroying car windows in an urban streetscape with imagery of the countryside and exotic flowering plants.
The environment it creates is embracing, welcoming and it encourages our complicity. It is luscious, intense and alluring, like so much of her work, presenting us with a world that is aesthetically heightened and very seductive. The combination of the allure of the music video and the sensuality of the installation is made even more compelling when we bring to it our knowledge of the feedback loop that locks in Beyoncé's homage.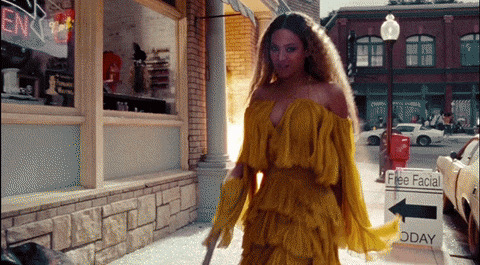 Rist has been extremely successful in merging high and low culture and the art world. Her lush videos and multimedia installations mesh together notions of female sexuality and music video pop culture, with an imagined optimism presented in contrast to our everyday reality. This feminist intervention provides a powerful and ebullient critique, which is in turn having a powerful effect in re-shaping popular culture.
Pipilotti Rist, Sip my Ocean, Museum of Contemporary Art Sydney, 1 November 2017 to 18 February 2018