In 1877, Steve Hart left his parent's farm in Wangaratta to join his mate Dan Kelly, his brother Ned and their friend Joe Byrne panning for gold. The slightly built 18-year-old was an excellent horseman, competing in races around Beechworth and Wangaratta, but he was at a loose end after his release from gaol for stealing a horse, and with no other prospects, he was up for anything. "Here's to a short life and a merry one!" was his reported farewell. He got his wish.
The following year while camped at Stringybark Creek with his three friends, Hart became a fully credentialled bushranger when a party of four policemen attempted to arrest the Kelly brothers, and one was shot. From then on his merry life included bank robberies at Euroa and Jerilderie and evading capture at every turn. It was at this time Hart took to dressing as a woman and riding side-saddle to avoid detection.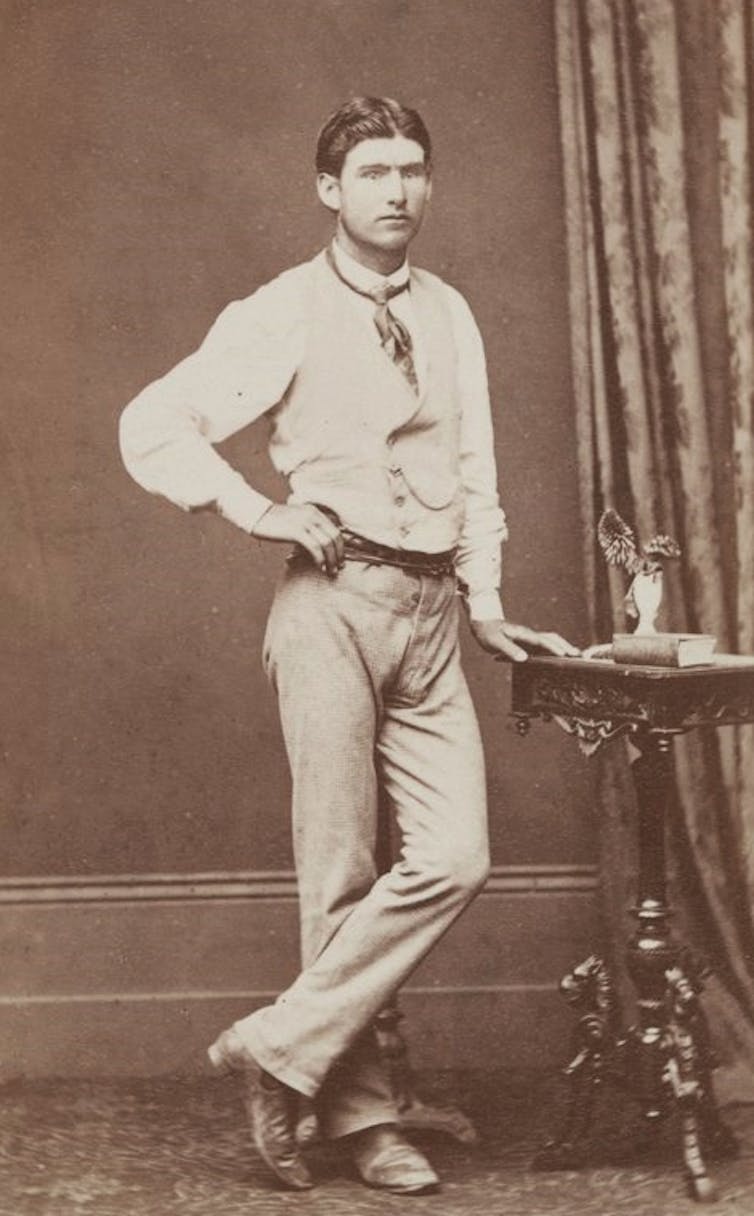 Six decades later and 250 kilometres to the southwest, another young renegade of Irish descent was also cross-dressing to avoid arrest. Sidney Nolan was 25 years old and living in a ménage à trois with Sunday and John Reed at their farm Heide, in Bulleen.
Nolan was on the lam as a deserter from the Citizen Military Forces, and when the Military Police came searching for him, he pulled on one of Sunday's dresses and wandered off into the paddocks. John Reed explained to the police, "It's just me crazy kid sister, she likes to look after the geese."
The lives of these two young men became inextricably interwoven in the Australian psyche when Nolan began a series of paintings two years later, in 1946, to document the history of the Kelly gang.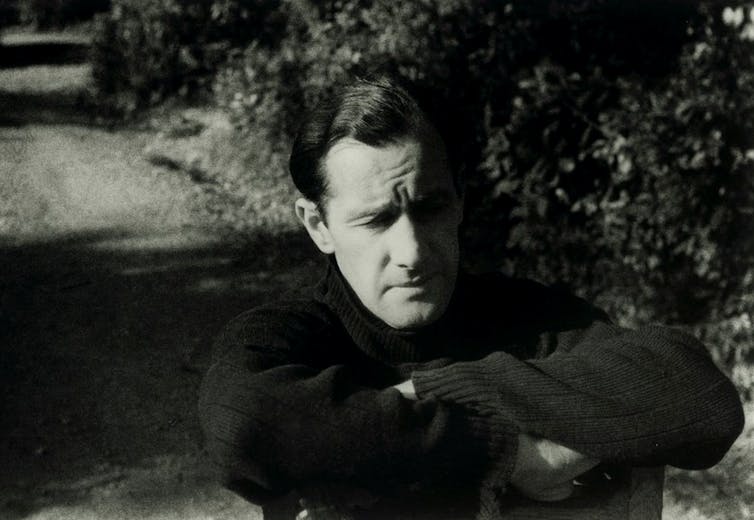 Nolan had been experimenting with European modernism and French Symbolist poetry in the hothouse environment of the Reed's home, where painters, writers, and intellectuals lived, worked and plotted a future for Australian art after the second world war.
Delving into the Reed's impressive library of books and magazines, Nolan was able to study the works of Paul Cèzanne, Pablo Picasso and the untutored painter of mysteries, Henri Rousseau. He also absorbed the poetry of Arthur Rimbaud and Paul Verlaine. With Sunday Reed as his muse and assistant, he began making paintings of the landscape of the Wimmera, where he had been stationed while in the army, and recording his memories of St Kilda, embracing the vitality and freshness of children's drawings, inspired by the spirit of the Douanier Rousseau.
After his dishonourable discharge from the army in 1946, Nolan was searching for a big subject, one that would articulate a grand narrative of Australian life set within its unique landscape. It needed to encapsulate the inimitable character of its people with all their humour, independence, stoicism, heroism, and resilience. In the story of the Kelly boys and their friends Joe Byrne and Steve Hart, he found all that, and more.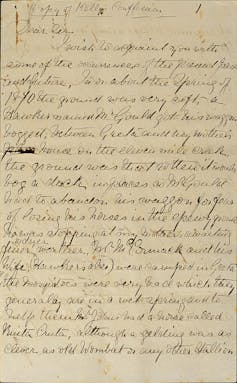 Using the slippery Ripolin enamel paint he favoured and working on hardboard surfaces, Nolan painted 27 pictures in the series describing the story of the Kelly gang and their eventual demise in a shootout at the Glenrowan Hotel. Some are full of light and humour, others are dark and threatening. He researched the history and mythology of the Kelly story from historical records such as the Royal Commission report of 1881, J.J. Kenneally's The inner history of the Kelly gang, published in 1945 and Ned Kelly's own Jerilderie Letter.
Through this research, Nolan began to identify with Ned and his mates and echoes of his own life history began to interchange with the stories he was uncovering. His first study for the painting of Steve Hart painted in 1945, now held in the Nolan Collection in Canberra, shows young Steve with his embryonic moustache and floral cotton frock perched demurely in the saddle under a clear blue sky. He is in an open field, his horse alert, hooves rooted in a paddock enlivened by wildflowers, anxious about being spotted, like Nolan 60 years on.
When Nolan returned to the subject two years later the mood had shifted. It is now late afternoon, the sun is setting, and the hills catch the last sonorous glow of the day.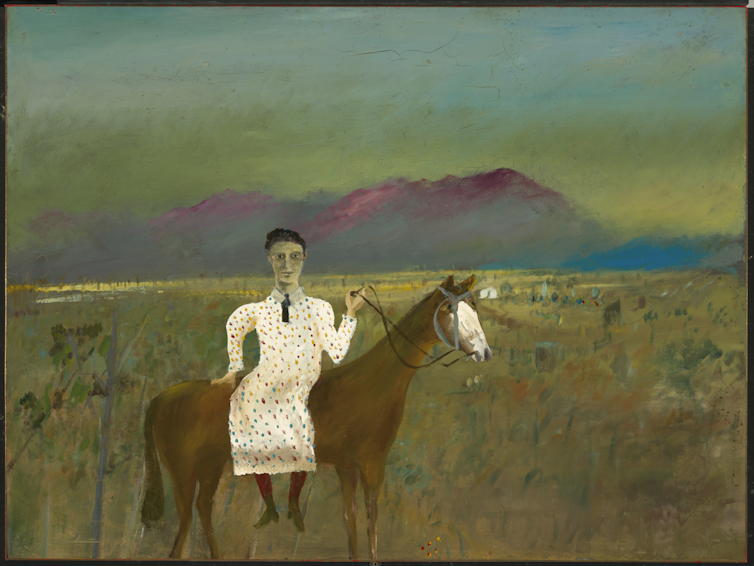 A clean-shaven Hart, still in his floral dress, is more at ease in the saddle and a final ray of light hits him like a spotlight. He is daring us to call him out, ready to throw his leg over his mount and speed off toward the hills with the speed he showed when he won the Benalla Handicap.
It is a still picture in which the landscape becomes an accomplice in narrating this story of adolescent cockiness, bravery, and foolhardy bluster. Hart would die in the shoot-out at Glenrowan a year later, just 21 years of age, a young man who lived his maxim, "… a short life and a merry one."
Sidney Nolan's Ned Kelly Series is at Art Gallery WA until 12 November 2018.