What is the purpose of a painting's title? Most often it is to identify the subject, set the scene, allude to possible meanings or indicate a framework for understanding. In Victorian England when paintings exclusively told stories or conveyed a moral lesson, the title was an important entry point for appreciation.
It was, therefore, an act of provocation when James Abbott McNeill Whistler called the profile portrait of his mother, Arrangement in Grey and Black, No. 1.
Provoking portraiture
Whistler was a self-styled agent provocateur: only Oscar Wilde could match him for biting wit and effrontery, yet there was also a serious purpose to this particular affront. Whistler had crashed headlong into Victorian society with the exhibition of his painting The Woman in White at Berners Street Gallery in London in 1862.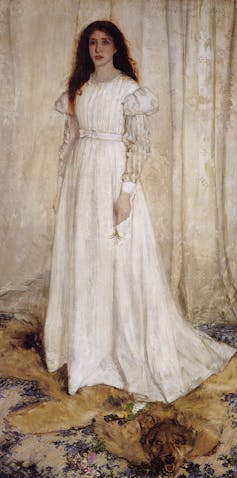 Although the reception was mixed, it was generally well received, though in the artist's opinion for all the wrong reasons. Although rejected from the prestigious Royal Academy exhibition, critics rhapsodised over the painting when shown at Berners.
Some thought it an illustration of Wilkie Collins' hugely popular novel The Woman in White, published only two years earlier, and hence interpreted the subject as an ethereal being.
Many others thought the girl with the mass of red hair was the evocation of pure and virginal womanhood, a young bride following Queen Victoria's recently introduced fashion of wearing an all white ensemble.
Everyone had their opinion on what the painting meant and most were happy to express it.
Whistler was horrified and tersely responded,
My painting simply represents a girl dressed in white standing in front of a white curtain.
The speculation continued when the painting was shown the following year in Paris, with one critic waxing lyrical about the artist's depiction of lost virginity.
Viewers persisted in giving their interpretations until finally, in frustration, Whistler changed the painting's name in 1867 to Symphony in White, No. 1.
A proponent of the avant-garde proposition of "Art for Art's Sake", Whistler took up the clarion call of Edgar Allan Poe, Théophile Gautier and John Ruskin, and announced:
Art should be independent of all clap-trap – should stand alone, and appeal to the artistic sense of eye or ear, without confounding this with emotions entirely foreign to it, as devotion, pity, love, patriotism, and the like. All these have no kind of concern with it; and that is why I insist on calling my works 'arrangements' and 'harmonies'.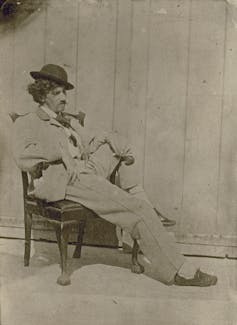 His art, he insisted, was about painting and the pure expression of formal values; any extrapolation of human emotions or superimposed narratives were unnecessary and an obstruction to pure enjoyment.
So when he submitted the portrait of his mother to the 104th Annual Exhibition of the Royal Academy of Art a decade later, he predictably called it an "arrangement".
Whether he was acting with integrity or he was genuinely naïve or being intentionally inflammatory is unsure, but he insisted the identity of the sitter should not matter to the public.
Whatever his intention, his decision polarised opinion in London society. With The Woman in White incident behind him and his flamboyant, egotistical demeanour obvious to all, he was quickly cast as a scandalous celebrity in the popular imagination.
Arrangement in Grey and Black, No. 1
In comparison with the work of the Impressionists working in Paris, and the works Vincent van Gogh and Paul Gauguin produced a few years later in Arles, Whistler's portrait seems rather conventional.
His palette is austere. Unlike the Impressionists' use of strong complementary colours and instead of their broken brush marks employed to convey nature's mutability, Whistler's painting is an exercise in applying thin washes of paint to achieve tonal harmony, balance and stability.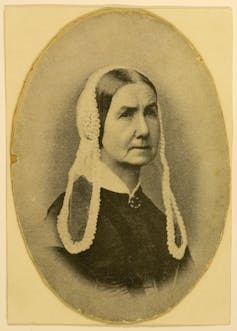 The paintings restrained simplicity; its strong geometric framework, subtle colouration, deft skill and finely honed realism are beautifully handled.
But can this catalogue of formal qualities account for its extraordinary and enduring popularity?
Despite his insistence that the subject was of no interest to the viewer, Anna Matilda McNeill Whistler was more than just a prop. She lived with her son from 1864 to 1875 during a period of significant disruption in her American homeland.
This proud Southerner was the niece of a slave owner and her son William enlisted in the Confederate army as a surgeon. Like many American women of this period she had lost children. Three of her five sons did not live to adulthood.
Her sympathies were divided between north and south in the Civil War and as a widow and in declining health, she decided to join her son in London.
Whistler knowingly depicts her as a solid fortress, a bastion of moral weight whose sheer presence seems to be a stabilising force. In her portrait, she sits patiently staring forward or perhaps lost in stoic contemplation of her life and the chaos all around.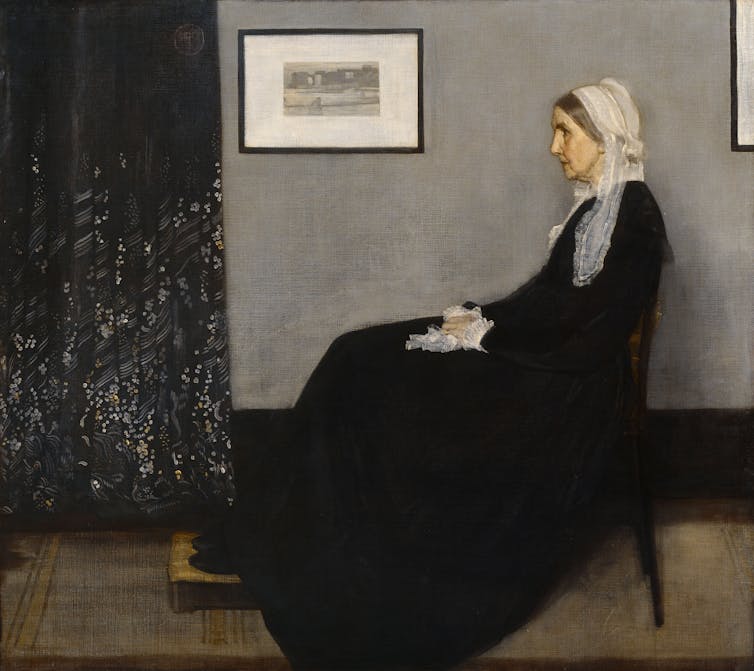 She is wearing the formal black clothing of mourning; her white coif and white lace trim an indication of her long-term widowhood. By 1871 she was 67 and unwell, so instead of the standing portrait he initially proposed the artist sat his mother side-on, raised her feet on a stool to keep them from the cold ground and placed her against a drawn curtain, with one of his framed etchings on the wall.
These details matter: the artist's relationship with his mother is implicit in the structure he has devised, which we intuit when viewing the painting. For example, his mother's black dress tips over the edge of a thin brown strip of colour at the bottom of the canvas, suggesting she is placed on some kind of pedestal – both real and metaphorical.
Painted with thin veils of colour washed onto raw canvas, Whistler beautifully balances frailty with strength, delicacy with boldness and immediacy with timelessness. His distillation of her character is immediately knowable and it remains persistently in our memory.
Whatever its strengths as a formally constructed painting, they are not the only reason the painting has transitioned from the realm of elite art object to icon of popular culture.

Whistler's Mother will be on display at the National Gallery of Victoria from March 25.