As an urban rail activist, academic and commentator, including a spell on Infrastructure Australia, I can say from the start I was delighted that we have a consortium prepared to have a go at high-speed rail using value capture.
Consolidated Land and Rail Australia (CLARA) is the first group in Australia to suggest that a major rail option can be funded without government capital. This fits with what we have been saying for a number of years (for example, the entrepreneur rail model).
It is not just a way of bringing financing groups like superannuation funds into such major infrastructure projects where governments have no hope of finding the cash, but it is also a better way: it inherently integrates with land development opportunities to make less car-dependent cities.
High-speed rail is needed. We are the last major developed area without it.
It is now a well-established technology that can simultaneously reduce car use and plane use. It is a way to reduce our oil dependence and to help us meet our greenhouse emissions, as have Japan, China and Europe in recent decades.
Key issues to be overcome
However, some issues need to be resolved for this proposal and, indeed, the other three consortia that I have heard are also keen to build high-speed rail in Australia.
First, it's not a project that should be an unsolicited bid with all its high commercial-in-confidence process. Such a project will have huge public significance and demands that we address the full implications – A$200 billion over 40 years is a lot of money for infrastructure and land development.
If this project goes ahead, many other infrastructure projects and land developments will not happen in the competitive marketplace of our cities and rural areas. This project will need to show great public benefit as well as enabling the private sector to take the risk and do the investing.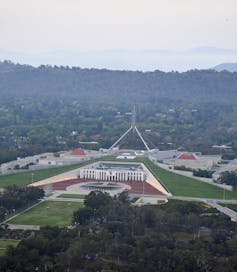 Second, what are we looking for from infrastructure like this? Surely we want it to build up our cities and the regional towns in between to have a more sustainable, productive and liveable future.
This project is very light on detail, understandably, about how it would come into the cities (it seems to just go from airport to airport on the urban fringes). It completely misses all the major regional centres like Canberra, Wagga Wagga and Albury-Wodonga in order to go much faster and cheaper through farmland.
The Canberra Times reported a CLARA spokesperson saying:
The project would be privately funded on a value-uplift model. This needs new city development where maximum uplift in land values is available, which is not available in existing cities like Canberra, with elevated real estate prices. 'They must be greenfield.'
Value capture worldwide and in our model is done to facilitate urban regeneration, not to create new car-dependent greenfield suburbs. CLARA's model is seeking cheap, easily obtainable land on the urban fringe and in rural areas rather than helping our cities and country towns. Not only is the value of this to Australia very debatable, it is not likely to be as successful in raising land values to achieve their goals.
There is a limit to how many wealthy, long-commute exurbs or retirement villages could be induced to invest in such places in the countryside. The strong economic demand is for urban regeneration inside the old parts of our cities and towns. This has been an important part of the rationale for high-speed rail in other places.
The CLARA model is an extension of the failed idea of building new towns in greenfield areas. It has failed in Australia and in the UK and US because urban development needs to be more organic, building on the historic processes, local communities and multiple services of the cities and towns built up over hundreds of years. The modernist new towns have all struggled as they are designed from the top down.
It may be appealing to take a fresh sheet and drop it from on high, and very messy to have to deal with so many land owners and local governments in the old cities and towns, but it should not be beyond us.
Principles to guide a successful project
To make high-speed rail and urban development happen in a way that benefits Australian cities and towns, I suggest we should try to follow the principles below.
It is important to attract private capital for combined land development and transport, but this should be led by locational strategies where redevelopment is most needed, not by transport engineering simplicity.

Benefit-cost assessments should include long-term urban and sustainability goals.

Public-private partnerships (PPPs) should include core commitments to community engagement, integrated public transport delivery, equitable and time-of-travel-dependent fare structures, safety, consumer and environmental protection, and urban design quality.

The projects should not just be innovative in financing and PPP delivery but be agile enough to include disruptive innovations such as solar PV-based electric rail, new carbon fibre and other materials, very smart systems for control at high speed, and effective noise management.
High-speed rail has been a long time coming for Australia. It's a very big and beautiful opportunity, so let's get it right.