The 2013 winners of the Australian Record Industry Association (ARIA) Awards will be announced this Sunday night, 26 years after John Farnham cleaned up at the inaugural ceremony in 1987.
A lot has changed since Farnesy was top dog in the Australian music scene, not least of all the rise of Australian hip hop – a genre that boasts some of the biggest acts performing in Australia today. US hip hop, in its various forms, also dominates the radio airwaves and charts.
Australian hip hop has made its presence felt fairly convincingly across several categories in the ARIA awards, which are judged by more than 800 members of the music industry (except for four publicly-voted awards).
Urban and beyond
Most of the hip hop nominees this year will be found in a category called Best Urban Album. ARIA defines that as:
artists working primarily within the urban genre, eg r'n'b, hip-hop, soul, funk, reggae and dancehall.
It's a pretty amorphous category compared to genre-specific gongs of "best country" or "best pop". (However, "best adult contemporary" is arguably even more amorphous, and used to translate to "best old farts".)
"Urban" is a rather meaningless US moniker taken from the US music publication and charts tracker, Billboard, and the term didn't come into its own in Australia until 2004.
In that year, it brought about an unforgettable moment of glory for Australian hip hop, when the then-Canberra based duo Koolism won the ARIA award for Best Urban Release for their album, Part 3 Random Thoughts.
The award was presented by US hip hoppers Black Eye Peas, and in his acceptance speech, Koolism DJ Danielsan dedicated the award to the "Australian hip hop community", whom he exhorted to "be yourselves, keep it real, enough of that American wannabe trash".
He quickly added that the Black Eyed Peas were:
all good, but I am talking about Australians who wanna be something that they're not.
But the moment had passed, and the crowd roared in a combination of adulation and opprobrium.
DJ Kool Herc, credited as a founder of US hip hop – who brought sound systems from Jamaica and started the South Bronx block parties in the mid-1970s – was also in attendance that night.
Later, Koolism held a celebratory barbecue in Canberra at which Kool Herc spun the wheels of steel.
Australian hip hop on top
It hasn't ever really got better than that, and watching the clip still brings a tear to my eye.
But since then, Australian hip hop artists have had a much higher profile in the ARIA awards and have even been nominated occasionally for best album.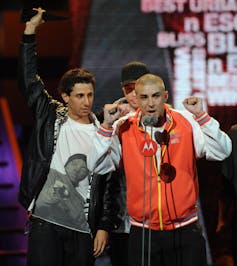 Sydney group Bliss n Eso have been nominated four times in the past and were winners of Best Urban Release in 2008. They are nominated in that category again this year for their album Circus in the Sky, already the best-selling Australian album debut of the year.
Last year, Australian rapper 360 was the most nominated ARIA performer, with no less than six awards - album of the year, best male artist, best urban, best breakthrough artist (the only one he won) song of the year and best Australian live act.
360 also performed at the 2012 awards, along with Adelaide hip hop superstars Hilltop Hoods.
On that basis, there seems to be no impediment to hip hop artists ending up in a number of different categories besides best urban, a category which they increasingly seem to dominate in any case.
(Five of the urban nominees this year are hip hop artists, which makes one wonder about the fate of reggae, dancehall and funk in Australia.)
Same names
One of the most tedious aspects of the ARIA awards is seeing the same artists nominated for multiple awards every year, which seems to imply there is only a tiny pool of talented Australians to draw from.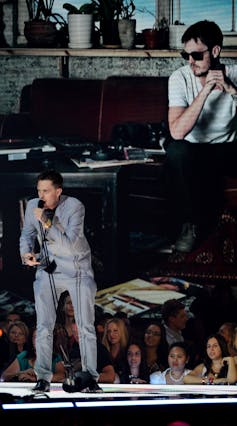 Consequently, when someone a bit surprising is nominated, as Koolism were, and wins, there is cause for jubilation.
This year the same names appear across multiple categories: Perth psychedelic rockers Tame Impala, garage rock band The Drones, Perth five-piece Birds of Tokyo, Australian rock royalty Nick Cave, electronic music producer Flume and former Australian Idol Guy Sebastian.
Home-grown hip hop has well and truly arrived in Australia and that is reflected in the way hip hop artists, over the years, have been nominated across several categories, rather than being confined to the "urban" section.
The lack of borders between ARIA award categories actually allows for a lot of fluidity across genres, which creates opportunity for hip hop artists.

The 2013 ARIA Awards will be broadcast on the Nine Network's digital channel GO! from 7:30pm AEST on Sunday.