The resignation of Australia's first minister for cities and the built environment after just 99 days is a setback for federal leadership in these areas. Yet enough momentum and goodwill have been generated to keep the flag flying. The greatest hope is that an urban consciousness in national public policy will be lodged permanently.
Even before state planning ministers assemble within months to hammer out the ground rules for federal engagement, the mutual understanding will be that the states are Australia's primary urban governments.
In August 1945, a conference of Commonwealth and state ministers in Canberra confirmed that arrangement. The states rejected a generous proposal for a central planning bureau to provide advice, training and information resources plus cover half the costs of employing technical experts to assist local authorities.
Prime Minister Ben Chifley's summation sealed the fate of the bold reconstruction initiative hatched by Nugget Coombs:
… the matter ought to be left to the states.
How cities became 'orphans of public policy'
Regardless, the federal government has retained a periodic interest in cities, with mixed outcomes. Historically, most initiatives have been linked to Labor.
Gough Whitlam's Department of Urban and Regional Development (DURD, 1972-75) injected valuable locational and equity perspectives into policy. However, a big-spending command, control and co-ordinate mission proved problematic.
Bob Hawke delivered AMCORD and Green Street as best-practice guidelines for residential development. This helped change the culture of the development industry. But the Hawke government's main legacy, driven by Deputy Prime Minister Brian Howe, was Building Better Cities, centred on strategic housing, environmental and infrastructure projects.
Paul Keating gave us the Urban Design Task Force (1994) and the Australian Urban and Regional Development Review (1995) of federal programs for infrastructure, planning and transport.
By the time of the Rudd-Gillard governments, an actual National Urban Policy emerged to guide public intervention and private investment. Its quartet of themes remain widely accepted: productivity, sustainability, liveability and governance.
The Coalition's contributions have been more muted.
The enduring love affair was between Robert Menzies and Canberra. The capital received extraordinary largesse to become an exemplar of modernist architecture, design and planning. Most everywhere else was ignored.
Late in his term, William McMahon instituted a National Urban and Regional Development Authority, which lingered as a commission for new cities alongside DURD.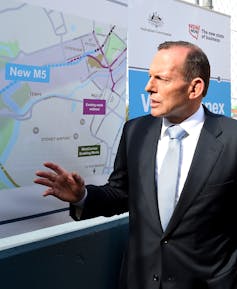 The Fraser government wound down Labor's perceived excesses but still found a rationale for inquiries into the Commonwealth and the urban environment (1978) and a pioneering study on urban environmental indicators (1983). John Howard offered various charters and best practice initiatives, notably the Development Assessment Forum (1998).
Cities have been called "orphans of public policy", so the decisive and acclaimed entry of the Turnbull government into the fray is remarkable. Malcolm Turnbull has the credibility, nous and drive to supplant Tony Abbott as the first infrastructure prime minister. In a sense, Abbott ignored cities – except to champion motorways – at his peril.
Turnbull invigorates urban agenda
Turnbull's transformative move has been to declare officially what has been long known: cities are "crucibles" of innovation and enterprise.
Productive cities are smart, innovative, prosperous and great places to live. Less productive cities are accordingly less liveable, sustainable and connected.
While a new cities minister will lay claim to one ear of Turnbull, wife Lucy will command the other. A former lord mayor and "city expert" adviser to the COAG Reform Council, she chairs both the Committee for Sydney and the NSW government's new Greater Sydney Commission.
The problems of Australian cities are well documented: density (the drawbacks of low joined by the challenges of high), transport (needing greater mass transit connectivity and walkability while reducing dependence on cars), housing (affordability and variety), inequality (divided by income, health and mobility), the spatial mismatch between jobs and homes, fractured metropolitan governance, open space, environment, heritage, design.
Australia's "broken cities", to quote the Grattan Institute report City Limits, are:
… caught between the three tiers of Australian government, hardly registering on the agenda of many politicians.
What to do next?
The solutions are wickedly challenging. In December, the then-minister, Jamie Briggs, distilled the state of play in his keynote address to the State of Australian Cities conference. The Commonwealth was not set to take over from the states, create new bureaucracies or become a "planning approver". Rather, there would be better co-ordination between federal agencies and across all tiers of government.
Briggs flagged collaboration with the private sector, researchers, and the wider community. He spoke of the need to secure "better outcomes" and "measure our performance". The gaze was on the long run and locking in agreed planning and co-ordination of projects.
Smarter, more flexible and adaptable financial arrangements will come into play. The buzzwords "value uplift" and "value capture" pinpointed the need to extend federal intervention beyond cash handouts. This is code for differential tax increment financing to tap into revenues generated by rising property prices from infrastructure improvements.
Labor's National Urban Policy framework will need to be revisited. The way forward is through intergovernmental agreements that link specified outcomes to robust and streamlined planning systems. These will need to connect up issues of housing, employment, environment and infrastructure.
This agenda has been taking shape for some time. Bellwethers include:
Ideas and inspirations abound
Several seers lit the ideological torches for the new infrastructural urbanism. Ed Glaeser's Triumph of the City is a paean to proximity, density and light-handed regulation. In The Rise of the Creative Class, Richard Florida broadcast the competitive advantage of attracting human capital. Enrico Moretti's The New Geography of Jobs (2012) demonstrated the multiplier effects of urban "brain hubs".
In the UK, the Cameron government's City Deals policy highlights an attractive model of bespoke multi-target programs for competing cities. It is aimed squarely at economic growth underpinned by enhanced tax revenue from development.
While the cities component of the new portfolio is crystallising publicly, what of the built environment? In exploring a model that works for the Coalition another exemplar is the UK's Commission for Architecture and the Built Environment (1999-2011). Although emasculated in a purge of quangos, it was widely respected as an adviser and advocate for quality design and valuation of the public realm.
Run leanly and through a similar mix of design reviews, publications, research forums and an adviser network, an Australian adaptation could assume a timely leadership position. It would be a vehicle for many voices to be heard, not just the property and development sector. Turnbull tacitly recognised the value of this when he announced that his summer reading included Marcus Westbury's primer for DIY urbanism, Creating Cities.
Quite a few federal activities might be connected under this umbrella. These include State of Australian Cities reporting; the National Australian Built Environment Ratings System (NABERS); various environmental policies including management of national and Commonwealth heritage lists; leased federal airports, which have become development hotspots; the National Capital Authority; the Australian Housing and Urban Research Institute (AHURI) and the Australian Urban Research Infrastructure Network (AURIN).
Given the importance of evidence-driven policy, it is unfortunate that urban-related research is under-supported by the Australian Research Council. It barely registers in its research priorities.
Urban policy is complex because it potentially links up and intrudes into many arenas of government. The cities ministry and the new interdepartmental taskforce sit within the Environment Department overseen by Greg Hunt. As shadow minister for cities, Anthony Albanese has warned of "convoluted administrative arrangements", with five ministers sharing responsibilities for cities and infrastructure policy.
Former professor of public administration Martin Painter identified the "impossibility of urban policy" because of insoluble administrative problems flowing from taking too comprehensive a position. His advice was "the simpler the better".
Briggs' successor will likely continue down the same path with a discussion paper, a national forum with the prime minister speaking, and that meeting of planning ministers to talk through approaches and decisions. There are now huge expectations that a new urban age has dawned in Australia.