Fashion photography conjures together dress and body to create images that aim to seduce. On the cusp between art and commerce, this apparent dichotomy meant the genre only became a gallery staple in the last couple of decades. The V&A has a strong record of exhibitions that chart its development and highlight key players.
Their current Horst show is a demonstration of the rich variety of ways that fashion photography illuminates not just sartorial ideals, but also provides important insight into social, design and art history. Spread over a series of rooms, it shows the first entry of German-born Horst Paul Albert Bohrmann (known simply as Horst) into interwar Europe's artistic milieu, and then his career in America, where he became a citizen in 1943 and flourished.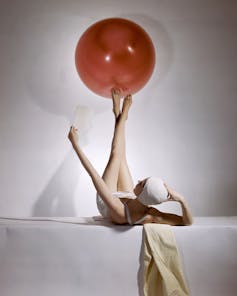 As a body, Horst's work illustrates fashion photography's evolution as a genre. Key to this is the role that fashion publishing giant Condé Nast played within this development, and the exhibition stresses this collaborative process. Fashion editors and models who played a significant role in the evolution of Horst's style are highlighted. And the dazzling images are carefully grouped to show his association with other important photographers of the period, including Hoyningen-Huene and Cecil Beaton, his close relationship with model Lisa Fonssagrives, and Vogue editor Edna Woolman-Chase's support of his work.
All this underlines the careful preparation involved in choosing the right photographer for a specific commission and the right fashion editor. The overall combination of people, garments and accessories has to harmonise with set and art direction so that a collective vision is realised. The show cleverly brings these hidden toils to view, the arduous process behind the sheen of the finished product coming through.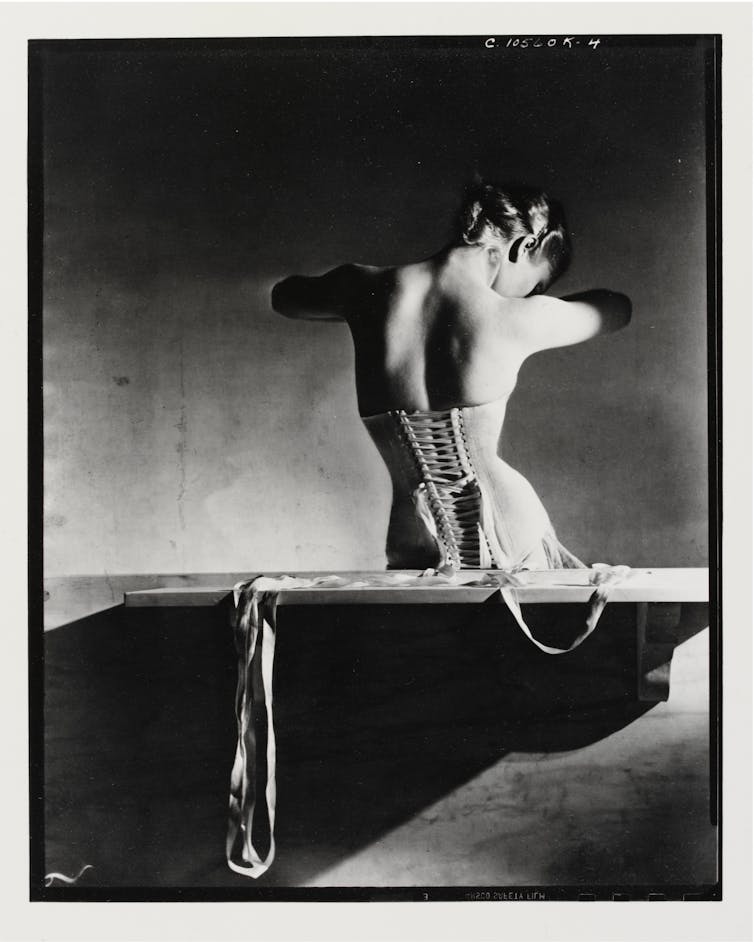 The images are dazzling. His famous 1939 photograph of the back view of a model in a pale Mainbocher corset is here, as are his portraits of Coco Chanel, Salvador Dali, and a whole range of fashion, stage and screen stars, from Gary Cooper to Rita Hayworth and ballerina Irina Baronova. Seeing this spectacular array in one place, Horst's close understanding of the body, his love of its curved lines, is laid bare. So many of the photographs focus on carefully arranged gesture and pose – to reveal the fashionable silhouette, but also to reach for a visual balance within the elements of each composition.
Fashion editors are notorious for demanding detail. This is to appease designers, who want their work displayed correctly, and to sell – visually and literally – the clothes and accessories shown. Horst uses shadow and light to achieve this focus. Faces may be obscured in dusky light, but glimmering jewellery is revealed and the flow of a gown emphasised through richer light and pose.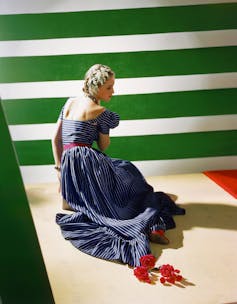 Horst's work helped to create many of the myths that still surround haute couture. His visions of Lanvin, Vionnet, Molynuex and Schiaparelli designs are seen through the lens of contemporary art. Classical and romantic references are made through architectural sets, juxtaposition and a surrealist fragmentation of the body add a modern filter.
The inclusion of a group of the V&A's couture dresses illuminates this dialogue further. The dresses speak of these influences, and linking material and visual examples together in this way is one example of the ways this exhibition strives to emphasise fashion photography's multi-faceted role. It is undoubtedly spectacular – especially in the sudden revelation of colour imagery after the cool restraint of his black and white work. But beyond this, its depth of research behind the dazzle prevents it from being just another show.
And this isn't the only fashion photography exhibition due this season. Edward Steichen opens at The Photographers Gallery on October 31 and Guy Bourdin opens at Somerset House on November 27.
To be appreciated fully, these exhibitions must be placed within fashion's wider debates about art and commerce. The round of seasonal fashion shows kick off in New York this week, and fashion magazines continue to experiment with the visual form - as in AnOther Magazine's current first digital cover. These are live issues, spilling out of the walls of the museum and on to the streets of fashion's global cities.
---
Horst: Photographer of Style is at London's Victoria and Albert Museum from September 6 2014 to January 4 2015.