In the wake of the scandal about the way members of the "Windrush generation" have been treated by UK authorities, the government has been forced to acknowledge the consequences of its "hostile environment" immigration policy, pioneered by Theresa May during her time as home secretary.
A steady stream of reports in recent months has documented the experiences of long-term residents, many arriving in the 1950s and 60s from the Commonwealth, who have suddenly been told they no longer have permission to remain in the UK. Under the hostile environment they are prevented from accessing NHS care, employment, welfare benefits, rented accommodation, bank accounts and driving licences.
The government has now promised a new team of caseworkers to help Commonwealth citizens address their status as a priority. In a statement in parliament, the home secretary, Amber Rudd, apologised to those affected and promised them a free route to British citizenship and the possibility of compensation.
For a number of years, my colleagues and I at the Kent Law Clinic at the University of Kent have been dealing with cases of people caught up within the bureaucratic nightmare of trying to prove their existence as a lawful resident of the UK. It can be like a character in a Kafka novel who wakes up one morning to find themselves in a seemingly incomprehensible situation. Their initial response is often to imagine that this can be cleared up by a simple phonecall to the Home Office to explain that it is all a misunderstanding – and yet then months and sometimes years pass with no response.
One of our recent cases involved a US citizen, resident in the UK for over 50 years, since he was 18 months old, who suddenly found himself unable to work when the Home Office informed a prospective employer that it had no record of his lawful residence. This was despite an almost unbroken record of national insurance contributions since the age of 16. It took almost six months, and the intervention of a local MP, before it was resolved. Our client described how his life was destroyed, he was unable to work, became bankrupt and suffered depression and anxiety not knowing if he would face deportation.
Removing the right to remain
The recent cases of members of the Windrush generation threatened with deportation are only the most extreme end of a wider spectrum of long-term residents who are finding that even after many years of living in the UK they have no right to remain.
---
Read more: Windrush scandal: a historian on why destroying archives is never a good idea
---
There are plenty of other cases which are more complicated and where a person's immigration status may be uncertain or even unlawful and yet they have been resident for many years. This is particularly the case for those brought to the UK as children who never had their immigration status regularised. In such cases, they may only have discovered their lack of legal status as an adult when confronted by an aspect of the hostile environment. While many of these people could probably make valid immigration applications, the lack of legal aid and high fees make this a very difficult process.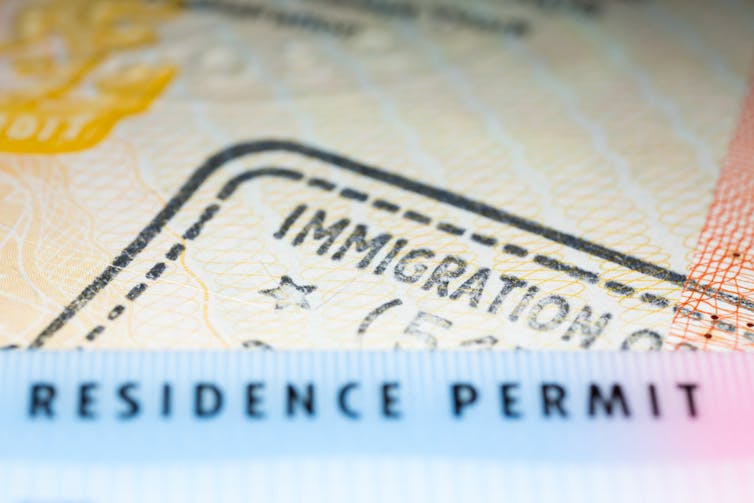 Our clinic recently acted for a young man who had already been granted a period of 30 months leave to remain based on his residence and private life in the UK. Confronted by an application fee of £993, unable to access legal advice to understand the possibility of applying for a fee waiver, and simultaneously dealing with housing difficulties and potential homelessness, he managed to overstay his leave to remain. His case is still pending, and so he has returned to the hostile environment and will continue to face this until his status is eventually regularised once again.
Those of the Windrush generation who were citizens of the UK and its then colonies were able to immediately settle in the UK before 1973. Yet recent government policy has been to delay or restrict altogether the permanent settlement of non-EU nationals, even as the UK still relies significantly on temporary labour migration. There are therefore a growing number of resident non-nationals building lives in the UK and becoming integrated but with no guarantee that they will ultimately be permitted to settle.
As I argue in a recent article, the UK is becoming an increasingly precarious home for those without British citizenship. This has potentially damaging consequences for attempts to create integrated communities.
One example is a family of four, who the Kent Law Clinic represented, who after 12 years residence have been unable to afford the £9,556 necessary to obtain indefinite leave to remain and are therefore faced with needing to make repeated further immigration applications every 30 months. Such people live with a continuing sense of uncertainty – not knowing if the law will change in the future or whether a small error in a future application will lead to a refusal, which would mean they are suddenly locked out of meaningful participation in a community to which they have belonged for years.
As the UK prepares to confer on resident EU citizens a new "settled status" in UK law to replace their current free movement rights protected by EU law, the current scandal should act as a warning to the EU to ensure that adequate safeguards are made a part of the withdrawal agreement. Given the light that has been shone on the plight of the Windrush generation, perhaps it is also now time to question the wider approach to future generations of long-term resident non-nationals.
---
A version of this article was also published on the Countercurrents Kent Law School Blog.