With record sales of more than 200 million albums worldwide, A R Rahman has composed the soundtracks for over 100 Indian films and is credited with more or less single-handedly revolutionising Indian film music.
On August 15 Rahman will be performing a one-off "Greatest Hits" show at The O2 arena in London. He has brought Bollywood music to the Western world, with a style that is both new and familiar at the same time.
The son of a film music composer and conductor in the Tamil and Malayalan film music industries, Allah-Rakha Rahman got his big break as a music director doing the songs and background score for the Tamil film Roja. In India, film music reigns supreme, and Rahman's soundtrack took the country by storm.
Bollywood on tour
India has produced many giants of film music. But the key difference with Rahman, compared to earlier star music directors such as Naushad, Shankar-Jaikishen, R D Burman or Ilaiyaraaja, is the level of international acclaim he has gained. It is Rahman's conquering of the Western world that makes him so remarkable.
By the 1950s, Indian cinematic music had a dominant influence from the Malay world to Greece, Russia, and the Middle East. In the West, however, Hollywood held sway, and Indian cinema, with its melodrama and song and dance interludes, was typically seen simply as bad.
The new sounds and style Rahman created changed the image of Indian film music in the West. His albums broke through into Western charts in the late 1990s and he has since engaged in a range of high profile collaborations in the West.
His most famous work of late has been his soundtrack for Danny Boyle's 2009 film Slumdog Millionaire, which added two Oscars, a BAFTA, a Golden Globe Award and two Grammy Awards to his already dizzying array of awards back home in India. As an Indian music star in the West, he has only been rivalled by the likes of Ravi Shankar.
New fusions
Rahman's acclaim is largely down to his use of fusion. East-West fusion is hardly new in Indian film music – by the 1950s, film songs sported extraordinary mixtures of Indian classical and folk music elements, large Western or Hollywood style orchestras with added Indian instruments, and global pop styles from the West and Latin America. Yet Rahman's fusion marks a distinct break with earlier film music.
He is particularly known for his use of lush string sounds, often married with computer-generated bass. Overall, his timbres are more mellifluous and soft compared to the older film music, where treble frequencies dominated. New recording technologies have allowed Rahman to create a layered and expansive soundscape, contrasting with earlier film music where the orchestras were recorded in unison or near unison, the sound more of a block.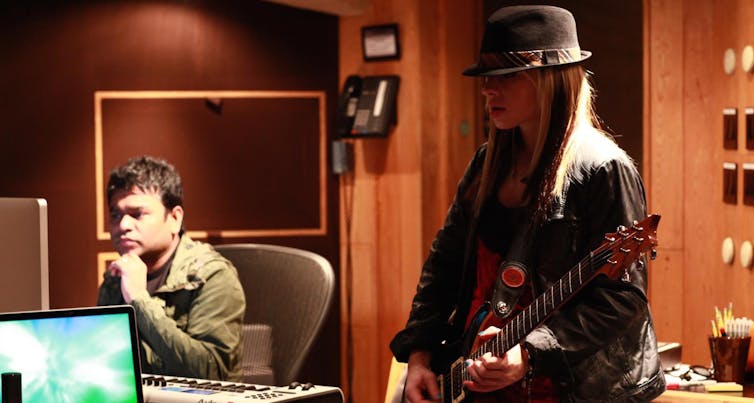 In older film music, Indian and western instruments and styles were orchestrated into a whole, a close amalgamation. The violins, for example, hardly sounded like those in a Western orchestra, or the sitars like those in actual Indian classical music. This is part of the reason why the older film songs were seen in negative terms by Western critics as kitsch. But in Rahman's music, the characteristic style and sound of diverse instruments and genres is distinctly heard, and often showcased.
In the song Hai Rama from the film Rangeela (1995), for example, he opens and ends the song with the sound of the tambura, the drone instrument used to accompany Indian classical music. The song also incorporates South Indian and other percussion, strings, bass, and a virtuosic flute solo that manages to be Indian classical, beat box and slightly jazzy all at once.
In other songs Rahman uses Sufi singing, or the harmonium (played as in North Indian classical or light classical music), or background chants in regional Indian languages, and an assortment of other Indian styles and instruments. His music appeals to the "world music" and "world beat" sensibility that is growing in popularity in the West.
At the same time, Rahman incorporates a solid basis of mainstream Western pop, rock and jazz styles (even just through a prominent bass groove). He uses a range of singers and vocal timbres, avoiding the idealised, high-pitched female vocal sound. For these reasons, Rahman's music appeals to western ears more than older film music, and also to the upper end of Indian middle class society.
Earlier film music has been seen as the epitome of sophistication, modernity and innovation in India and much of the non-Western world. But Rahman is the first composer who has managed to make this music appeal on a global scale that includes the west. As such, his music is iconic of the economically booming and increasingly powerful India.