James Bond will likely next grace cinema screens towards the end of 2018. Whether he will inhabit a filmic world in which the UK is no longer a member of the European Union and Donald Trump is the US president is yet to be seen – but if so, what a different world it will be. Bond's mission is likely to involve the navigation of an increasingly porous Europe, vulnerable to malign influences from a resurgent Russia. The UK's cyber-security defences face further challenges as industrial espionage and military and intelligence hacking intensifies. Bond is going to have his work cut out for him.
So it's interesting to consider how these changes might effect Britain's premier super-spy. As we explore in our new book, The Geographies, Genders and Geopolitics of James Bond, Bond's geographical mobility is pivotal to mission success. And however good he is, he needs allies and access to the resources that they are able to mobilise. Take away those "assets" and Bond's agency is degraded. So do these tumultuous times – with the possible end of the Anglo-American special relationship and UK-European co-operation – also mean the end of Bond as we know it?
Since Bond is British, Brexit and the contemporary backlash against globalisation seem the most obvious things to consider. The ramifications of the UK's withdrawal from the EU and the disillusionment with neo-liberal globalisation will certainly alter the way in which he is able to move and execute his secret missions in both subtle and not so subtle ways.
Brexit Bond
Brexit will certainly have an impact on his mobility. In most of the films featuring airports, including the earliest Dr No (1962), Bond is depicted as walking through them with brio, as a man untroubled by the "petty sovereigns" (as literary critic Judith Butler might have it) who administer and police airports. Travel could become more complicated for a post-Brexit Bond. His ability to glide through customs and border inspections airports and seaports would certainly diminish.
So new storylines might place further emphasis on Bond's ability to circumvent conventional state controls and offer up further evidence of MI6 investing in multiple passports. As the Jason Bourne series suggested, an assassin needs, among other things, a decent selection of passports, including those of close allies such as Canada and New Zealand and adversaries such as Russia.
But M will likely have bigger concerns than passport problems, because the UK may suffer when it comes to cooperation with EU intelligence agencies. In Spectre (2015), we learned of the "Nine Eyes" intelligence network that included traditional working partners such as the United States and newer members like South Africa. But this network would likely be compromised in this emerging nationalistic world. European partners might react badly to Brexit and tell the UK to rely on the United States. Disillusionment with globalisation more generally might make partners less likely to share information and secrets – every state for itself could become the new rallying cry even for the closest of allies.
The 'special relationship'
Working with the United States might be tricky, though. Recent Bond films have suggested a more ambivalent relationship with the former "special partner". The CIA's Felix Leiter was helpful in Casino Royale (2006) and Quantum of Solace (2008) but did not feature in the two most recent films. The warm relationship that Bond enjoyed with earlier incarnations of Leiter has long gone. In recent years, other spy films like M1-5 (2015) and Eye in the Sky (2015) have also raised concerns about the role, viability, and morality of British intelligence, particularly when collaborating with US military and intelligence agencies.
This sense of unease with the UK-US relationship is sure to only increase with Trump as president. He may prime his administration to insulate and isolate the United States from forms of globalisation that are antithetical America's recovery to "greatness". America (as represented through the CIA) may well not want to work with Bond/M16 and share its resources and intelligence as part of a new directive to #MakeAmericaGreatAgain. Leiter could be told in the future not to share intelligence with Bond because America needs to protect its interests first and foremost.
So in a world without the security of an Anglo-American connection in addition to the degradation of European partnerships, Bond's role is likely to look very different. Will Bond still fight for global security or be repositioned more and more as a lone hero who fights for Britain and its safety in a post-globalised world? It might be too much to think that Bond could make Britain "great" again but he could help to stop a further "slide" down the international pecking order.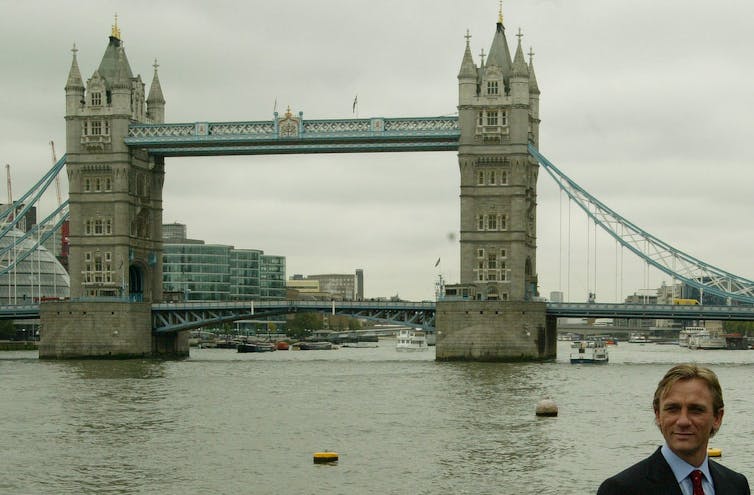 Bond's Britain
And what might Brexit do to Bond's relationship with the country itself? In Skyfall we see Bond's ancestral home in Scotland and his retreat to his family estate is critical to luring the villainous Raoul Silva away from a chaos-ridden London. While M dies in Scotland, Bond's return to London is foregrounded by his pose on top of a government building in the centre of the city. Large Union Jack flags are fluttering away on top of the structure while others serve as part of an official tribute to the late M.
Skyfall is overwhelmingly a celebration of a United Kingdom. Bond's Anglo-Scottish heritage is integral to his movement from London to Scotland and back again. But given a divisive Brexit vote in June, might Bond's identity shift and become a more English in the wake of Scotland's overwhelming vote to remain in the European Union?
And if the process of Brexit proves troubling and time consuming as we expect, leading to heated discussions about parliamentary scrutiny, MI6 may be the victim of a blowback as parliamentarians seek to reclaim their authority from the executive. The late M was very vexed about such scrutiny; she patently did not care for it. Bond will have to hope that he and MI6 are still "trusted" and permitted to operate in the "shadows", and allowed to do so in a world where nations find it harder than ever to trust each other, let alone the global political and economic system.