Child sexual abuse is nothing new, and neither are high-profile scandals around it – or the police's struggles to deal with it.
In 1854, the investigative journalist William Stead's article The Maiden Tribute of Modern Babylon shocked Victorian society to its core by exposing the extent of child prostitution in London. In 1925, a philanthropist known as "Mr G" was tried for abusing children in hospitals. In 1975, the Yorkshire TV documentary Johnny Go Home shone a horrifying light on the plight of homeless children in London and the sexual exploitation they faced.
And since 2012, the investigation into Jimmy Savile's sexual abuse of children and the subsequent convictions of other prominent people for similar crimes have been equally shocking.
What's changed is the pressure on the police to address allegations of historical abuse, a pressure which has hit a new peak.
Cracking down
It's been estimated that the number of reports of child sexual abuse to the police in England and Wales will have increased by 88% in 2015 over the number the year before. On the face of it, this increase suggests that people are more alert, more incensed, and feel safer reporting these crimes.
We are becoming a more critical and demanding society, in no small part thanks to the internet and social media where people and groups are more easily spurred into action. And the demands we make to keep children safe are increasingly putting pressure on the police.
Post-Savile, the police service has come under considerable pressure to reconsider its traditional investigative approach to historic child sexual abuse regardless of whether the suspect(s) are living or dead. That leaves a growing proportion of police staff investigating a slew of decades-old allegations – with over 1,400 suspects in the frame nationally – to meet the public's growing expectations. Many police teams have found themselves investigating the actions and alleged failures of their own predecessors, as well as those of public perpetrators.
This thirst to expose negligent and incompetent practice within the police and other public bodies is the reason we now have the independent Goddard inquiry into child sexual abuse, the shadow of which seems destined to loom over all 43 police forces in England and Wales for many years to come.
Taking flack
In hindsight, the target-driven policing models variously used across forces did not place enough emphasis on child sexual abuse, and in particular historical cases.
Investigating child sexual abuse is always a complex process, but when the alleged crimes are many years old the process is compounded by a lack of physical and forensic evidence upon which to build a case. So investigators look for witnesses and victims to corroborate each other; to do this they often choose to appeal for victims to come forward, and on occasions even name the suspect(s) themselves.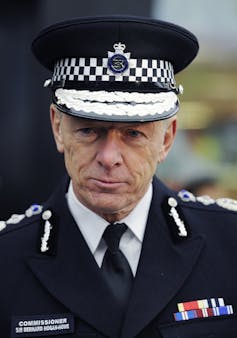 This "collective corroboration" has become a significant feature in many of the high profile historic cases recently before the courts. The practices of "trawling" for victims and releasing suspects' identities have drawn stinging criticism from civil liberties groups and from those accused. Former MP Harvey Proctor, himself the target of anonymous allegations, recently went so far as to call for the resignation of the Metropolitan Police commissioner, Sir Bernard Hogan-Howe.
The sheer number of investigations has taken the police by surprise, with a dwindling workforce and a lack of experience within specialist departments it has been left with little choice but to opt for a quick fix by employing agency investigators many of whom are retired officers.
All this is set against the changing face of policing in England and Wales, where senior police officers have openly stated that the public can no longer expect a "traditional" police response to certain crimes.
Course correction
Police forces are at a crossroads. Many people, inside and out, are seriously questioning the way historic child sexual abuse allegations are being investigated. Victims of more recent crimes are worried they will have to settle for a diluted response to their cases while resources go to investigate crimes more than a quarter of a century old, and whose alleged perpetrators are often dead.
To complicate things further, applying today's thinking and values to events of the past raises serious moral problems. Things really were different in the 1970s; sexism and what we'd now call sexual harassment and assault were not only rife, but often celebrated. This was to some degree condoned by the popular culture of the day.
But if we want to understand the context in which many of these historic sexual crimes were allegedly committed, we cannot simply condemn it. We also have to understand it.
So how far back in time do we expect the police to go? Clearly it's hard to draw a line in the sand, but perhaps it's time we thought more laterally. In cases where the alleged perpetrators are deceased or too much time has elapsed, other ways of getting to the truth need to be devised. The Goddard Inquiry, for instance, may yet take on a function akin to a "truth commission", a forum in which to acknowledge wrongdoing and offer closure to the victims.
Perhaps it's also time to think about providing anonymity for those accused due to the lasting stigma these crimes attract, even if they are never charged or are ultimately acquitted.
Fundamentally, it is clearly time for the police to take a more pragmatic and balanced approach towards these historic crimes. As Churchill once said, "if we open a quarrel between the past and the present, we shall find that we have lost the future".