In the coming weeks, Bristol City Council will play an instrumental role in determining the fate of Hamilton House – a vibrant community hub in Stokes Croft, the area where street artist Banksy began his career. The decisions the council makes will be a test case for urban policy across the country, as to how far local authorities are willing to intervene to safeguard community assets against profit-seeking companies.
For almost a decade, Hamilton House has been home to local artists, community groups, social enterprises and charities, among them the popular Bristol Bike Project, which restores unwanted bicycles for disadvantaged residents, and the Dance Music Arts Collective (DMAC), which runs community dance classes. The low rents and supportive environment of the hub have done a lot to help get new projects and businesses off the ground, and support the local community through charitable work.
Key to its success has been a sophisticated financial model. The charitable management company, Coexist, rents out some space at market rent to profitable businesses and uses the profits generated from that in order to be able to charge lower rents for artists and charities.
A victim of success
Hamilton House has been an important driver of social and cultural regeneration in Stokes Croft – and throughout Bristol more broadly. Coexist estimates that Hamilton House brings in an annual revenue of around £21m and is responsible for around 1,260 jobs in the local area. But it has now become a victim of its own success.
---
Read more: Stokes Croft: the saga of one British neighbourhood reveals the perverse injustices of gentrification
---
With the regeneration of a neighbourhood property values increase – and Connolly and Callaghan (C&C), the company which bought the building in 2006 and has leased it to Coexist since 2008, is seemingly tempted to cash in. C&C has rejected two bids by Coexist to purchase Hamilton House, the second of which amounted to £6.5m – an estimated 300% return on the company's initial investment.
Further compromises involving a mix of private flats and space for Coexist have failed and, since the lease with Coexist expired and C&C signed a contract with a new commercial management company, Forward Space. Coexist is effectively locked out of further planning negotiations with the council.
Growing opposition
If Hamilton House is given over to private development the implications could be severe – not least for Bristol City Council. While Coexist's old model leveraged commercial rate rents in the building to finance social initiatives, future revenue will benefit the property owners exclusively. Projects once subsidised by Coexist will need to find new sources of income, leaving the community and council to pick up the bill. More likely, they will close for a lack of funding.
In September 2018, more than 1,000 people marched in support of Hamilton House. In this context, it is hardly surprising that the local community and Bristol City Council seem to have become increasingly hostile toward the actions of C&C.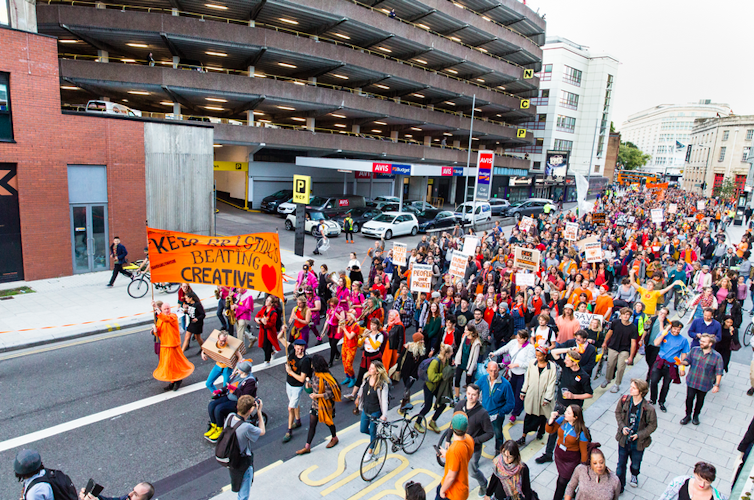 So far, the council has opposed a number of planning steps pursued by C&C. It has twice rejected an application for "permitted development", which would allow for parts of the building to be transformed into flats without a full planning application, and without a requirement to provide affordable housing.
For the common good
In the meantime, with an appeal pending, C&C has begun preparing a full planning application to turn even larger sections of Hamilton House into flats. This more formal planning process gives the council greater powers to slow or stop the developer's plans.
For one thing, when a building has been used for community purposes for more than ten years the council can lawfully certify it with the official status of "community centre". This status prevents the use of planning short cuts such as the Permitted Development Application, which in turn limits development prospects, as well as the value of a building on the real estate market.
The council has two further levers to pull. One is the threat of compulsory purchase in which the council itself buys the property – a power which Bristol City Council has previously used to push developers towards compromise. It also has indirect power over developers such as C&C, which has benefited from a number of council contracts in the past.
As councils are granted new borrowing powers to kick-start much-needed house building across the nation, they must also strive to protect the places and projects that foster strong communities. Hubs such as Hamilton House prioritise social, cultural and ecological achievements over economic profits. And while they may be unable to compete with market rents after regeneration happens, they are indispensable for the common good.